Latex is a bit of an unsexy word – that is until you see a woman dressed in it! Honestly, there's nothing hotter than becoming a latex bondage slave for a Mistress. Well, you might not have access to one in real life, so here's the next best thing – latex VR porn! I've talked about virtual fetish porn before on my blog about Kink VR. But today, I'm going to talk about five scenes from Czech VR Fetish that'll give you a new appreciation for the niche.
1 – Latex Angel With a Slave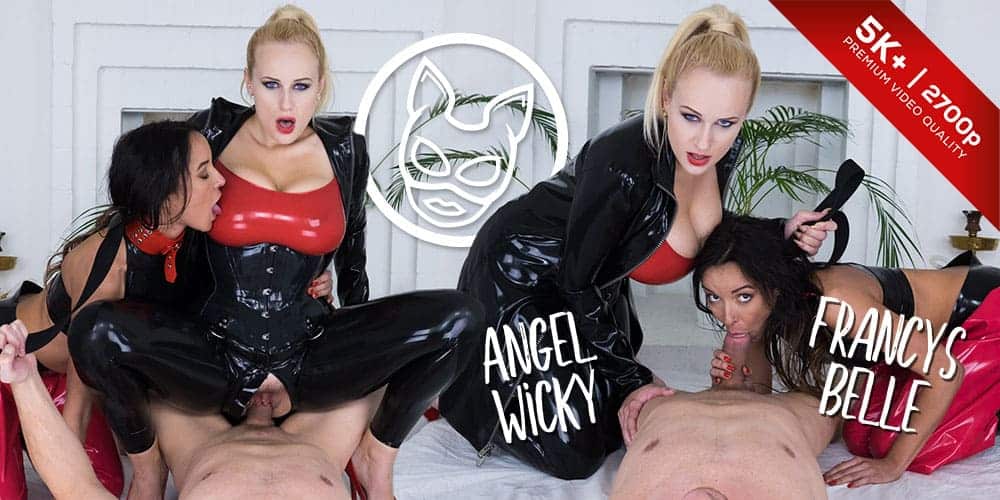 It may not look like it, but latex is a flexible material. Don't believe me? Check out this threesome with Angela Wicky and Francys Belle. Angela wants to make you her latex sex slave, but she's also got plans for the beautiful Francys. This BDSM scene puts you front and center as Francys licks Angel's shoes and feet, gets spanked and finally when you earned the right, Angela tells Francys to spread her legs for you and let you thrust into her deep, fast and hard!
2 – Be Master to Your Latex Slave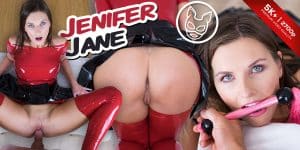 Jennifer Jane wants to be your slave – and that's probably enough to get you interested in this scene. Jennifer is crawling on her knees with a whip in her mouth. She throws seductive glances your way as she gets closer to you and practically begs to be your slave. When you remove the whip from her mouth, you forcefully pull down her top and start flogging her tits. Finally, she removes her panties and you can imagine what happens next!
3 – Endowed Mistress with Busty Slave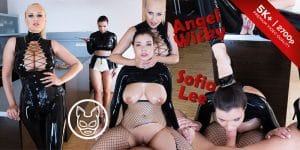 The only thing better than being dominated by a sexy blonde Mistress is being with one who has massive tits – and Angela Wicky fits the bill. But she's not alone in this scene, as she has her slave Sofia Lee with her – and she's got huge boobs too! Angela orders Sofia to go to you, take her pants off and immediately start fucking you. The entire time, Angela is behind her, rubbing Sofia's big 36DD's! It only gets better when Angela decides she wants to get fucked too. This babe has one of the hottest and loudest moans you'll ever hear!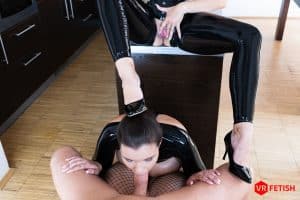 4 – Jerking for Latex Nymph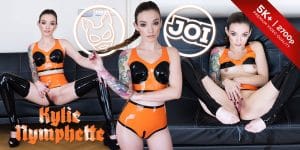 Time to switch things up a little with the steamy Kylie Nymphette – a slim teen with dark hair, tattoos and one hell of a naughty attitude. When she talks, you listen! It probably helps that she has a sexy accent. In this scene, Kylie tells you to keep your hands to yourself! That's right, this is a hot JOI video. Kylie, wearing a sexy orange and black outfit, spreads her legs and tells you to get up close and personal with her pink slit. You'll see her spread her pussy lips and get so wet, you'll practically feel like you can reach out and feel it with your fingers.
5 – Come on Latex Goddess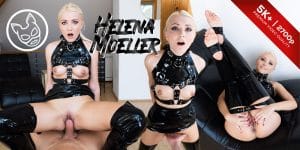 Finally, it's time for you to meet the gorgeous blonde, Helena Moeller. She plays your girlfriend in this scene – and she has one hell of a surprise for you. She walks up to you dressed in and begs for you to dominate her. How do you say no to that? You'll waste no time making her submit as she deepthroats your cock and then rides you reverse cowgirl – the entire time slapping her own ass hard.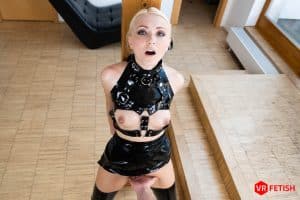 Explore Your Fetishes in Immersive VR
These scenes are just the tip of the iceberg when it comes to amazing fetish porn. You can find more on CzechVRFetish, but don't forget to check out the BDSM scenes on KinkVR too, which definitely lives up to the hype. I remember a time when it was almost impossible to find good kinky VR porn. Thankfully, those days are over!