Hey, any gamers in the crowd? If you've ever played Warcraft, or World of Warcraft, you've probably wanted to fucked an Elf. Well, with Whorecraft VR, your dreams have come true. Email me.

Pros
VR cosplay scenes
Immersive 180° 3D content
VR Help Guide
Cons
No bonuses
Not a lot of user features
Bottom Line
There are no two ways about it, Whorecraft VR is an amazing site. It's a big win for gamers and cosplay fans and a definite win for VR porn fans. Plus, you have the ability to change the background in the scene, letting you fully immerse yourself in this virtual gaming environment. If you're a gaming fan and like virtual porn, you should definitely give it a chance, you're going to love it.
My Full Whorecraft VR Review
Virtual Video-Game Sex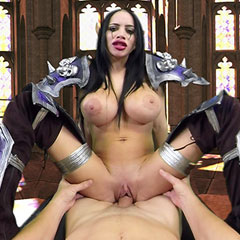 If you're anything like me, aside from being a VR porn hobbyist you're also into other cool things like movies, TV shows, video games, horror, anime, all that fun fanboy stuff. So just imagine the delight on my face when I first saw the site Whorecraft VR. It's like Warcraft, but the models, well, you get the joke I'm sure. This is incredible harcore virtual cosplay site with immersive 180° 3D content that will show you a really good time with a bunch of sexy Elf chicks from the famous Warcraft computer game franchise.
Both 2D and 3D Warcraft-Based Scenes
Currently, Whorecraft VR has a decent amount of immersive VR scenes, but some are more immersive than others. What I mean by that is that some are filmed in 3D with a 180° field of view, and the rest are in 180°, but they're only 2D. You can stream and download them on any of the mainstream headsets and I can personally attest to trying it on both my Cardboard and Oculus Rift. In case you don't have a viewer, don't fret, you can still watch hardcore Warcraft cosplay sex, since they're all also shot in non-VR and there's even a subscription for just those videos, which costs $5 less.
Sexy Cosplay Models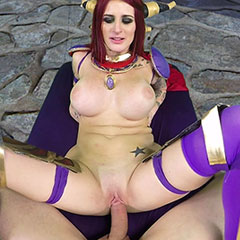 As for the actual goings-on in the scenes, the first thing you'll notice is the costumes. These babes, who are already all sexy 20-somethings, become even sexier in Warcraft-themed outfits. It's obvious that they went above and beyond in this department. The other element of these immersive videos that will stick out are the changeable backgrounds. This is so you can bang a babe in different environments, but it honestly ends up looking a little fake. That's when I start paying attention to the hot blonde in front of me, on her knees, puttin' on quite the show.
Check Out Their Store
The "Enhancements" tab is sure to catch your eye as it did mine. Keeping up with the whole computer-game theme, I was thinking that this was going to be their store where you can buy add-ons and maybe additional scenes, or even compatible teledildonic sex toys, but no such luck. It is a store and there are a wide array of different things to buy, but almost nothing has to do directly with the site or any of its content. There's lube and sex dolls and a whole bunch of other stuff that you could use while watching one of their scenes, but that's not the same thing. There's very little in the way of features here, but there is a VR help guide and a model index where you can download desktop and mobile-friendly wallpaper featuring the various models all dressed up in their sexy Whorecraft costumes.
Whorecraft Offers Hardcore Gamer Cosplay
I for one am ecstatic, and thoroughly aroused, to add WhorecraftVR to my list of VR porn sites. I'm a sucker for cosplay, especially video game cosplay, where I'm given the rare opportunity to give the business to a sexy Elf babe. You should definitely give it a try and sign up. Be sure to follow them on their social media and follow me on Twitter too!
Click Here To Visit Website
Similar Fetish VR

This one's for the fanboys in the crowd. Cosplay takes on a whole new meaning when you watch it in VR. Add hardcore action into the mix and this is your new favorite site!

Ever been to Prague? Save yourself the airfare and check out Czech VR Fetish. The performers are hot Czech babes and they've got videos to suit all of your kinky fetish fantasies.
Get Exclusive Email Offers
Deals, fetish scenes and other awesome deals - FREE!

When women wear stockings they're even sexier than when they're naked. Don't ask why, I'm not a psychologist. Just watch these babes on Stockings VR and you'll see what I mean.

Like golden showers? You're not the only one. That's why there's Virtual Pee, a VR fetish site that offers immersive 180° 3D pee scenes with the kinkiest babes.

For 20+ years Wasteland has been putting out the hottest fetish and BDSM porn. Now they've got own their own erotic MMO virtual reality game called Wasteland 3D.

Want to watch bondage, D/s, spanking, role-playing, strapon sex, ball gags and more in virtual reality? Then it's time to branch out and get off to the kinkiest content on Kink VR.

Have you ever wondered what it would be like if they made a porn site based on the Warcraft video game and made the content all high-quality VR? Well, get ready for Whorecraft VR!