When it comes to fetish porn, there are few names more recognizable than Kink.com. They cover everything, from the lighter side of things like feet and tickling to more extreme kinks like hardcore rope bondage and cock edging. Being the VR enthusiast that I am, I prayed for years that they'd eventually get into the VR game. I mean, it's one thing to watch a gorgeous Dominatrix take complete control of her male slave, but it's a totally different ball game to strap yourselves into the shoes of that sub and feel like you're the one getting tormented. 
Well, thankfully, in 2018, these folks jumped onto the VR bandwagon and created Kink VR. I had high expectations. Could they create a website that matched the level of quality of their staple Kink.com site? Well, in short, I can definitively say yes!
Immerse Yourself in Kinky VR Porn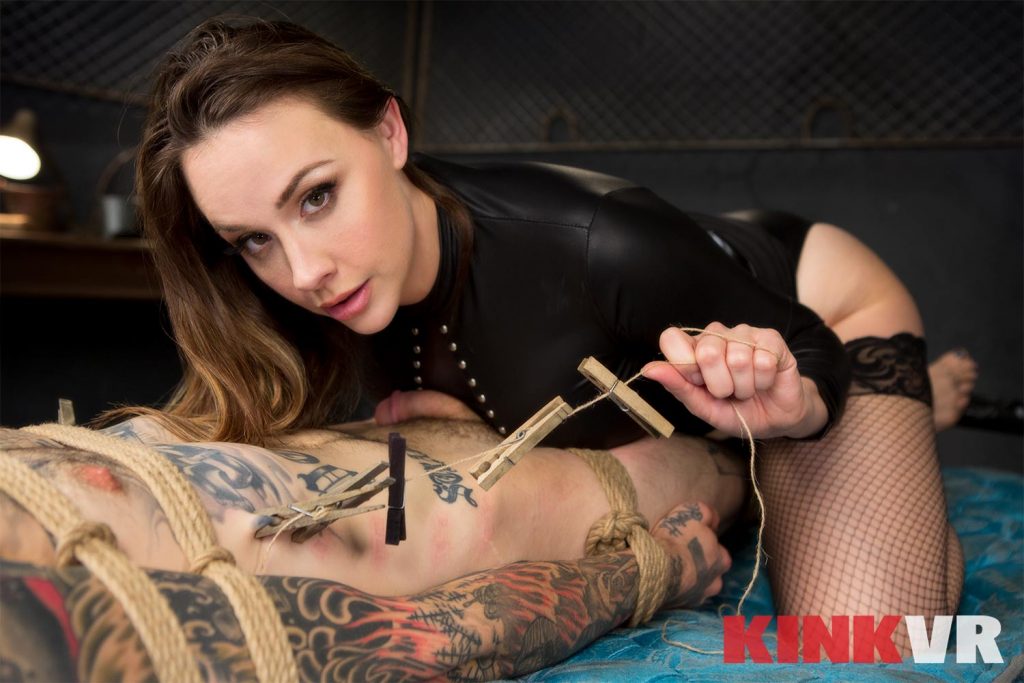 The first clue I had about KinkVR being awesome was their variety of fetish porn. Just like their standard site, I was able to find ball gag porn and clothespin torture with a hot babe with huge tits. I was also stoked to see pornstars like Lauren Phillips, Ivy Lebelle and Barbary Rose (who had one of the best orgasms I've ever seen, FYI). 
When it comes to quality, several of their 180-degree 4K and 5K videos have everything you'd want in a VR scene – binaural audio so you can hear all those whip cracks and butt slaps, and 3D visuals so you can feel like you're really there. So as far as virtual reality porn goes, Kink VR is 100% matching the quality of their flagship site. 
But don't take my word for it. Need some of your own hands-on examples? Allow me to recommend some awesome scenes for you!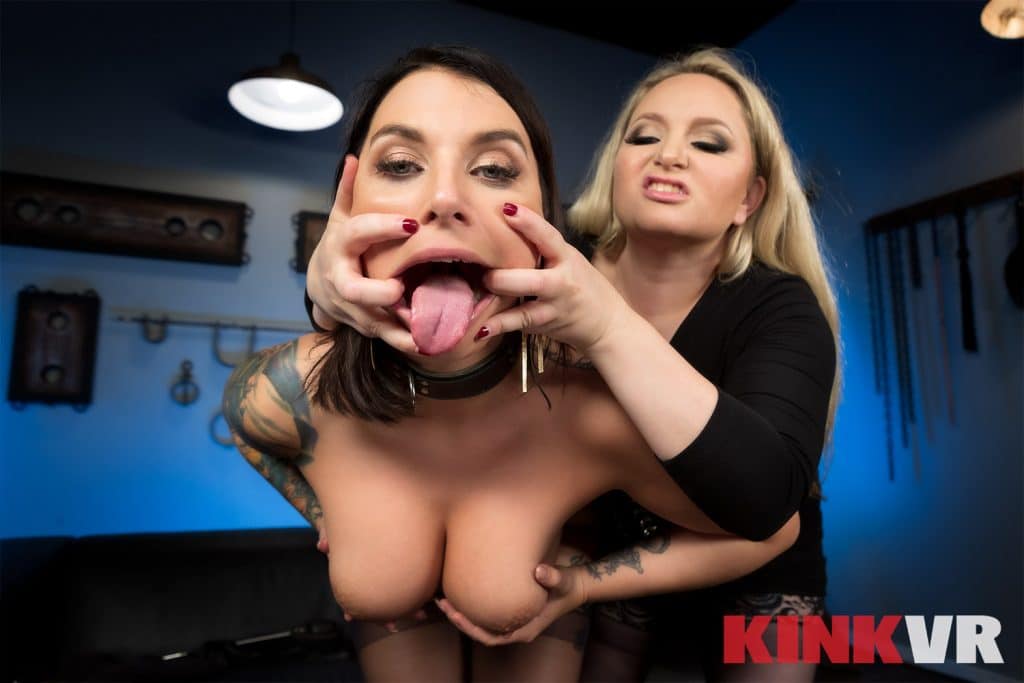 Want a front-row seat to watch Ivy Labelle get dominated by the beautiful busty blonde Aiden Starr? Of course you do. In this scene, you get to sit back and watch as Aiden pinches Ivy's nipples, torments her by denying her orgasms with a Hitachi Magic Wand, and binds her with chains as Aiden spanks her all over. "Hot" doesn't even begin to describe this one.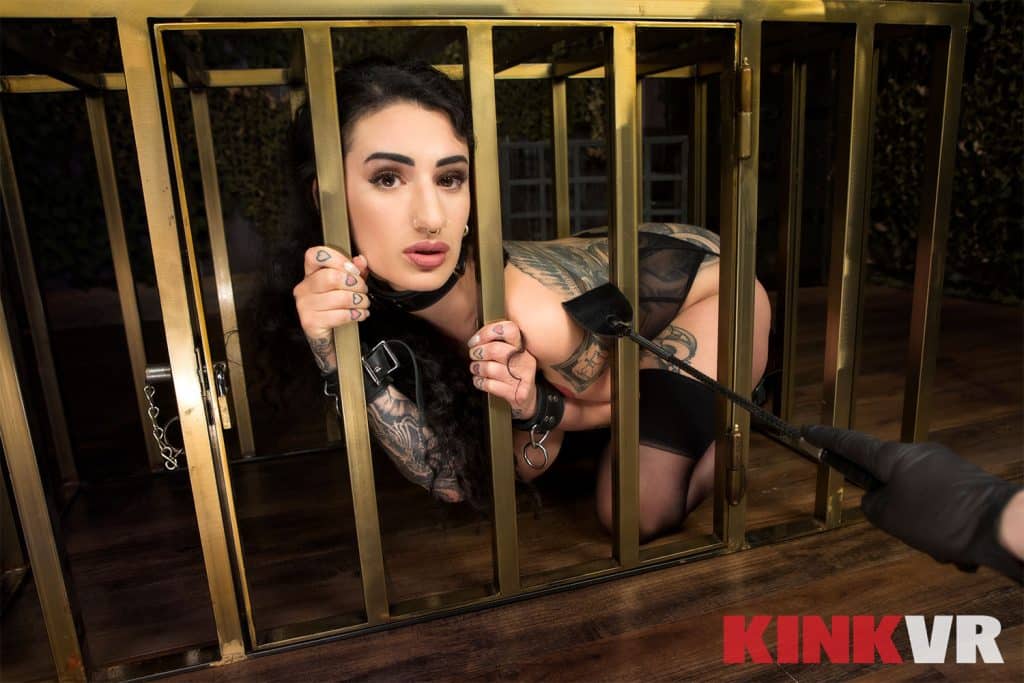 Alright, now that you've had that front-row seat, it's time to get in on the action! In this scene, you get to dominate and play with dark-haired beauty Arabelle Raphael. After binding her with rope, you get to finger her and slap her tits at the same time. The payoff, however, comes at the end when you cover her tits in clothespins as she sits on a Sybian machine. Just as she's about to cum, you rip off all the clothespins, leading to Arabelle having one of the most intense orgasms you'll ever see.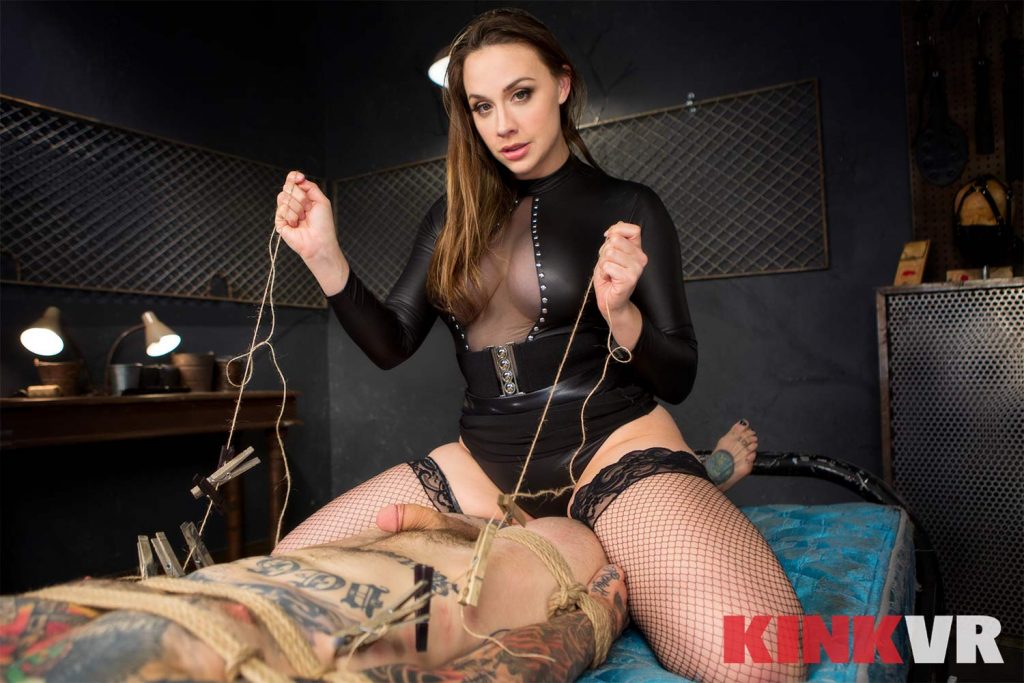 Now it's time to reverse roles! You're the lowly submissive and the sexy, strict Chanel Preston is your Mistress. In this VR scene, she'll slap your cock, pull on your nipples and treat you like her pet. After toying with you for a little while, Chanel rewards you for being a good boy by sucking your cock and fucking you hard and fast. In the end, she allows you to cum all over her hands after she jerks you off.
Get Spanked and Slapped on Kink VR
Honestly, if everything I've told you, along with those three scenes, doesn' convince you that this is a great virtual reality BDSM site, then nothing will. But I doubt anyone who checks out these scenes won't be convinced. It's simple really – want to immerse yourself in some insanely kinky sex scenes? Then you should probably join Kink VR.