Ever tried a Kiiroo product? These smart sex toys are slowly taking the world by storm and especially by VR enthusiasts. I've just tried them out and I'm pretty amazed. Check out my review! Email me.

Pros
Both male and female toys
Compatible with VR scenes & games
2-year warranty
Cons
Takes a long time to charge
Needs frequent updates
Bottom Line
Personally, I can't think of another instance where our society's rapid technological advancement was put to better use than sticking a Bluetooth chip in a vibrator and msaturbation sleeve. Seriously! Think about it, using our hand is what we've been doing since caveman times and now, no longer. This company's line of products is awesome and a lot of fun to use, whether by yourself, with a lover, while watching a hardcore scene or playing a VR sex game!
My Full Kiiroo Review
The Leading Teledildonics Firm Worldwide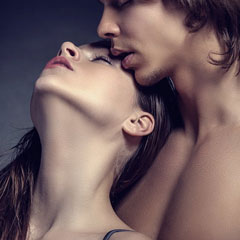 Kiiroo is an Amsterdam-based company that makes some of the most advanced sex toys ever known to humankind. They're the leading teledildonics firm in the world and what makes their products irresistible is that there are several VR porn sites that work in conjunction with their devices. If you don't know what teledildonics means, don't worry, most people don't. Also known as cyberdildonics or smart sex toys, they're like Fleshlights or vibrators that have Bluetooth technology, enabling the devices to communicate with other toys or products. The idea is that instead of using sex toys by yourself, they can be controlled remotely by someone or something else. I've said it before and I'll say it again: the future is now!
Meet the Onyx & the Pearl
Kiiroo's two main products are dubbed Onyx and Pearl. The former is meant for those with penises and the latter is made for those who like to be penetrated. The Onyx is an advanced masturbation sleeve and the Pearl is an advanced vibrator. But they're not like anything you've come across before. Imagine you or your partner are out of town on business and instead of pining for one another, you can pleasure one another thanks to the miracle of teledildonics. As long as you've got Wi-Fi and the devices have been paired, every time someone thrusts into the Onyx it will activate touch sensors inside the Pearl. The principle works the same in reverse. Keep in mind that It does require long charging times, up to 2-3 hours between uses and between 4-5 hours for the initial charge.
Kiiroo Can Replay Past Sex Sessions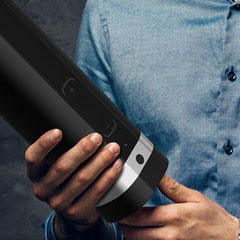 Now, let's say that you don't have a partner, or your partner's busy that night. You can use the Onyx as a regular sleeve and it's still pretty awesome. You can even replay previous sessions, as the Onyx has the ability to record everything that's happened. But what you'll really like is that many VR sites have paired their content with the Onyx, so that when wearing your headset, whether it's an Oculus Rift, HTC VIVE or GearVR, your sex toy will giving you the business! And don't think you need to be a technician to get it up and running. Kiiroo has designed their devices to operate quickly and easily so that you can get yourself off with little to no effort. That being said, it does require frequent updates, which you can do easily from their website.
Use It Alongside Sex Scenes & Games
When you get your Kiiroo device, you'll have to login to the Kiiroo site and register, which will activate your 2-year warranty as well as enable you to download their VR platform, their VR player and a bunch of other cool features. Now, if you're looking for more content, then you're in luck, 'cause there's plenty of immersive hardcore that works in sync with teledildonics. Sites like WankzVR, BaDoinkVR, VirtualRealPorn and others, all have compatible scenes. Plus, Kiiroo is also compatible with virtual sex games like 3DX Chat, Red Light Center and 3D Sexvilla 2. They're all fun to play and will allow you to truly feel every little sensation, and in real time too!
Get These Smart Sex Toys
I'm not just speaking for myself when I say that I think the Kiiroo is awesome. It's a perfect accompaniment to VR porn while serving a bunch of other practical and fun purposes like long-distance relationships. It's just a matter of time before more people buy these devices and, in turn, more sites produce scenes that work in sync with them. I can't wait! Visit Kiiroo's official Youtube page for cool and informative videos on how their products work.
Click Here To Visit Website
Similar Teledildonics

Lovense wants you to know that if you're in a long-distance relationship, you can still pleasure each other using teledildonics. Plus, their toys have been integrated with VR!

Long gone are the days of using primitive sex toys to get yourself off. Kiroo's patented smart toys have integrated bluetooth technology that'll leave you speaking in tongues.
Sign Up Today!
Get exclusive email offers and find your next fav VR toy!

Not only is the VStroker the #1 male sex toy in the world, but they'll also provide you with a huge library of porn that will literally control the device's movements.