Upgrade your favorite hobby with an advanced Fleshlight the likes of which you've never seen before. The Vstroker will let you have the time of your life with your favorite porn stars! Email me.

Pros
Compatible with the Oculus & VIVE
Compatible with 3DX Chat
Two free interactive videos included
Cons
Not compatible with most VR sites
Additional videos are PPV or have membership options
Bottom Line
The Vstroker is a unique virtual sex toy among the available teledildonic products today. While you might not be able to use it with most adult VR sites, there's still a lot fun to be had. Most importantly, their interactive videos let you control the action according to your pleasure, instead of letting the virtual sex take over your Fleshlight.
My Full Vstroker Review
Have You Ever Tried Virtual Stroking?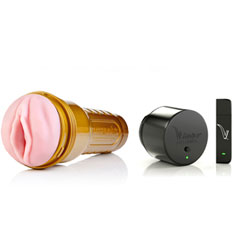 The Vstroker, or VS for short, is one of the few teledildonic Fleshlights on the market today. And in case you were wondering, the V doesn't stand for vagina, it stands for virtual! Mmm… there's something about the word virtual that turns me on with just a glance! Unlike some of the other teledildonic Fleshlights though, the Vstroker doesn't work with embedded Bluetooth technology. Rather, it has a USB receiver that you insert into your computer.
Unique Interactive Adult Content
Before I get more into how the Vstroker works, I want to bring up an interesting and rather unique aspect of it. See, while this is a virtual sex toy, it doesn't work in conjunction with most virtual porn sites. Wait, keep reading, it gets better! See, instead of having the Fleshlight move in response to the pornstar's thrusting vagina, it works in reverse. And while Vstroker's adult scenes might not be the best example of immersive hardcore, they are interactive. You'll notice that each time you work yourself over with it, the image of the sexy naked women on your screen will change based on the intensity of your thrusts. The harder you give 'er, the more she'll moan. This also works for blowjob scenes, where the speed of the woman's mouth on your throbbing member will either increase or decrease based on your movements. Trust me when I tell you that it's an incredibly erotic experience.
You Can Fuck Famous Pornstars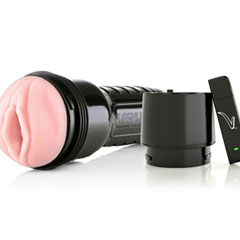 Vstroker's original content features some of the hottest pornstars like Asa Akira, Teagan Presley, Lisa Ann and others. They even offer unique rubber sleeves, where the openings have been fashioned to look like the labias of those very same porn stars! These are not included with the basic version, however, but they're available for purchase on their site. You can also watch these videos with your Oculus Rift or HTC Vive for a more immersive experience.
Visit the Vstroker Site
After you purchase your toy and take it out of its box, you'll notice that it comes with an additional twist-off cap. This is the antenna that will transmit to the USB receiver. Otherwise, the VS is just a Fleshlight, though it still feels good! You also have to visit their website, create a login and download the videos. You get two free interactive ones to download for keeps and a free 2-week subscription. Afterward, you either can purchase additional videos individually, or sign up for either a 1-month or 6-month membership.
3DX Chat Makes Sexual Fantasies Into Reality
One adult site that you might be familiar with that works with Vstroker technology is 3DX Chat. In case you didn't know, it's one of the leading adult 3D animated games, where you create your own customizable avatar and lead the virtual life you've always wanted to, filled with as much as sex as you want, with other people in real time! The graphics are amazing and lifelike, which of course adds to the experience, and once you've found someone, or rather someone's avatar, you can fuck them with your Vstroker!
I Love My Stroker and You Will Too
There's a lot more to the Vstroker, so I encourage you to visit their site. They even sell a little add-on called the Stamina Training Unit, or STU, which is designed to help you last longer in bed and have more powerful and pleasurable orgasms. Enjoy your VS smart toy, people, I know I did. Be sure to follow me on Twitter. I post VR-related stuff all the time!
Click Here To Visit Website
Similar Teledildonics

Lovense wants you to know that if you're in a long-distance relationship, you can still pleasure each other using teledildonics. Plus, their toys have been integrated with VR!

Long gone are the days of using primitive sex toys to get yourself off. Kiroo's patented smart toys have integrated bluetooth technology that'll leave you speaking in tongues.
Sign Up Today!
Get exclusive email offers and find your next fav VR toy!

Not only is the VStroker the #1 male sex toy in the world, but they'll also provide you with a huge library of porn that will literally control the device's movements.