We talk a lot about VR porn here. This is a virtual porn blog, after all. And while I've often gone into the trenches with you on more technical topics like how to watch VR porn or which apps are best for streaming VR, I'm going to shift focus a little and talk about 360° VR Porn.
The Difference Between 180° and 360°
Let's get down to basics. How are 180-degree and 360-degree VR videos different? Think of it like this: a full circle is 360 degrees, so when you're watching a video of this nature, you can spin around either clockwise or counterclockwise and see the entire room around you.
With a 180-degree video, you generally only see the area to your left, right and of course, in front of you. If you try to look behind, you will likely only see black space or at most, the website's logo.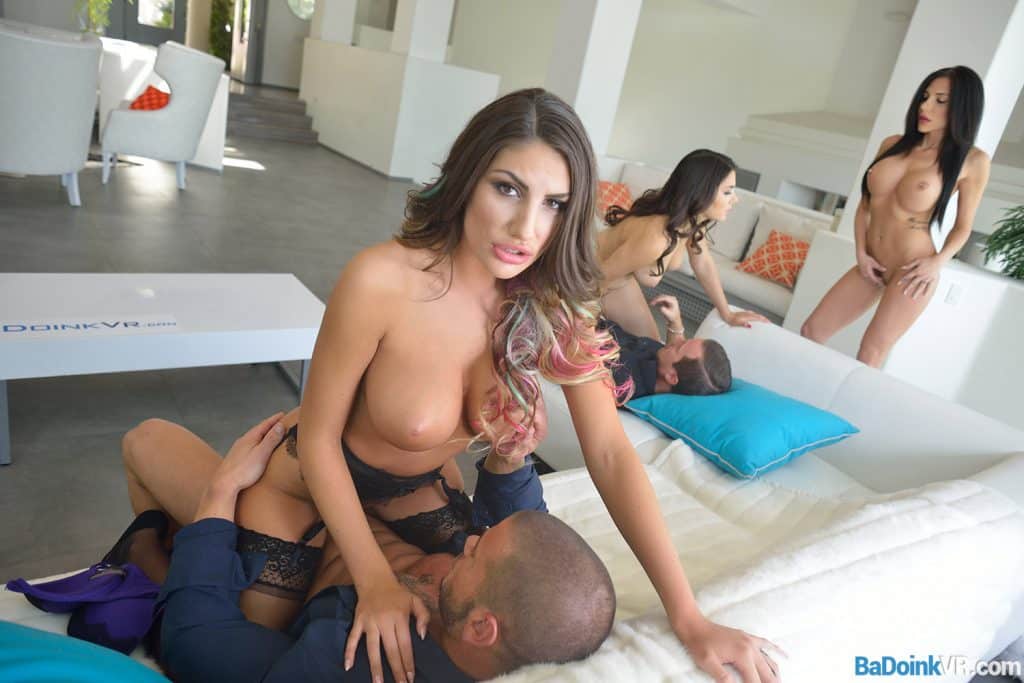 How Are 360 Videos Made?
Okay, bear with me while I get a little technical on you. These videos are typically recorded with a special camera rig that is usually quite large and has multiple lenses embedded into it. Then, when all of the footage is captured, it goes into a stage known as video-stitching, essentially merging the footage into one spherical video.
The tech is advancing, though, and that massive rig isn't always needed. A device as small as a GoPro Omni or Odyssey can capture footage at 360 degrees.
The Pros and Cons of 360 Porn
The pro is directly related to how a site films its content. Take an orgy scene, where you can see everything around you. Imagine sitting in the middle of a room and getting a virtual blowjob from a blonde. On your right, another girl is kissing you. On your left, a couple is fucking. Directly behind you, more couples are having sex.
The con is that filming in 360 doesn't look as good. My experience is that it is not as sharp. This is because it takes a lot of processing power to shoot and unfortunately, quality is often sacrificed. Also, sometimes the files are bigger, anywhere from 5GB to 15GB. So make sure you have the bandwidth and space (either on your PC or headset) for it.
At the end of the day, it's a personal preference. If you think you need to see the entire room, you might prefer 360 over 180. So maybe you're willing to sacrifice some quality to get that. I can enjoy both, so it really depends on the mood I'm in.
Do I Need Special Tech?
No. Any device you own should be able to play a 360° video with ease. It's more dependent on the scene's resolution. If it's 4K, most headsets can play that. If it's anything higher, like 5K or 6K (which, from my experience, aren't usually associated with 360-degree videos anyway), you'll need something with better specs like a Rift, Vive or Quest.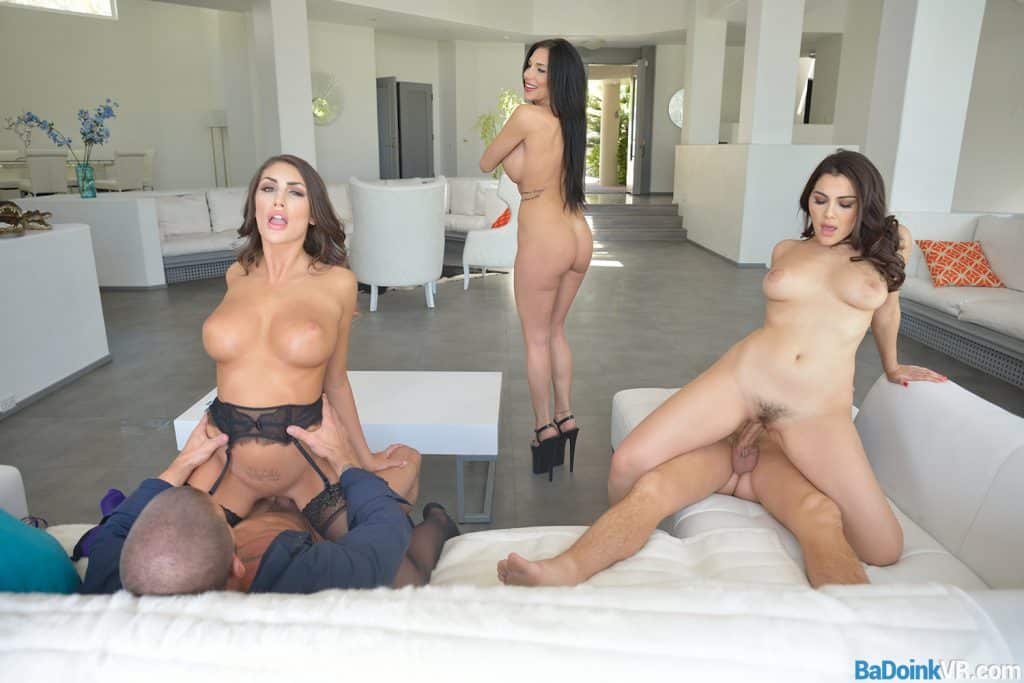 Can I Watch on My PSVR?
You most certainly can. It is no different than watching any other virtual video, so rather than getting into it here, I'll direct you to my blog on watching VR porn on your PSVR. It should answer all your questions.
Can I Watch a 360 Video on My PC?
Yes, you can, but why would you want to? On a streaming video player, you can click and drag the video to look around, but it's not even close to being as immersive as watching it with your headset. It's a good way to get a preview of the scene before you commit to downloading it – but that's as far as I would go.
Which Headsets Are Best For 360 Porn?
If you're watching a 360 orgy video for example, where things are happening all around you, you'll want to examine your surroundings. And for that, I'm going to recommend a wireless headset. I almost always prefer them regardless, but for a 360° video, I'd say it's essential.
If you're using a tethered device, you'll be limited in your movement. Turn around too much and you risk tangling the wires, accidentally ripping them out of your headset, or worse, knocking something over and potentially damaging your equipment.
Where Can I Find 360° Porn?
There are plenty of sites where you'll be able to find porn filmed in 360 degrees.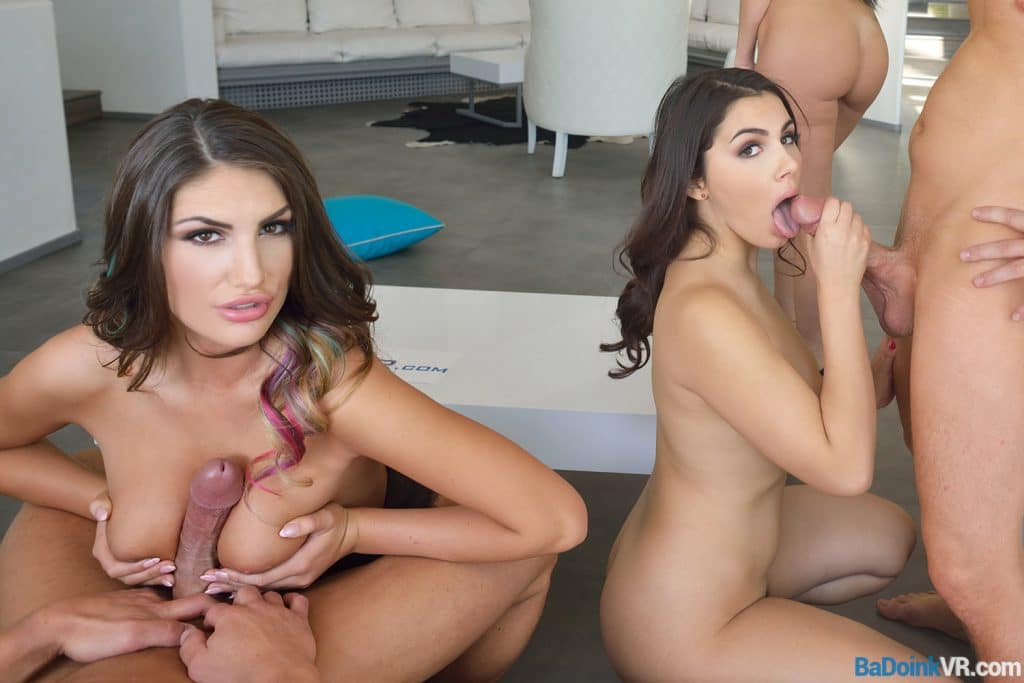 BaDoink VR has a great scene called "Cumming Full Circle" featuring Valentina Nappi, Jaclyn Taylor and August Ames (R.I.P). You'll take turns virtually fucking each girl while another guy on your right also fucks one of them. Turn around and you'll see a third pornstar pleasuring herself.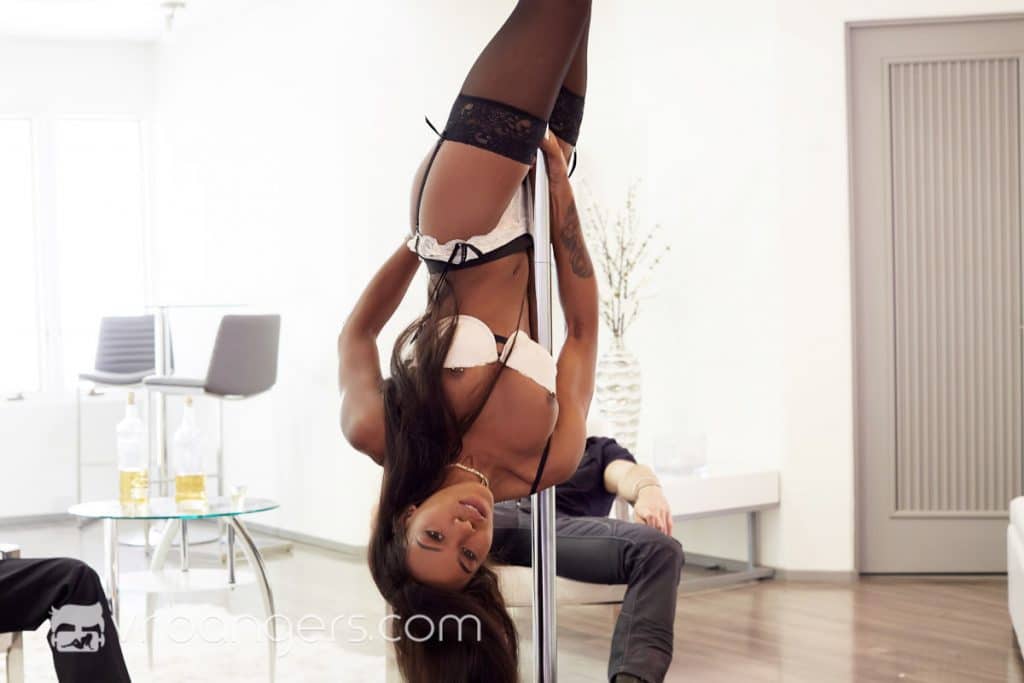 VR Bangers has a 360° video worth checking out called "Pole Dancer." The title probably gives it away but yes, it involves a stripper. The sexy Nadia Jay is giving you and your buddy a lap dance and you're allowed to touch her as much as you want. You each take turns fingering her, rubbing her tits and grabbing her ass.
360-Degree Videos in the Mainstream
I use my headsets mostly for porn, but I like to experience other things from time to time. YouTube has an incredible selection of 360-degree experiences. Everything from sailing the canals in Venice, Italy, to flying high above Earth's atmosphere.
Some headsets, like the Oculus, have experiences built-in to the device. Whether you're tightrope walking between two skyscrapers or riding a roller coaster, it's a lot of fun. Just be warned that if you're prone to motion sickness (here's how to avoid getting sick while watching VR), you might want to limit how long you're watching those types of scenes.
Is 360 Porn Right For You?
I will say that unless a site is doing something cool with 360 porn, like an orgy or a group sex scene, I prefer to stick to 180°. As long as I can see the girl in front of me and if nothing else is happening around me, that's all I care about. But that's just me. I think every VR porn fan should watch at least one 360 scene and make up their own minds.