Do you ever see something and it instantly jolts your memory? I was scrolling through some VR scenes recently, as I often do, and I saw a scene with a gorgeous Tgirl that reminded me of a blog post from last April where I talked about the growing trend of trans VR porn.
That's when I realized I haven't talked about any TS scenes lately, so here I am, armed with some of the best trans pornstars in fun, sexy virtual reality porn from VR Bangers!
What would you do if you found out your stepmom was actually a super sexy VR shemale porn star? In this immersive VRB Trans scene, beauty Aubrey Kate is chatting with her stepson. She comes in wearing a skimpy red bathing suit and you get to play the role of her stepson as she rubs your chest and sucks your cock. But things don't end there. This big booty trans stepmom fucked you good and then you get to fuck her too. Best of all, this is a 360° scene, so it'll feel even more like real life as it's happening!
"My Bratty TS"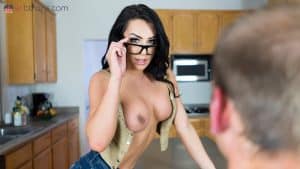 So you've got the Tgirl stepmom fantasy, but how about watching your big tit trans sister masturbate? In this 360° hardcore VR scene, Chanel Santini gets home from school to greet you and reveals that she knows you've been watching her around the house – but she's been watching you too. It's your lucky day, buddy!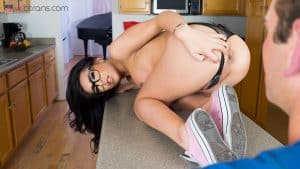 She climbs up on the kitchen counter and gets naked to give you a full striptease, but she still keeps on those sexy glasses. Then this horny teen Tgirl masturbates and cums while you watch, but not before you get to finger her a bit. Sit back and relax with your headset on while Chanel teases you.
"The Naughty Schoolgirl"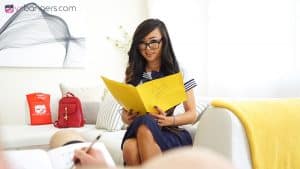 Sometimes, there are more important things than sex, like studying! Just kidding, sex always comes first, or at least that's the lesson I'll teach Isabelle and mine's offspring if we ever have any! In this shemale VR porn scene, the gorgeous Venus Lux is your girlfriend and you're trying to study but she has something else in mind.
As you try to concentrate on your work, Venus starts stripping and dancing to get your attention. When that doesn't work, she starts masturbating on your lap. At that point, you completely abandon your studying and help her get off with a dildo. What's even better about all of this is that it's a full 360° virtual reality experience, so it's like having your own personal live show from one of the hottest Tgirl pornstars.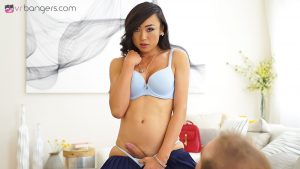 Watch More Trans VR Scenes
If you have your headset by your side and you're ready to dive into these trans VR scenes, be my guest! You can experience the thrill of banging these gorgeous Tgirls right from the comfort of your own home and it'll feel like they're right there with you. If you're interested in more scenes like these, you can check out my list of the Top 5 Trans VR Scenes that I put together last year!