When it comes to VR console gaming, there's no doubt that PlayStation is ahead of the curve. Technically, you can play virtual games on Nintendo and Xbox, but it requires various tricks and workarounds that can be annoying. PlayStation is the only one with its own headset. But that's beside the point because the real reason we're here is VR porn (obviously). When I first bought my PSVR, I wasn't even thinking about playing games yet. I just wanted to know how to get some porn hooked up to it. What I found was that initially, it was a very tricky process that required some "hacking," but that isn't the case today. And I'm going to help you get set up.
Step 1: Download Porn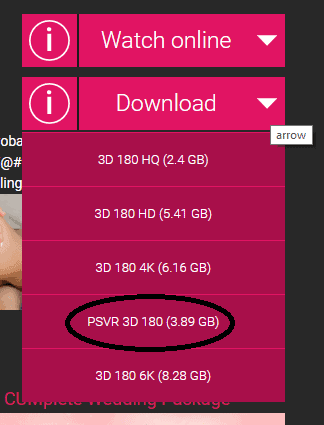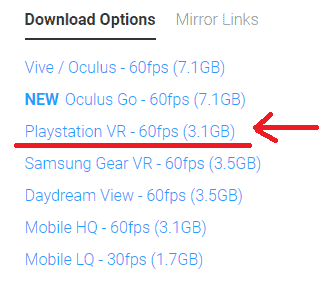 Easy, right? Yes, this is literally the first step. Thankfully, nearly every single VR site has gotten on board with offering files designed for the PSVR. All the biggest sites like BaDoink VR and VR Bangers have them.
Step 2: Copy Videos to a USB Drive
Now that you've got the videos, transfer them onto a USB flash drive and plug it into your PlayStation. If your PlayStation is having trouble reading the USB, you may need to reformat it to FAT32 or exFAT. To do this, plug it into your computer, right-click the USB icon, click "format" and select FAT32 or exFAT. Either should work. Keep in mind that if there's anything on the USB when you format it, it will get deleted.
Step 3: Launch the Media Player or LittleStar App
I'm going to split this part up into two sections. You have two options when it comes to watching the scenes now that they're downloaded on a USB key and plugged into your PSVR. There's the official Media Player app for the PS4, or a third-party app called LittleStar that can be downloaded from the PS Store.
The Media Player
For me, the Media Player is probably the easiest way to go about watching your virtual content.
Just follow my steps:
1. Make sure the Media Player is updated to the latest version.
2. Open the desired file on your USB via the Media Player app.
3. Turn on your PSVR headset.
4. Hold the "options" button on your Dualshock controller.
5. Select VR mode from the menu.
And that's it! You should be able to watch the scenes easily and with no issues.
The LittleStar App
Truthfully, the LittleStar app is a much more user-friendly way of watching VR porn, but it can be a little finicky. Here's what you need to do:
1. Download the LittleStar App from the PlayStation Store.

2. Create a folder on your USB drive. Name it "LittleStar."

3. Place the videos in the folder.

4. Open the LittleStar app while wearing your PSVR headset.

5. Navigate to the "library" option in the app and your videos should be there!
However, a common occurrence with the app is that it doesn't recognize the videos. This often has to do with the filename. This is where it gets finicky.
If it's a 180-degree video, the filename must resemble: *filename*_SBS_180.mp4

If it's a 360-degree video, the filename must resemble: *filename*_TB_360.mp4
Now, hypothetically, this should work. I tried it out on my PS4 and when I named the files in this way, it worked. However, I have read instances on various Reddit forums that it doesn't always work. Sometimes the filenames need to look different. If you're encountering problems and changing the filename doesn't help, some quick Google searches should certainly provide answers.
Got a PlayStation? Watch Porn Now
Aside from the great selection of VR games for the PS4, your PSVR headset is your window to a vast selection of porn! Overall, accessing your videos is fairly easy and hopefully, this guide will help you out. If you have any questions, or if you're confused about any of the steps, don't hesitate to send me an email and I'll get back to you as soon as I can.