Still hesitant about virtual reality? Believe it or not, friends, there are some people out there, even porn enthusiasts like ourselves, who still haven't jumped on the adult virtual reality wagon where I'm pretty sure we're all having the time of our lives. Why this is the case remains a bit of a noodle-scratcher, but I think I've gotten it figured out. Aside from all the VR bashing in favor of the nearly nonexistent AR (mostly by a powerful technology company with a fruit as its logo that shall remain nameless), I think virtual porn reminds people of an earlier innovation about 5 years before that proved to be a commercial flop. What I'm talking about is 3D porn.
X-Rated Avatar Scenes in VR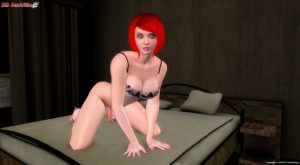 Do you remember 3D porn? It was popular for what seemed like a minute, years ago. Before hitting the adult industry around 2010-2011, 3D became a household name with the 2009 critically acclaimed James Cameron movie Avatar. The IMAX showing, in particular, proved to be hugely successful with audiences and led to more films created with this technology. They even made 3D television, added it to sporting events like FIFA, and then someone had the idea of introducing it to the adult industry. I'm sure it seemed like a good idea at the time, but suffice it to say, it was little more than a fad – and an unsuccessful one at that. It fizzled and now there's nearly no evidence that it ever existed.
The Answer Lies in the Headset
So what's the difference between 3D and VR? And why has virtual reality already proven to be more successful? The answers are simple. First off (and to be perfectly blunt), 3D porn looks weird and isn't immersive. You are still watching a screen that has various bodily appendages, like boobs and legs and heads and cocks, popping out at you. Now, while virtual reality uses similar technology, watching a 3D video through a headset offers a much more immersive experience. Think about it: You're no longer looking at a monitor. Instead, a video with a 180° or a 360° point-of-view takes over your whole field of vision. Essentially, a VR scene has replaced your regular reality and this makes all the difference. If you're just dying to see what my top VR sites are, browse my list of faves!
Virtual Reality Is a Multipurpose Platform
Another difference between 3D and VR – and why the former went the way of the dinosaurs – is the amount of content that could be purchased by retail customers and support the industry. 3D tech flopped because they weren't making enough of it. Sure, there's IMAX, which continues to be popular with big-budget special-effects flicks, but that's not exactly something consumers can buy. There also weren't any 3D games, which is something the virtual industry has in spades. Not to mention countless other kinds of content, from training simulations, real estate tours, nature videos, etc. There's a lot that's not only keeping VR alive, but making it thrive.
VR Porn > 3D Porn
So, in a nutshell, you could say that the key difference between 3D porn and VR porn is the headset, (read my post on the best headsets for VR here!) which aside from being a sophisticated piece of technology in and of itself, has a design that allows for a much more immersive experience than watching three-dimensional content on a regular old screen. Also, there are a million more uses for virtual technology outside of porn, which continues to drive the median into the future. Not to mention that it gives all of us a reason to tell our friends and families why we spent so much money on upgrading our computers and purchasing an Oculus Rift.