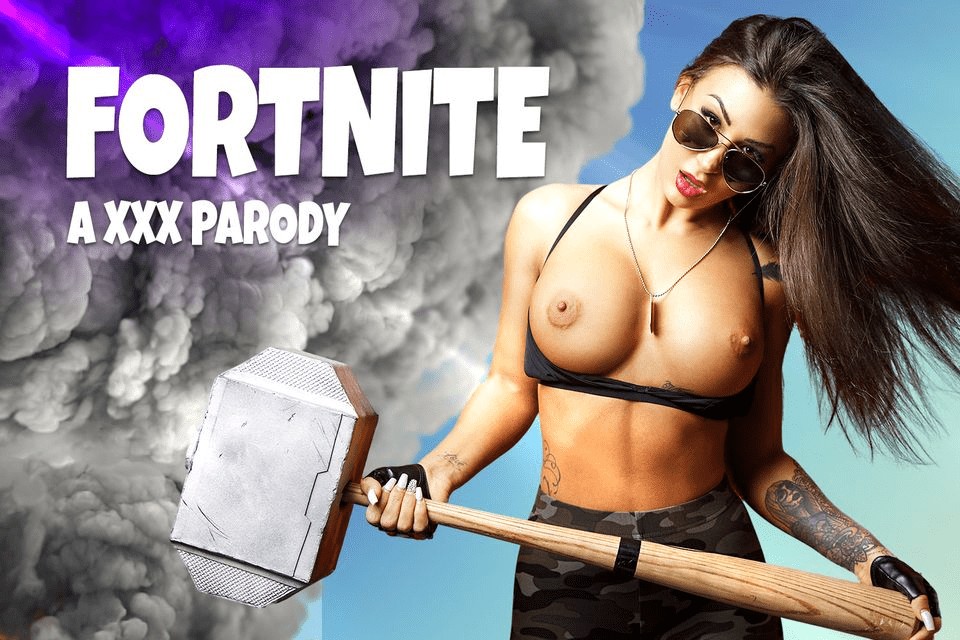 You may not be a gamer, but chances are you've heard of Fortnite, one of the most popular games of the last decade. There are entire YouTube channels dedicated to it, streamers who play it on Twitch 24/7 and millions of players worldwide. It's no surprise that its popularity has led to the creation of Fortnite porn with 3D Animated and cosplay sex scenes! And of course that means VR porn, as well. I mean, why else would I be talking about it?
Fortnite is a free MMO (massive multiplayer) game where players fight "battle royale" style. You're thrown onto a giant map with 100 people, and as you all start picking each other off, the map gets smaller. Along the way, you collect resources, weapons and traps to aid in your quest for total domination. In the end, the last person standing is the winner.
Trust me, it's a lot of fun. And it's become a massive cultural phenomenon. Both Star Wars and Marvel characters are now part of the Fortnite universe. Musicians like Travis Scott and Marshmello have held virtual concerts within the game's world, and huge tournaments are held across the world, where top players have won upwards of three million dollars!
Of course, as with all things, the porn world has taken notice, and many XXX Fornite porn parodies have been released. Below are some of my favorites.
1 – Fortnite: A XXX Parody
Before I tell you about this scene from VR Cosplay X, let me tell you about the girl. Her name is Susy Gala and she's the one you'll be spending time with. She's Spanish, with big fake tits and a smoking hot body. That's probably enough to get you started, but I also want to add that she gives a killer blowjob. Any guy on the receiving end is one lucky dude.
So here's the premise. You're mid-game, killing, looting… You know, all the fun stuff. You then wander into a home that looks empty at first. That is until you see Susy. She's just scored some loot but isn't about to let you take it from her. Instead of fighting for it, she offers up a trade: sex! Fucking her is so good that when it's over, you can barely move! She seizes the opportunity, steals your loot and runs off, leaving you defenseless for the endgame. Oh well, it's a small price to pay. Another great scene from the people behind BaDoink VR
2 – Ruby's Locker Room Warmup
It's always good to get in a few stretches before doing any strenuous activity. You'll certainly need it if you're going to have a full day of fragging away at your enemies. So why not get in some warmups with Fortnite's sexiest character, Ruby, a sporty-looking babe with an athletic body. In this 3D animation porn scene from VR AnimeTed, available at VR Porn, she's bent over with her tits out, ready for you to plow her from behind. The animations are excellent too! The way Ruby's tits sway back and forth while you're fucking her looks surprisingly realistic. It's a short scene, but you'll definitely want to experience it more than once.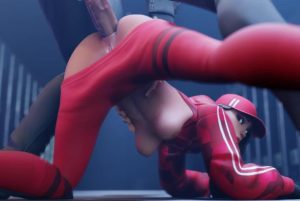 3 – Sweet And Spicy Taste You
Whoever designed these game characters had to know what they were doing. Some of the outfits you can unlock are very revealing. So is anyone surprised that animated porn studio Dark Dreams (also available at VR Porn) ran with that and created a blowjob threesome with Candy Girl and Scarlet? Of course not! This scene is also short and sweet, clocking in at three minutes. You're getting a POV view of both girls working your 3D cock. While Candy Girl strokes you, Scarlett licks the tip of your dick. I'm sure you can imagine the ending.
Get Your Game On With Fortnite Porn
Fortnite is this generation's Super Mario Bros – everyone is playing it! It's addictive, fun and you never know what new strategies you'll discover to help you win the game. And of course, as Rule 34 states: "Internet pornography exists concerning every conceivable topic." It's no surprise that a game as massive as this one would spark some porn parodies. As much as I love the animated stuff, I hope to eventually see more cosplay porn videos with real pornstars, like the first scene I mentioned. But that's just me. Either way, I think any fan is going to enjoy immersing themselves in these VR scenes.