If there's one recent trend I've noticed in VR porn, it's that more niche-specific sites are popping up. I remember a time when you'd join a VR site and if you were lucky, you'd find a kinky video, like BDSM or smoking. But now there are plenty of virtual reality sites that target specific fetishes, so whatever you're looking for, chances are high you'll find it. Today, I want to highlight a few of my favorite sites to fulfill all your fantasies.
1 – Slim Teens – TMW VR Net
Who can resist a teen in yoga pants? When I feel like getting up close and personal with a hot European girl, I head to TMW VR Net. I have a thing for slim babes with small tits and that's where the site thrives. They've got a good variety of skinny teens, and a couple of busty beauties too. In one scene, I got to watch a small teen get fucked hard by another guy while a hot blonde gave me a blowjob!
2 – Authentic JAV – Virtual Real Japan
Does Japanese porn get you all hot and bothered too? Then check out Virtual Real Japan. The site let me pretend I had a hot Japanese wife who desperately wanted to fuck me and I also got titty-fucked by a busty Japanese mom.
It's one of the most authentic VR sites out there, in the sense that the content is produced in Japan, which also means you'll have to deal with pixelated scenes and, of course, if you don't speak the language you won't know what they're saying. But hey, it's not hard to decipher what a moan means in any language, right?
3 – Taboo Porn – Virtual Taboo
At this point, stepfamily taboo porn keeps growing in popularity. And you know what? I'm all for it! The fantasy of fucking your stepsister or stepmom is something I can get behind. Since I can't do that in real life, I live vicariously through VR Taboo, where I get to fuck my entire stepfamily in couples scenes, threesomes and foursomes.
This website is one of the few that's shooting in 7K! So you're going to want to use a powerful headset like an HTC Vive or Oculus Rift S to power these scenes at their full potential. They've got downloads for all devices though, so you'll be fine. 
4 – BDSM – Kink VR
Fancy yourself a dungeon Master? No, I'm not talking about the Dungeons & Dragons variety, I'm referring to the dominant men who get to tie up these subs and have their way with them. Or maybe, you'd rather be the submissive to a beautiful Domme in full leather gear. Both are possibilities on Kink VR. 
This is easily my favorite BDSM VR porn site because there's so much variety. I could be used and abused by a tattooed MILF in heels, have a PAWG sit on my face, or get sucked off by two girls at once while a pornstar whips their asses. Need I say more?
5 – Threesomes & Orgies – VR Tag Team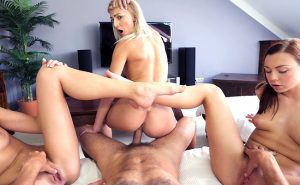 Things are better in groups – including sex. So why not dive into virtual threesomes and orgies on VR Tag Team? This site has a decent amount of MMF and FFM threesomes, and a couple of VR orgy scenes. The women are mostly Eastern European and, well, that says it all, doesn't it? They're some of the horniest babes on the planet and believe me when I say you're going to love spending time with them.
6 – Feet – VR Foot Fetish
Foot fetishes come in all shapes and sizes – literally. Some people like big feet with long toes, others like small ones. Some of it is based on wearing heels, socks (dirty or clean), or even the smell. Either way, no foot is left behind on VR Foot Fetish! I love this site because I can get a virtual footjob, have a MILF shove her wrinkled soles in my face, or sit back and relax as two lesbians in a 69 position suck each other's toes.
Which XXX Site Will You Pick?
I like that I can say "there's something for everyone" and have it mean something because it's the truth. The world of virtual reality porn continues to explode and there are already tons of sites to satisfy your every desire, some of which I haven't even mentioned here, like pissing, anal sex and BBWs. So grab your headset and get ready to have all your itches scratched in the best way possible.