Welcome to the second edition of Spotlight. A few blogs back, I featured one of my favorite stars in the VR world, Karma RX. So for the second edition, I decided to go in a different direction and feature a pornstar who's been in the business for a very long time but is perhaps a little newer in the VR world. Her name is Brandi Love and there's no question that she's one of the hottest MILFs in the biz.
Who is Brandi Love?
You might know the name and have probably even seen her videos, but let's start with a little  background info. Before her start in porn, Brandi and her husband worked a lot of white-collar jobs. But it all got to be a little too much and in early 2000, after her husband suffered a heart attack, his doctor recommended a career change. Coincidentally, they both knew people in the industry and in 2004, she started her own website and in just four short years, she was being flown to L.A. to shoot her first professional scene for Naughty America. It took almost no time after that for her popularity to skyrocket and she has appeared in hundreds of scenes and is now dipping her toes into the virtual reality pool.
My Favorite Brandi Love Virtual Scenes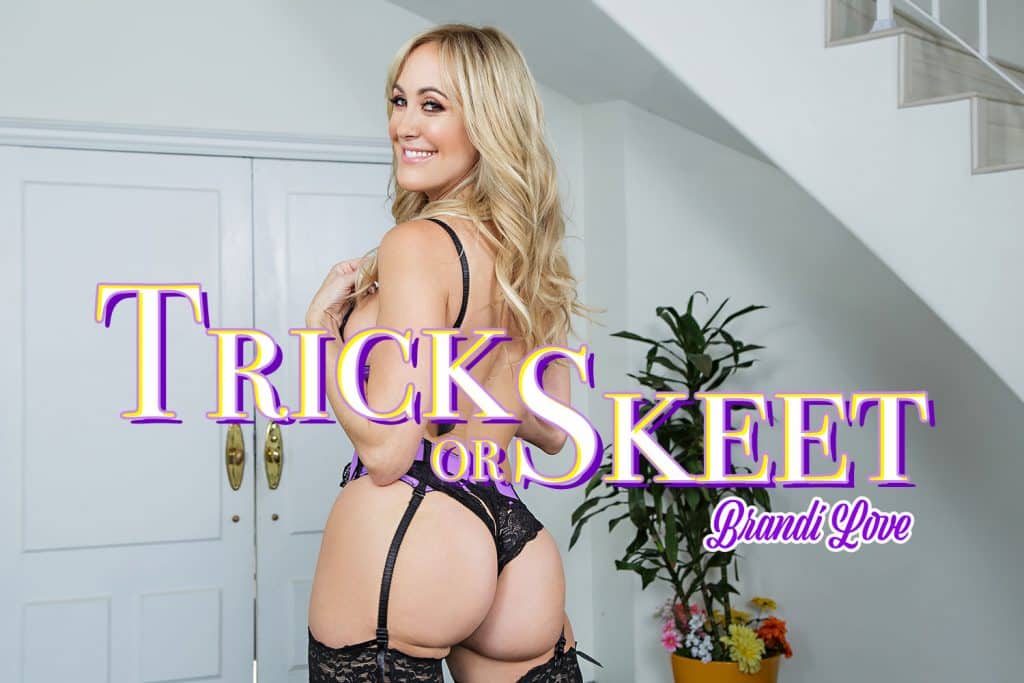 I absolutely love this scene for the simple fact that the premise is so over-the-top. It's Halloween and there's a rumor floating around the neighborhood that Brandi is looking to fuck the first adult trick-or-treater who knocks on her door – provided he's big enough to fit into a magnum condom. So, when you knock on her door, Brandi answers in a sexy Little Red Riding Hood costume with very little underneath. She wastes no time "examining" your goods and determines you're perfect for the job. It turns out the rumor was true and Brandi gets to sucking your cock and climbing on top of you quickly.
"My Husband Doesn't Want Me. Can You Help?" – VR Hush
In this scene, you play the role of Brandi and her husband's therapist. They're visiting you because of their marital problems, one of which is the fact that Brandi is horny 24/7 and can't help but lust for other men. When Brandi gets to her appointment, surprise surprise, her husband can't be bothered to show up.  That's when she notices that you've been staring at her the entire time, checking her out. Eventually, she can't resist you any longer and in no time, she's sucking your cock and riding you cowgirl, reverse cowgirl and then doggy style.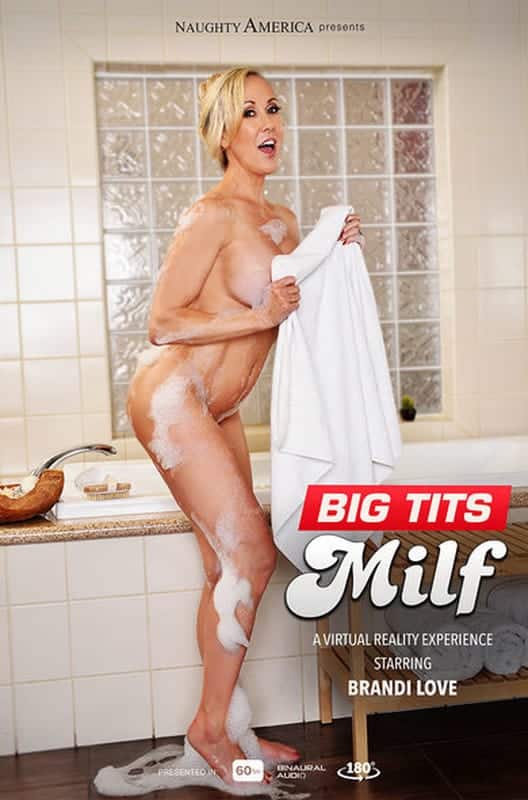 Oh, how I love Naughty America. I was always a fan of their series "My First Sex Teacher" and "My Friend's Hot Mom," especially the latter. I've had friends with hot moms that I dreamt about walking in on as they changed. Well, that's essentially the premise in this video, which is why I loved it so much. In this scene, you walk into the bathroom only to find Brandi in the midst of a relaxing bath. Embarrassing, right? Don't worry, Brandi excuses your "accident" by giving you a blowjob, rubbing her feet on your dick and letting you take her from behind.
"The Real VR Deal" – VR Bangers

Normally, I want Brandi all to myself, but what's the harm in sharing? This particular scene is fun because you play the role of boyfriend to the gorgeous Alexa Grace. Your character is watching virtual porn. Yes, that's right, you're watching VR porn where you're watching VR porn. (Inception anyone?) Anyway, just as you're getting to the good part, Alexa catches you in the act and grabs your headset to see what you've been watching. Well, guess what? She gets turned on by it and starts to give you a blowjob. Who should walk-in right at that moment? Why it's her stepmom, played by Brandi Love. Being an open-minded stepmother, she decides to rub her stepdaughter's pussy and eventually jumps into the action.
Brandi Love is the Perfect MILF
Brandi Love is as close to a household name as a MILF pornstar can get. Seriously, go to any top adult site, browse the MILF category and there's a good chance one of their "top rated" or "most viewed" videos is going to have Brandi in it. She's good at what she does and knows how to keep people coming (and cumming) back for more.