As I've done previously on this blog, I like to introduce you to pornstars who have caught my eye during my VR porn watching sessions. I love virtual porn and the added engagement it brings to the scenes that regular porn just can't. And these days, my current obsession is engaging with the beautiful brunette Ella Knox as much as I can.
Meet Busty Latina Beauty Ella Knox
Born in California and of Mexican descent, Ella stood out to me from the moment I laid my virtual reality eyes on her petite frame and big tits (36DD). Standing at only 5'2" and weighing in at a slim 112 lbs., her breasts surely make up a large percentage of that number on the scale. Add in the fact that they're all-natural tits, and Ella just keeps getting checkmarks in the "pro" column!
So allow me to introduce you to a few Ella Knox videos that I've been watching over and over again lately:
In TOM 2 you're placed in the position of a repairman who shows up to fix Ella's air conditioning. But instead of doing your job, you can't help but be a Peeping Tom and looking in on Ella while she tries on clothes in her room. While you start off as a voyeur, you don't do a great job of staying hidden and Ella catches you. Thankfully, it turns her on and this Naughty America VR scene goes from voyeur to hardcore as Knox's knockers bounce around while you fuck her in multiple positions.
In the Final Pound Interview scene Ella did for Badoink VR she plays an underqualified applicant for a job at your startup company. But a gorgeous girl like her always gets an interview and it doesn't take long before she's trying to influence your decision. First, her awesome tits come out from her shirt and within a few minutes, you're tittyfucking her right there in your office. This leads to sex and your dick goes from between her large breasts to inside her sweet pink, bending her over your desk then laying her back down until she finishes you off with her hand all over her hairy pussy.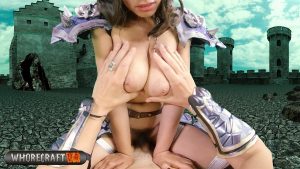 I thought I would end this ode to Ella Knox VR with a little cosplay fetish. Now, all you World of Warcraft fans out there will immediately get the reference in her scene titled The Rise of Lady Sylvanus. Using costumed armor and a green screen, the folks at Whorecraft VR have brought the Dark Lady character to life – and she puts the "whore" in "horde"! They definitely have fun with this cosplay scene and there are some great moments that stood out to me, like when Ella is riding you and those beautiful boobs are just bouncing up and down.
Ella Knox Was Made For VR!
Yes, most of her work has been in the non-virtual world, but with her curves and those all-natural tits, she needs to do as much VR porn as possible. The tech makes you feel like you can reach out and touch the babe in the scene and with her hot ass and those big tits in 3D just an arms-length away – that's what virtual porn is meant to do. And I'm glad they're doing some of it with Ella!