Oh, the fond memories I have of Briana. I might be revealing a bit too much about my age by saying this, but I've been a fan of hers since the beginning of her career. And what a career she's had. She started in the industry under the name Mirage, but in 1999 switched to Briana Banks, which is a little closer to her real name, Briana Bany.
Her body of work is incredible. Having starred in hundreds of films, often as the headliner, Briana is one of the hardest working women in the industry. In 2006, she took a brief 2-year hiatus, then decided to fully retire in 2011, much to the sadness of her fans.
But then something incredible happened. In 2016, Briana decided the world deserved more of her and she made a comeback. But this time, she was going to do things a little differently. Sure, she'd appear in films for top studios like Naughty America and Evil Angel, but this time she was also going to shoot some virtual reality porn.
From Teen Newbie to MILF Pornstar
At the age of 39, Briana is no longer the teen star she was in the '90s, but that's just fine, because now, as a MILF, Briana is in her prime and shooting some of the steamiest sexiest films you've ever seen. Her current movies completely blow her teen years out of the water. Which is why you're going to love the fact that you can immerse yourself in her sexiness. She hasn't filmed a lot of virtual porn yet, but below are here three scenes.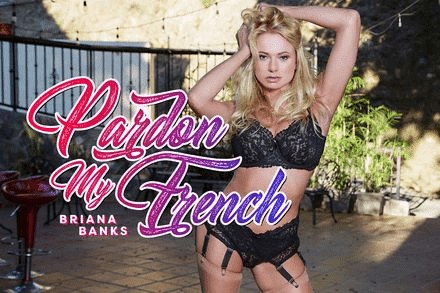 "Pardon My French" – BaDoink VR
In this scene, you play the role of a student flunking your French course so you hire a tutor. The problem is, your grades are worse than ever, even with the help. It might have something to do with the fact that your tutor is Briana Banks and every time you study with her, you barely hear anything she says because you're focused on her body the entire time.
Eventually, Briana starts to get annoyed. What will it take to get you to listen? Clearly, she needs to fuck you, so that's exactly what she does. She starts by climbing onto your desk and letting you touch her breasts. Maybe that'll be enough to get you to focus? Nope. Looks like she'll need to blow you and let you fuck her. Chances are you're going to fail your French course, but who cares?

"Banging the Daughter, Seducing the Mother" – VR Hush
I love Briana on her own, but when you can share her with another babe, it takes the experience to a whole other level. In this video from VRHush, you're excited about spending an afternoon having sex with your girlfriend, played by the gorgeous Elizabeth Joli. You walk into the house to find her in her underwear, sitting on her parent's bed. Apparently, she's always fantasized about fucking on it. So, naturally, you give her what she wants.
Just as you're in the midst of fucking, in walks your girlfriend's stepmother, played by Briana Banks. You're stunned, but you're sitting there with a very erect cock. There's no point in hiding it since you're obviously caught. Well, Briana seems to be focused on it. In fact, she can't take her eyes off it. So, she decides to plunge it deep into her mouth. Elizabeth is amazed at her stepmom's blowjob skills, so she watches you two go at each other for a while before jumping into the action.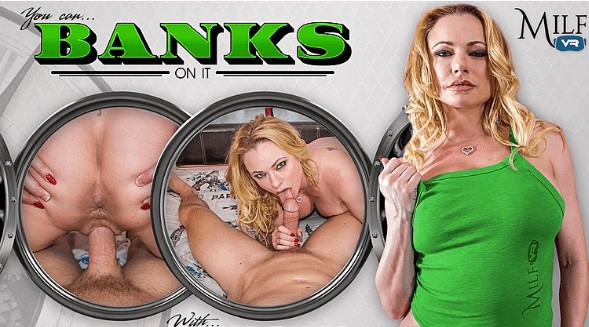 "You Can Banks On It" – MILF VR
This scene is less involved than the others. There's not really much of a premise, but that's fine. You show up to Briana's house with the intention of banging her. She knows it, you know it and you're not about to waste any time on chit-chat. She appreciates that you've arrived at her place on time. You want to touch her, but she makes you wait just a little bit – Briana is a masterful tease. But don't worry, you'll be rewarded soon enough!
Keep the Virtual Porn Coming, Briana
I'm happy that Briana has made her comeback in porn, but I'm even happier that she's shooting some VR scenes since she's one my choice pick for top-tier pornstar. For now, those are the only three she's done, but I hope she considers doing more. Maybe an MMF threesome? Or even a solo scene? I don't really care, I just want more of Briana in virtual porn!