Have you heard the news? There are more and more VR trans scenes than ever before! And I've been pretty busy watching them all. I actually just uploaded a post a couple of weeks ago on how VR trans is a growing trend. This niche has become so popular that I've accumulated a whole category of trans-exclusive sites that offer 180° 3D hardcore TS experiences like VRBTrans, VirtualRealTrans and TSVirtualLovers, to name a few. In fact, I just had my Oculus Rift strapped to my melon because I was watching these five scenes in preparation for my blog. And I think you'll love them as much I did. Enjoy!
#5 "Beggin' For You"
In "Beggin' For You" from Virtual Real Trans, you'll have a front-row view for about a half an hour in front of Angelina Torres, a sexy blonde with big tits, a big ass and high heels, masturbate like she hadn't been fucked in years. She strokes her cock from behind her panties and gives herself a handjob until she cums on your face! Not only that, but she also goes to town on her asshole with her fingers, all the while dirty-talking about wanting you to fuck her up the ass. It's a good one! This scene is viewed best while sitting upright in a chair.
#4 "Vandersexxx Mistress"
" There are more and more VR trans scenes than ever before!"
This immersive hardcore scene from VRB Trans is what I like to call a triple-whammy. It's called "Vandersexxx Mistress" and not only is a hot 180°scene, but it also has BDSM and taboo themes that make it irresistible. You emerge in a steamy bathroom where your TS stepsister, a sexy 20-something brunette played by Nikki Vidic, is taking a shower and you can't help but want to sneak a peek. After she catches you spying, she decides to give you a blowjob and then you fuck. Everything soon changes, though, when you seem to black out all of a sudden and remerge in your stepsister's dungeon, tied to a bed, and you see she's wearing stockings and lingerie. And that's when things get interesting. This scene is viewed best while standing up and then lying down.
#3 "Wet Redvex"
From TS Virtual Lovers the scene "Wet Redvex" is one you're not going to want to miss. Right after you strap on your headset, you'll find yourself bathing in a tub, naked, when Redvex, a pretty blonde TS model, starts to help you and is soon giving you a handjob. Then the two of you move into a bedroom and you get to fuck her in the ass as she rides you cowgirl. The scene finishes with a happy ending all over her open mouth and face. This scene is viewed best while lying down.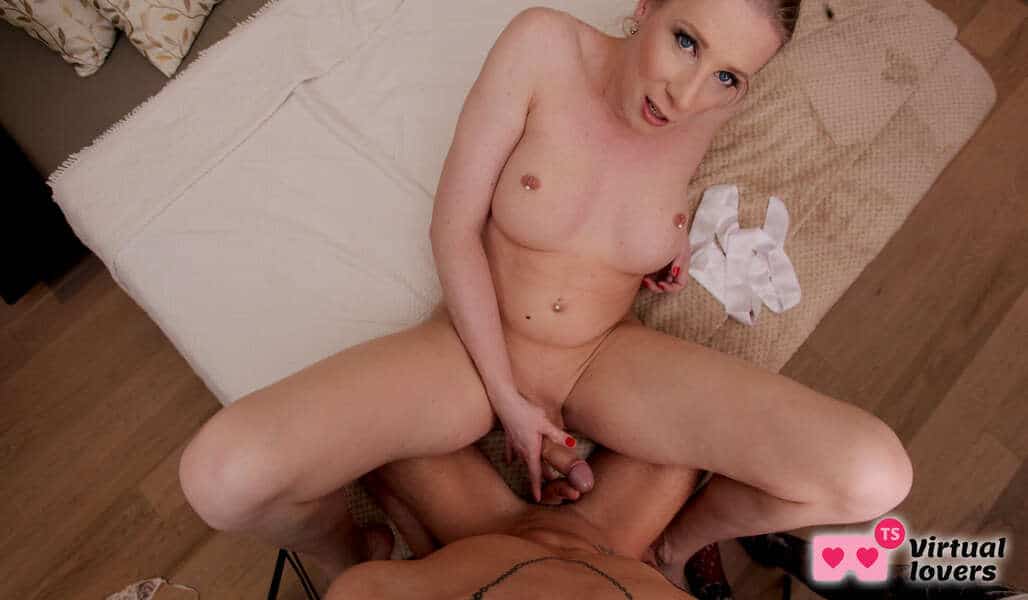 #2 "Call Your Insurance"
In another favorite scene of mine from Virtual Real Trans, sexy Tgirl Cece Addams sneaks into your apartment in this 4K virtual experience. She has the best pair of tits and a hard cock, not to mention a sweet ass. Cece is a little upset at the beginning, 'cause she lives in the apartment below you and her bathroom is flooded thanks to you. But she soon notices your massive erection and it's on. Long story short, you fuck her in the ass and the mouth and you don't wear a condom, either. It's funny, 'cause she came up to complain about flooding and you end up flooding her with cum! This scene is viewed best while standing up.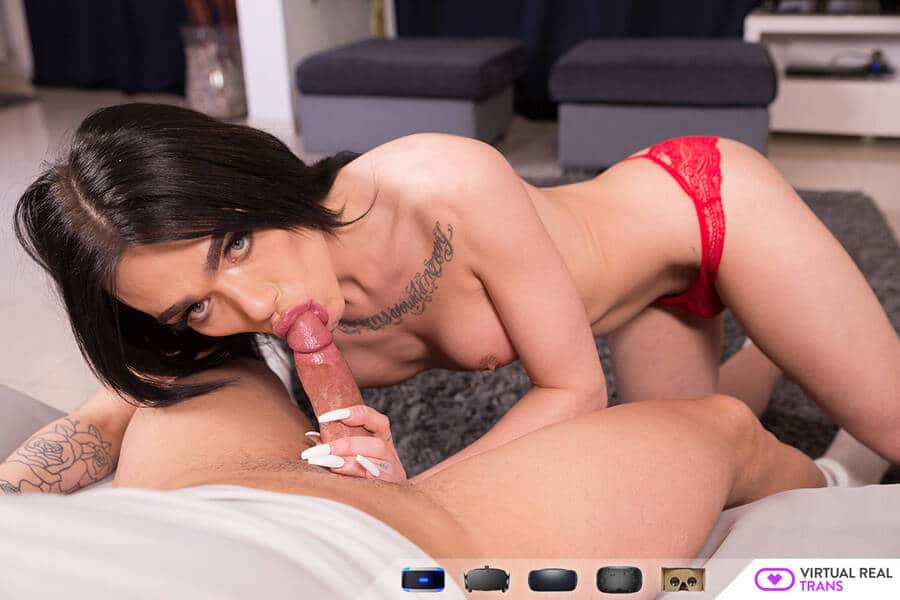 #1 "Head Over Heels"
In another hot and immersive scene from VRB Trans, you find yourself in a sex shop shopping for toys to use with your girlfriend. The store clerk, however, is Domino Presley, one of the hottest transgender models alive. At first, she's a little flirtatious, but she kicks it up a notch by taking her clothes off and revealing her red lingerie. Committed to client satisfaction like she is, she gets down on her knees and gives you the best blowjob of your life, licking your balls hungrily then swallowing your load. This scene is viewed best while standing up.
Watch These TS VR Scenes
There you have it, folks. Five hand-picked trans virtual porn scenes with my official stamp of approval. So if you've got yourself one of the major viewers, whether it's a Cardboard, Google Daydream or GearVR, that you use alongside your smartphone (check out my blog on the best headsets for VR porn), or a desktop headset like the Oculus, HTC VIVE or OSVR, try them out and have yourself a good time. You're welcome.