Thanks for joining me for another adult virtual reality blog. This one's going to discuss one of my all-time favorite niches: trans porn! Yup that's right, your favorite adult VR blogger has got it bad for hardcore transgender porn! And I know that many of you feel the same, so you're going to dig this post. If, for some reason, it isn't your cup of tea, chances are you've never watched a scene with a gorgeous TS model. Plus, seeing it in 180° 3D is another experience entirely. It's enough to make you go out and drop a few hundred dollars on an Oculus Rift!
TS Virtual Porn is on the Rise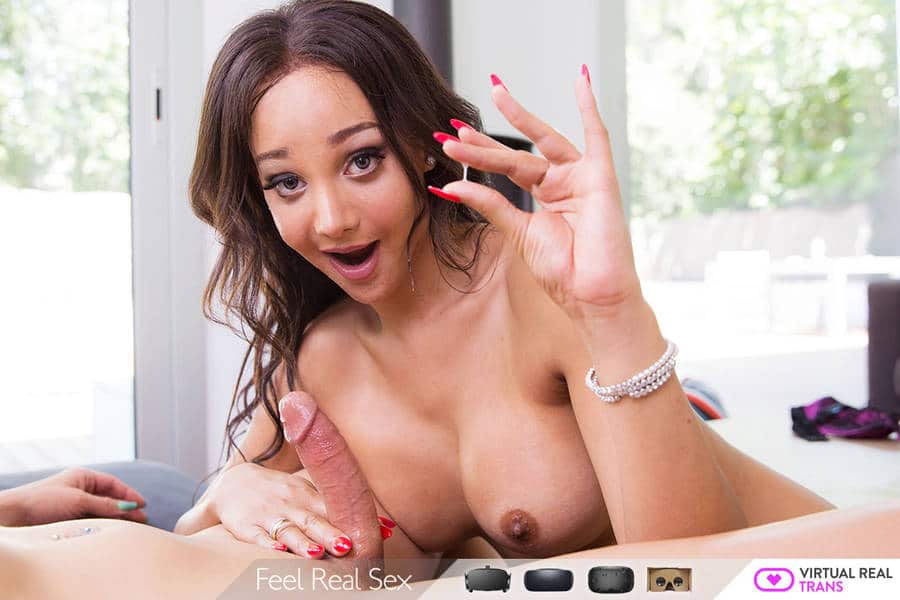 If you haven't seen any trans virtual reality porn yet, I'm not surprised. After all, despite the now well-known fact that the demographic that consumes the most porn featuring trans women are men who identify as heterosexual, the content remains somewhat of a specialty niche and to find it strewn among scenes of straight porn would be like finding a BDSM scene among mainstream hardcore. That said, there is a small but growing number of sites that are producing hardcore Tgirl porn that you can enjoy with your headset.
You've Heard of Grooby, Right?
So, you might be wondering who's taken it upon themselves to create VR transsexual content? Perhaps you've heard of a little outfit called Grooby? Well, if you're into trans porn, you undoubtedly have seen their awesome hardcore productions. Grooby's been making it for the better part of the last two decades and they in fact launched a brand new site not too long ago called GroobyVR (review coming soon!) , where all they offer are hardcore immersive experiences where you can get real up close and intimate with the hottest Tgirl models.
Have Your Way with Bailey Jay
Another sign that this niche is rising in popularity is the launch of BaileyJayVR (review also on the way!). Bailey Jay is one of the most recognizable TS adult models and she's been in countless guys' wet dreams for a long time now. She's a curvy, blonde bombshell and she's carrying quite the impressive package, I might add, and now you can appreciate her physicality, her sensuality and all of her lust in hot 180° 3D scenes that'll make you feel like she's right there standing next to you, on top of you, or on her knees in front of you.
The Best VR Sex of Your Life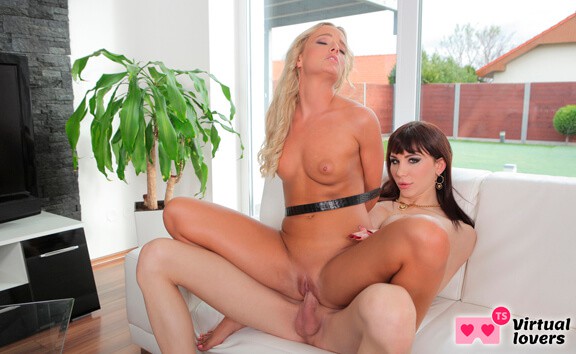 I've discovered that trans virtual scenes are much more creative. It's not just about having sex with gorgeous Tgirls, but the storylines and scenarios are especially titillating. They don't skimp on the costumes or just offer a repetitive 20 minutes of doggy-style fucking. All the ones I've seen are elaborately produced with the hottest models who fuck like real pros. Also, a few of these sites, like VRB Trans, create their scenes with a specific user position in mind (standing up, sitting down, etc.), which goes a long way in creating an immersive experience. Other sites have synchronized their scenes to work in conjunction with smart sex toys and your headset, resulting in pretty much the best virtual sex of your life and why more and more people are flocking to this niche.
My List of Trans Porn Sites Keeps Growing
While it might not be the niche with the most scenes in today's virtual reality landscape, it's a popular trend and it's on the rise. In fact, I've already accumulated a bunch of sites. Newcomers to the game like Virtual Real Trans, TS Virtual Lovers and VRB Trans took it upon themselves to produce it initially and now Grooby and Bailey Jay have hopped on the VR wagon. Not only do these sites produce trans porn exclusively, but they also make some of the hottest and technically sophisticated scenes you've ever seen. More than once I have taken off my headset sweating and feeling overheated 'cause I felt like I just had the best sex of my life. Yup, they're that good.