Today I'm reviewing one of the best tube sites for free VR porn: Porn.com. This site has gathered together hundreds of virtual porn videos with multiple viewing modes. Share your comments via email.

Pros
VR streaming option
Downloads for multiple devices for most videos
Different niches represented
Bottom Line
This is hands-down one of the best tube sites to check out for some hot virtual reality porn for free. Porn.com VR even goes the extra mile by offer the videos for multiple devices and giving you different viewing modes to ensure you get to see the best effects the technology has to offer. The pop-ups can be annoying at times though.
My Full Porn.com VR Review
Tons of VR Scenes and It's All Free!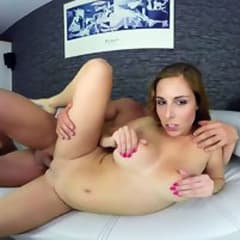 I know this will make me sound like some sort of rank amateur, but there's something about tube sites that makes me feel fantastic. Even though I subscribe to hundreds of different pay sites, tube sites like Porn.com VR offer a feast for both my eyes and my crotch with their long menu of pornographic categories with countless videos that I'll spend all day clicking on until I orgasm my friggin' brains out. And if things weren't sweet enough already, the site has composed a dedicated VR page for its nearly countless number of videos as well as a special viewing mode for streaming.
You're Covered Whether You're on Desktop or Mobile Device
Porn.com VR is a breeze to use whether cruising through their desktop or mobile version, though for this review I mostly stuck to using my smartphone. Their interface is one of the cleanest and most efficient I've ever seen, with a white background and ads located at the far right and bottom of the page. The site does have a few pop-up ads, such as an occasional and easy-to-close one that appears on top of the player if, and only if, you've left the video on pause for more than a few seconds. Another potential ad can be triggered when you click on downloads, but this too can be easily circumnavigated.
Download for Cardboard, GearVR or Oculus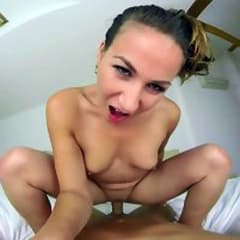 If I had to wager how many videos there are on this site, I'd say that there's almost too much. Almost. Unlike some other tube sites that host them, the thumbnails seem to have the trademark fisheye effect that's indicative a film has been shot for a virtual reality audience. Their download files are specifically formatted for any of the three main VR headsets: Cardboard, Gear VR and Oculus.
Streaming is Available Too
To stream a video, turn on the Cardboard mode on the player and pop your phone into your unit and chances are you'll have a 180° view of some hot action with some pretty realistic 3D effects. But if you're like me, I'm sure you'll agree that the best way to do it is to download the video and play it in a more sophisticated headset such as a Gear VR, VIVE or Oculus.
I own a Gear VR and I gotta say that I'd much rather go through the motions of downloading it, opening it through an app on my phone, placing my smartphone into my Gear VR and still maybe having to adjust the focus wheel and/or the viewing mode rather than use the Cardboard. While it may be quicker to stream through a Cardboard headset, the quality on the Gear is ultimately superior and the visuals much more effective.
Free Registration w/ Perks
You can view and download as many videos as you'd like without signing up, but their registration is 100% free and comes with lots of goodies. Members get the ability to subscribe to channels and actors, create playlists, follow other users, upload videos and photo albums of their own, favourite videos, create an identity, message, chat and much more. There's even helpful FAQ for VR viewing.
A Must-Visit for VR Enthusiasts
I can't find one single thing wrong with Porn.com's site vis-a-vis their overall display and interface. Everything is well organized, categorized and fully functional on both their desktop and mobile versions. Sure there are ads, but the site is giving you access to not only well over a hundred VR videos, but also hundreds of thousands of other kinds of porn videos in every conceivable category. If ads bug you that much, go ahead and sign up for their premium ad-free site, which they offer for a super-affordable price.
With only a couple of pop-up ads to mar the experience, I think Porn.com is one the net's best tube sites to browse and enjoy the latest XXX VR videos. I'd say to not waste another minute and go give them a try.
Click Here To Visit Website
Similar VR Tubes

I don't know whom I love more. The person who invented virtual reality or the person who made it for adults. Actually, I love whomever made VR Porn's free streaming content!

When you think sumo, you probably think of a Japanese man with a whole lot of weight behind him. VR Sumo is a tube site with a whole lot of adult VR that you can stream for free.
Sign Up for Free VR Porn!
I'll send you updates and deals from the best VR tubes.

Everybody likes to watch adult VR, but not everybody likes having to pay for it. That's why there's tons of free virtual scenes for you to stream on XHamster VR.

Somebody's got to write the folks at XVideosVR a thank-you note for making 100's of VR scenes available for free. It's no-strings-attached, so what are you waiting for?

Interested in sampling VR porn vids from the best sites? VR Porn Jack has you covered with hundreds of scenes, including categories ranging from fetish, teen, MILF and so much more.
Whatever you want, HardcoreVRPorn has it. From babes in stockings to threesomes with pornstars, you'll get to enjoy a variety of virtual experiences from the best websites online.

Pirou VR is a tube site where you'll get to sample virtual porn videos from some of the best VR sites online. From threesomes to taboo sex, dive into these immersive scenes.

If you're looking for a quality tube site where you can watch hardcore virtual porn, SexVR is the place to be. You'll find clips and full-length scenes from a variety of adult studios.

From the hottest cosplay scenes to big-tit pornstars, explore content from some of the top VR porn sites, with 100s of videos covering a wide range of niches.

Laid Hub is a huge tube site with a large collection of free VR porn that will immerse you in a variety of scenes. They also have tons of 2D videos, so it's the best of both worlds.

With adult virtual reality being all the rage, PornFoxVR has been filled to the brim with one eye-popping hardcore 3D scene after another that you can stream for free!

Porn.com is a much visited adult tube site that's gotten even more popular since adding its very own dedicated VR page. Don't miss out on all these free 180° 3D hardcore scenes!

Become the lead actor in your very own pornographic movie on VRPFilms, where beautiful European girls are waiting to get intimate with you in high-quality virtual porn scenes.