Everybody likes tube sites, right? Long gone are the days of having to pay for porn since all of it, well almost all of it, is available for free. You can find homemade amateur porn that someone just uploaded themselves to hardcore threesomes shot in 4K featuring the hottest pornstars in the biz. Pretty sweet, isn't it? Since this is a virtual reality site, the question that's on everyone's mind and needs to be answered is, "But can I watch VR on tube sites?" My answer to that is a resounding … sort of. Since the moment these scenes became available for download, you can bet they were uploaded to a free tube site like a minute later. But can you actually watch a 3D scene in 180° on a tube site? No, not really. Not the way you could on a regular paysite.
Formatting is Everything!
Tube sites won't give you the option to format the streaming video to your particular headset. Even slipping your phone into your Cardboard viewer and watching a scene that way still leaves a lot to be desired. And downloading the scene from a tube site will pretty much still produce the same results if the scene is not formatted to your particular device, like it would be on an actual paysite.
Check Out These Two Top-Notch Tube Sites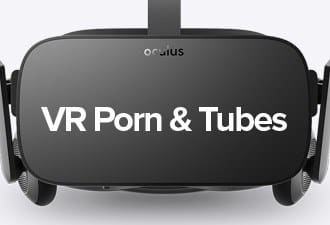 That being said, there are two major exceptions to everything I just wrote. Namely: Pornhub and XHamster. Those two sites are really something else. They are the virtual Cadillacs of tube sites. Pornhub is actually one of the most visited sites on the internet and XHamster definitely has a similar caliber. They've both got a bunch of awesome features and loads of porn that you won't find on other sites, like the way they offer free virtual reality scenes.
Both have dedicated categories for this futuristic niche and they both allow for direct streaming that's been specifically formatted for the Oculus and VIVE headsets. You even have the option to download any scene for use on either the Cardboard, GearVR or the Oculus/VIVE. Not only that, but each scene has a bunch of tags that'll help you know exactly what you're getting and there's even in-depth help pages that are dedicated to get you watching VR porn in no time flat. Pornhub takes it a step further with its own app, which is something you definitely should try.
Try & Then Buy!
Ultimately, if you're looking for quality porn to immerse yourself in with your Oculus Rift or HTC VIVE, I really wouldn't cheap out and stick to tube sites solely. As amazing as Pornhub and XHamster are, the 3D 180° content from paysites will be noticeably different and much more enjoyable. Still, there's nothing wrong with sampling from a top-rate tube site before you decide which VR site you like the best!
---
Friends of VRPornsites
If you like this article, check out some sites from friends of VRPornsites. Horny Bank is a tube site full of hot sexy porn of all type. Sure to please anyone looking for anything. Or take a look at Milf Porn TV for some hot Milf porno movies. Finally, for any ebony girl lover Hot Ebony Tube all the black ebony xxx movies you need.