Last time, I shone a spotlight on the tattooed American performer Karma RX, and today, I'm shinning it on sexy Italian pornstar Valentina Nappi. Born in Pompei (the modern home of the ruins of ancient Pompeii), Italy, in November 1990, she started her career in the adult biz in 2011 after contacting pornstar-director Rocco Siffredi. Well-educated and a serious writer, she's been referred to by some as the "intellectual pornstar." She's appeared in 165+ scenes on numerous porn sites and DVDs, and I'd like to share a few of my faves with you.
Turista Italiano
The title of this VR Bangers scene translates to "Italian Tourist" and in it, Valentina plays as a friendly Italian babe sightseeing in L.A. who's stopped by your store to buy a souvenir. Apparently, in Italy, they don't have changing rooms because she starts to undress right in the middle of the floor!
She asks you if it's normal in America for a shopkeeper to touch himself while a sexy girl tries on clothes and then decides to overcome her initial culture shock by giving you a blowjob. You then titty-fuck her and she shows you a trick all sexy Italian women know – riding you sidesaddle! Afterward, you cum on her stomach. Even though she gushes that the sex will be her most prized souvenir, she still wants two T-shirts. Oh, well, I guess that's lust (and busting your nut) Italian style!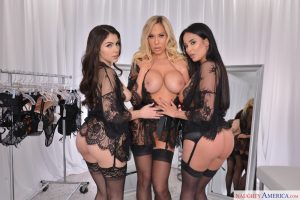 While the first scene had Valentina foregoing a store's changing room, "Dressing Room" on Naughty America VR is all about girls trying on lingerie in a fancy store. This time around you're not the shop owner, but a wealthy customer treating not only Valentina Nappi to whichever sexy outfit she wants but also Anissa Kate and Olivia Austin.
This trio of hot babes in lingerie is so grateful for your generosity that besides modeling different items and asking if you like them, they decide to reward you with lingerie sex. Your dick gets sucked and there's some titty-fucking too before they all take turns backing themselves onto your cock or simply riding it. You give Valentina a creampie and she fingers herself in an effort to retrieve your sticky jizz, which she finds finger-licking good! How's that for a sugar rush daddy?
In this Naruto cosplay porn scene on VR Cosplay X, Valentina Nappi plays the character Hinata from the anime series Naruto. Hinata was shy in her youth, but she fell in love with you back when you first defended her from bullies at the Konoha Academy (a school for ninjas). Now you're married, but this white-eyed beauty is more than just your partner for life – she's also your very eager lover!
After spending time apart on separate missions, you've reunited for your honeymoon and she can't seem to get enough of your cock. She sucks it and wraps her tits around it and then takes your manhood deep inside her as she rides it hard – cowgirl and reverse-cowgirl. Your sweet lovemaking ends with her sucking every last drop of cum from your balls before she thanks you for the delicious treat. Naruto and Hinata sex never tasted so sweet!
Valentina Nappi Will Make You a Happy Pappi
After describing a hot Italian fuck in the middle of a clothing store, insanely sexy lingerie porn and even Naruto porn, you now have a clear picture of just how versatile Valentina is as a performer. And, of course, these VR scenes allow you to appreciate her talent in the most realistic of POV experiences imaginable. If want to see more of her, she has additional scenes on Badoink VR.