I had thought of a few clever opening lines for this blog – and then I forgot them all. That's the power of Adriana Chechik. I guess it's my fault for having her Instagram page open on my phone. She wasn't even naked in the picture I was looking at. It was just a selfie – but her green eyes captivated me and any words I had left in my mind went out the window.
Adriana really is one of the most beautiful, classiest pornstars on the planet, and I'm sure her 1.3 million Insta followers would agree with me. But more than that, she's also one of the coolest, most down-to-earth people you'll ever meet and preaches a message of self-love and body positivity.
Did I also mention she has the best squirting orgasm you'll ever see?
When I discovered Adriana, she was only dabbling in lesbian porn. I prayed that one day I'd get to virtually fuck her in VR porn and years later, my prayers were answered when she started appearing in VR scenes for some of the biggest adult studios in the world. Here are some of my favorites.
In this scene from NaughtyAmericaVR Adriana plays the friend at a bachelorette party and we all know how wild those can get, but the one she's attending isn't as fun as she'd hoped. That is until she glances over and sees you at the hotel bar. She approaches you and wastes no time flirting, then hands over her room number. She almost does it as a joke, not expecting you to show up. So when you knock on her door, she has a huge smile on her face. You'll share a glass of champagne but she's too turned-on to do much talking or drinking, so instead, she gets on her knees and deepthroats your cock. It makes her wet and she starts taking off her clothes and climbs on top of you. She's naked except for a pair of see-through stockings and let me tell you, she looks insanely hot!
Remember how I told you she has one of the sexiest squirting orgasms you'll ever see? Well, this scene from VR Hush makes her the undisputed queen of squirt. Adriana wears a kinky leather outfit. She begins by slowly crawling on her knees to get closer to you. Then she sits on top of you, leans back, puts her feet in the air and plays with a huge dildo and a Hitachi Magic Wand – and within minutes, you're showered in her love liquid. Think she's done? Not even close. She stands above you and uses her fingers to give herself another orgasm and soaks you yet again. Finally, she climbs on top of you to fuck you – and if you thought she was out of steam, you'd be wrong. She rides you hard, fast and squirts all over your dick.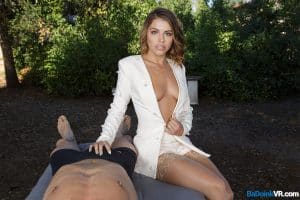 This scene comes from BaDoink VR and the reason it's so special is that Adriana is now a contract star for them, meaning any future VR scenes from her are going to be posted there and only there.
What would you do if you were dating a beautiful woman and then suddenly found she was leaving for a one-year work placement in Japan? Would I be wrong in assuming you'd want to give her one last, great fuck before she leaves? Well, that's the premise here. Adriana doesn't want to leave until you give her the parting gift of sex so good that she has multiple orgasms. She wants you so badly, she doesn't even wait until you're inside the house to get naked, suck your cock and climb on top of you. She orgasms multiple times, especially when you fuck her in the ass!
Want More From Adriana?
I'm going to assume Adriana's popularity is just going to continue to increase. It's hard to not fall in love with this babe as soon as you look at her. My hope is that she continues to produce scenes for BaDoink since she's a contract VR star for them now. She already has six scenes with them and honestly, I would join that site solely for that reason. So if you've ever dreamt about looking into this goddess's green eyes as she moans and virtually fucks you, I highly recommend you watch the three scenes I listed and keep your eye out for any new ones.