Steven Spielberg once said, "Superhero movies are the modern Western, and like the Western, one day they will no longer be with us." I've often questioned this. I love superhero films and if I'm basing it solely on the superhero porn genre, I see no signs of it slowing down. People love their Marvel porn and today, I wanted to pick out some of my favorite VR porn scenes from VR Cosplay X, starring some of the sexiest babes from the Marvel universe, with a few DCU hotties thrown in for good measure!
In an alternate universe, Gwen Stacy is a high school student who gets bitten by a radioactive spider instead of Peter Parker. Through a series of events, she eventually becomes Spider-Woman and follows a tragic path, not unlike Peter's original story (where his Uncle Ben dies). In this universe, Gwen is forced to fight Peter after he injects himself with a formula that turns him into a lizard. In the heat of the battle, Gwen goes too far and kills Peter.
But this Spider Gwen XXX parody is not tragic. You play the role of Peter Parker and after Gwen comes to steal your research, she teases you with her spandex ass and lets you slide into her from behind. Victoria Summers plays Gwen and watching her big tits bounce as you fuck her will have you spilling out something other than web fluid.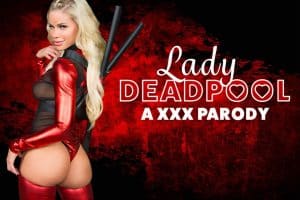 There have been many iterations of the Deadpool character. There were versions of him as Captain America and The Hulk. He's been a Zombie, he's been Venom and there was even a version where Gwen Stacy becomes Gwenpool. But the parody we're looking at today is giving us some Lady Deadpool porn. Portrayed by the beautiful Jessa Rhoades, Lady Deadpool suffers an accident that makes her pussy eternally wet. She can't contain her lust and when you, the pizza deliveryman, arrive at her home, she wastes no time unbuckling your pants, sucking your cock and riding you fast and hard. Quite possibly the best tip a pizza delivery guy could ever get!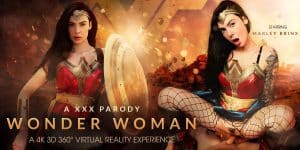 I'll be moving away from VRCosplayX and the MCU for this one and giving you some DC superhero porn instead. When I stumbled upon this Wonder Woman porn scene from VR Bangers, starring Marley Brinx as the Amazonian champion herself, there's no way I couldn't include it in my list. Marley is a slim cutie with dark hair and she comes as close to looking like Gal Gadot as you could hope for.
Just like in the original plot of the film, you land in Themyscira, where Wonder Woman finds you injured and unable to move. It's her first time seeing a man and she's intrigued. She takes your clothes off to address your wounds and when she sees your hard cock, she can't help but suck it and then fuck you. There's this moment when Marley cums while on top of you and her whole body shakes – it's incredibly hot.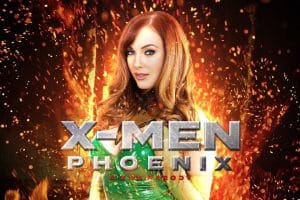 If you're a nerd like me, Jean Gray has probably surfaced in your dreams on many occasions. She's a beautiful, fiery redhead, but when she becomes unchained and turns into Phoenix, well, damn! There's nothing hotter. So if you're going to get someone to portray her in a superhero XXX parody, then it has to be someone good. Dani Jensen is a perfect choice. Her big tits and silky smooth skin are going to drive you wild as she sucks your cock and puts her feet on your chest when you fuck her missionary.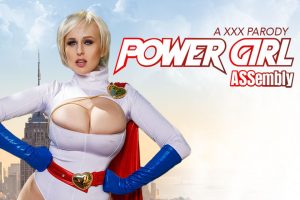 Ending on a high note with the hottest PAWG in comic book history, we have Power Girl. Her iconic "boob window" outfit, along with those beautiful curves, makes her the best candidate for some DC heroes porn. She's the daughter of Super-Man's aunt and uncle and a native of the planet Krypton – essentially the alternate-universe version of Super Woman. Angel Wicky is the perfect pornstar to play her. She's a beautiful girl with thick thighs and a huge rack. You get to fuck her from behind and watch her ass bounce in rhythm with your thrusts as she moans loudly for you to fuck her harder.
Discover More Superhero Porn Parodies
As far as I can tell, the superhero genre is here to stay, at least in VR porn. These five babes are my favorites, but you can find superhero porn parody videos all over the internet, with more of your favorite comic book hotties like Storm, Emma Frost, Elektra and others. But for now, these five scenes will quench any superheroine thirst you might have!