Hey guys, Isabelle here! It's been a while since I posted something, but I decided to give Paul a break this week because I wanted to talk about something that I love: VR porn for women. So, what exactly is it? Basically, it's sex-positive pornography where the woman always has an orgasm. Don't get me wrong, I love rough sex as much as the next person, but I'm not always in the mood for it.
For a while, VR porn for her was something I struggled to find. But, thankfully, sites like Virtual Real Passion are turning the tide and doing some amazing things for women who are interested in the technology. So today, I wanted to take you through five of my favorite scenes that would certainly fall under the virtual reality porn for women umbrella.
There are a couple of reasons I love this video from Virtual Real Passion. First, you get to be in the body of Alexa Tomas. Talk about feeling sexy! Second, the premise is super romantic. Your boyfriend walks into the room and proposes! As he slips the engagement ring on your finger, he kisses you and tells you how much he loves you – then he shows you how much by going down on you and giving you the fuck of a lifetime. In fact, Alexa has multiple orgasms and it wasn't until later that I realized why – her and Joel Tomas, the man in the video, are a real-life couple! If this is what their sex life is like on a regular basis, I'm glad they let us live vicariously through them in this incredibly passionate VR scene.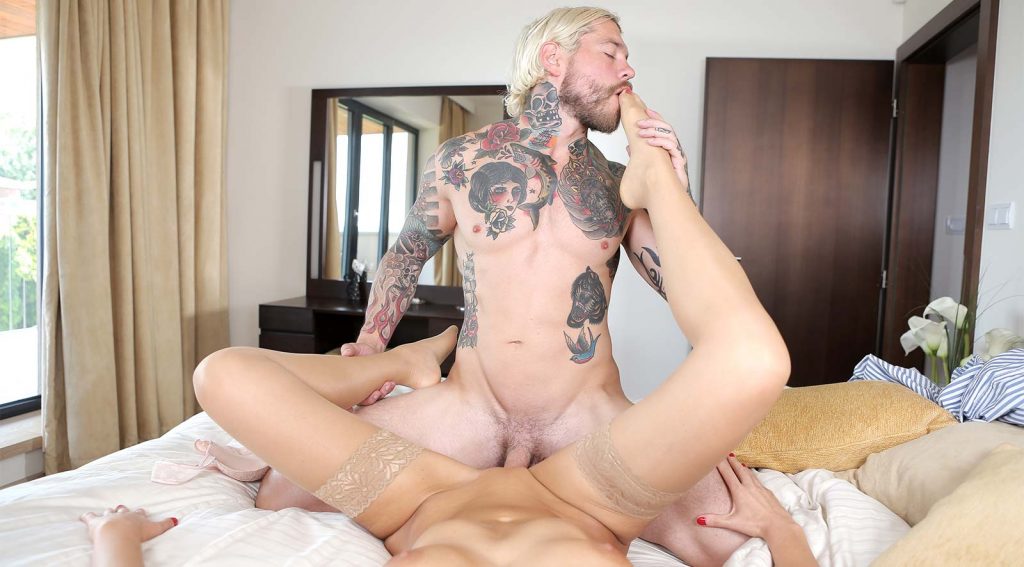 Alright, maybe it's a stereotype that women love hot guys in uniform, but what can I say, it's the truth! To prove my point, here's Mr. Mega Tattooed Hunk Dean Van Damme playing the role of a sailor who's just come home to you after months of being away in this scene from Reality Lovers. When he walks through the door, the two of you can barely keep your hands off each other. Within minutes, you're upstairs in the bedroom with Dean taking off your panties, going down to lap at your pussy, then ultimately taking his huge cock out and fucking you. There's one part where he sucks on your toes while thrusting that I thought was especially hot.
3.Eliza Jane Pussy Licking POV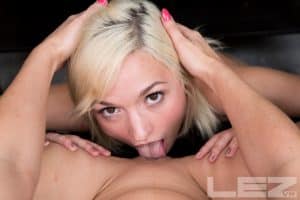 According to PornHub, in 2018, the most searched word by women was "lesbian," followed by other similar terms like "lesbian strap-on" and "lesbians scissoring." I've heard it said that all women are either bisexual or lesbian, but never straight. Hey, I can't speak for other girls, but I can tell you that this lesbian scene from Lez VR featuring Eliza Jane and Cherie DeVille (who you become in this scene) got me all hot and bothered in all the right ways. The way Eliza licks your pussy while you grab and pull at her hair is intensely hot. Then, when she spreads her legs and lets you return the favor, it goes to another level of hotness that you'll just have to see for yourself.
Picture it: You're naked on a bed when the beautiful Verronica Kirei comes over to you and begins to slowly caress your body with her soft fingers. Oh, she's naked too. Then imagine those fingers making their way to your breasts. Eventually, those digits make their way further down your body, along with her mouth, which she uses to give you the ultimate pleasure. That's what this scene from Yanks VR is like, in a nutshell.
Yes, this is the second hot men in uniform themed video I'm including in my list. Sorry, but I just love this scene from VR Bangers way too much not to include it. If a man who looks like this was coming to my house to fix my AC unit on a hot California summer's day, you'd better believe I'd be waiting in bed naked (sorry Paul).
Keep the Female-Friendly Porn Coming
It's nice to know that the industry is taking an active interest in producing more VR porn for women. Now, let's keep the trend going, please. For example, I've yet to see a virtual bondage scene from a Domme's perspective instead of the submissive's, who's often a guy. But either way, these five scenes were definitely a lot of fun and very immersive and if you're a woman interested in getting into VR porn, you can't go wrong with them.