This Sunday the New England Patriots will be taking on the Los Angeles Rams in Super Bowl 53 at the Mercedes-Benz Stadium in Atlanta, Georgia. And while there will be a football game being played, the reason many people will be tuning in is for the commercials, the half-time show and, of course, the cheerleaders. Because, as we all know, the Super Bowl is really all about porn and cheerleaders. I mean just look at this Super Bowl ad from DEVOUR Frozen Food:
That ad is funny and is filled with some great double-entendres. But this is a blog about VR porn so you know that I'm going to have some great suggestions for your Super Bowl Sunday virtual porn viewing that don't beat around the bush – unless that "bush" is some sweet
cheerleader pussy
.
Super Hole LIII

To celebrate the big game the good folks at VR Bangers are releasing a brand new Super Bowl porn parody, appropriately titled, "Super Hole LIII." As of this writing, the scene hasn't been released yet. However, what I do know about it is that it's a threesome with two hot cheerleaders: Sami St Clair and, one of my all-time favorites, Adriana Chechik. I have a feeling those two will satisfy anyone's cheerleader fantasy – especially in Virtual Reality!
Win-Win With Porn Gambling
The Super Bowl is the biggest betting day of the year, but while gambling is fun it can also lead to financial issues. No one likes losing money! So, might I suggest porn gambling? It adds a nice extra layer to watching the game and unlike when gambling with money, even if you lose, you definitely still win!
Congrats on Winning the Game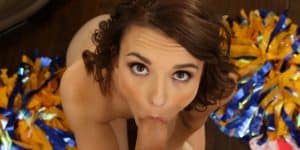 If your team wins then your prize will be Congrats On Winning The Game from VR Hush. The scene features a sexy Stevie Grey as a college cheerleader who's only cheering to get close to the football players – and in this VR setting, you're that football player! Enjoy an incredible POV cheerleader experience as Grey shows you her routine, which thankfully involves her on her knees sucking you off and taking you inside her in a number of positions.
Fucked by the Cheerleader
If your team loses you can drown your sorrows with Cybil Troy and get yourself Fucked By The Cheerleader. With her sexy outfit and her big red strapon, Cybil will take control and have you paying off your losing bet by getting virtually fucked by a total hottie. You'll feel like you can just reach out and make her stop – but she won't until she's had enough!
Watch the Game Then Watch VR Porn
Or forgo the pregame festivities, throw on your VR headset and get yourself in the mood with cheerleader hardcore VR action. Then enjoy the game and all the fried food. But hope that the game doesn't go into overtime so that you can get back to all that great virtual reality porn sooner than later!