I've got a real interesting one for you today called X Moon Productions that's full of adult VR content in the form of a virtual porn game with lots of animated 3D porn. Email me your thoughts.

Pros
RPG with VR compatibility
Very interactive
Cons
Problematic animation
Repetitive content
Can't use 6dof controllers
Bottom Line
This here's a fun little piece of playable adult content - an RPG with a first-person POV that you can immerse yourself in when you slip on your Oculus or VIVE headset. That feature alone gives XMP an edge over most other adult games despite its occasionally problematic animation. Just hold back on the 6dof controllers, 'cause they're not compatible with this particular piece of software just yet.
My Full X Moon Productions Review
Let the Games Begin!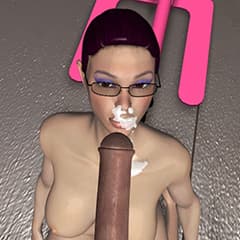 Aside from porn, some of the best product developments to come out of the resurgence of virtual reality (remember Nintendo's Virtual Boy?) has got to be gaming. Actually, now that I think of it, I'm pretty sure that the prospect of video games was the largest driving commercial influence behind the rise of the Oculus Rift & HTC Vive headsets. But since sex sells like hotcakes, the eventual rise of online sex games with VR compatibility will find no complainers, I'm sure.
Your Headset is a Window to Another World
X Moon Productions is an adult VR gaming firm that offers a relatively unique brand of playable content. The majority of VR, or at the very least, 3D adult gaming does not offer integration with a headset or 6dof technology and is relegated to 3D avatars that you can see on your computer screen. XMP allows you to transport to a virtual world when you place your headset over your eyes and try out XStoryPlayer, their flagship game. There you'll be able to actually feel like you're inside a video game, which is something that can hardly be found elsewhere at the moment by way of hardcore adult content. What would've been great is if it was also compatible with the Oculus Touch controllers or even VIVE's 6dof controllers, but they're not that far ahead yet.
Janitors Can Be Sexy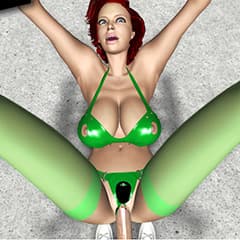 There are, however, a couple of sucky things about playing XStoryPlayer. And I'll start at the top. Y'know how in lots of RPGs you have to figure out a puzzle or perform a series of tasks before you can proceed to the next level? Well, you also have to do something similar here and from my experience, it was mostly relegated to picking up trash, one piece at a time, and walking it over to a refuse bin. It does fit in with the storyline, as you're in the role of a janitor working at what seems to be a female-only gym. Sure, there's a part of you that knows you're about to go fuck these 3D women as soon as you pick enough trash, but couldn't the task be a little sexier? Menial work is not my idea of foreplay.
They Haven't Quite Perfected it Yet
The graphics are interesting and by that I mean they're of good quality, but with a few glaring flaws. At first glance, the quality seems pretty good. I'd say they were not quite, but very near, to a photorealistic appearance. What gives away the flaws is the way the characters move, which I'd describe as choppy at best. When you see this kind of glitch - I can't explain it, but the photorealistic quality I mentioned takes a nosedive because you can now see how unrealistic the images in front of your are.
There's Hot 3D Sex, Need I Say More?
For me and other VR enthusiasts such as yourself, XMoonProductions' main selling point is their compatibility with the Oculus Rift and their unique first-person POV. But if you find yourself being more interested in the gaming aspect of the game, you might be a little disappointed. But they do make up for it with plenty of hot 3D sex. I would also like to recommend that you check out my other review site MyFavGames.sex, which is chock-full of quality adult online games.
Click Here To Visit Website
Similar VR Porn Games

If making 3D avatars and new friends in a fantastic cyber world where everybody wants to get laid appeals to you, then 3DXChat is something you should definitely sign up for.

If you're sexually partial to kinky and imaginative fetishes, then there's no adult game I recommend more than Sin VR. It's got the best 3D virtual graphics available today.
The Best in VR Porn Games - Sign Up!
Get news, updates and giveaways from the top VR porn games.

If you've got an Oculus or VIVE, or even a standard computer monitor, you can play this sexy 3D MMO game where you can build real relationships and have hot virtual sex.

EgirlVR is where adult content meets animated gameplay. You're going to have more fun than you ever thought possible! The content is unique, so don't pass up the chance to play.

In Amsterdam, single guys looking to sow their proverbial wild oats head to the city's Red Light district. If you're looking to do the same, all you have to do is click here.

Ain't nothing like a sex game to get you off and keep you entertained. Now that VR has been added to the mix, you can strap on your headset and enjoy it in a first-person POV.