Chathouse3D is an 3D VR porn sex game. You can customize your avatar, interact with others and have sex with them. That's not hard now, is it. But it sure will make you hard! Write to my email.

Pros
Many customizable options
Supports Oculus Rift and teledildonic devices
Cons
Customizations can become costly
Novelty can wear off with time
Bottom Line
If you've ever wanted to go out, meet new people and get to know them with the end goal of having the best sex of your life, but for one reason or another can't or don't want to actually leave your home, then Chathouse 3D is for you. You can create avatars to look like practically anything you want and there's numerous sex positions to choose from. The novelty of the game depends on your creativity and ability to schmooze with the other players.
My Full Chat House 3D Review
A Game Like You've Never Played Before!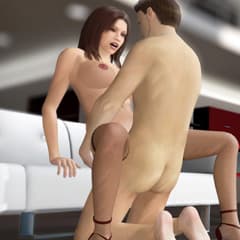 From the geniuses at ThriXXX, the makers of amazingly entertaining interactive sex games such as 3D SexVilla 2 and 3D Gogo 2, comes yet another fun-packed MMOVSG (massively multiplayer online virtual sex game), ChatHouse 3D. As always, ThriXXX games are free to download, but it's the customization features that'll cost you. You can purchase SexCoins at a modest rate and they can also be used across all ThriXXX sex games.
Give Yourself a Huge Cock … I Did!
ChatHouse3D offers a fun and sexy way to meet and get off with other like-minded people who enjoy 3D sex games without having to get dressed and leave your house. You can control up to three avatars, male or female, and you can customize their physicality in nearly any way you can think of. From the color of their clothes to the size of their genitals, make your avatar reflect your fantasies and turn on the charm to entice potential VR sex partners.
On ChatHouse 3D, the virtual world isn't as seemingly infinite as you would find in other games, but rather is confined to one house. Don't feel mislead - it's in their name! But then it should really be called Chatmansion because the "house" has more than enough space for your wildest dreams in addition to all the other users'.
Meet a Huge Online Community of Like-Minded People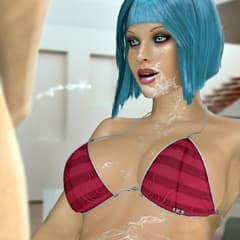 The online community of users who play this game are pretty into it to say the least. As one would imagine, they're a chatty bunch and are equally capable of talking about different sex positions, how to better customize your avatar and even contemporary politics. After you get to know someone for a while, feel free to make a move! After all it's only a game. But don't be taken aback if you get rejected. Maybe they're just not into your avatar, or maybe they stepped away from their keyboard for a few minutes to go to the washroom.
What's especially enticing about ChatHouse3D is its purported ability to be compatible with not only the Oculus Rift VR headset, but also the Vstroker, the latest in fleshlight technology that employs teledildonics, resulting in a level of user interaction that up until recently was considered impossible.
The Oculus Rift hookup would breathe new life into the 3D animation and make it seem even more realistic, and the Vstroker, once properly attached to your you-know-what, would give you a new way to input your presence into the game, as well as offer others the chance to engage in very intimate interactions with you. I was, however, not able to verify if either hookup was up and running, or if perhaps these features were just glitchy today. But the game actively advertises that it's compatible with these devices. You can read about it here

The site reminds me of the early days of the internet when strangers would go online to actual chat rooms to make new friends and more often than not just to find other pervs to talk to about sex. Clearly Chathouse 3D is a long way from those early days, with its amazing animation, plethora of customization options, teledildonic potential and the fact that you can make your avatars have sex with each other. But still, after a while the game does get a little boring with no real story mode. It seems like the amount of fun you can derive relies on how much fun the other members in the house want to have and how they will interact with you.



Click Here To Visit Website
Similar VR Porn Games

If making 3D avatars and new friends in a fantastic cyber world where everybody wants to get laid appeals to you, then 3DXChat is something you should definitely sign up for.

If you're sexually partial to kinky and imaginative fetishes, then there's no adult game I recommend more than Sin VR. It's got the best 3D virtual graphics available today.
The Best in VR Porn Games - Sign Up!
Get news, updates and giveaways from the top VR porn games.

If you've got an Oculus or VIVE, or even a standard computer monitor, you can play this sexy 3D MMO game where you can build real relationships and have hot virtual sex.

In Amsterdam, single guys looking to sow their proverbial wild oats head to the city's Red Light district. If you're looking to do the same, all you have to do is click here.

Ain't nothing like a sex game to get you off and keep you entertained. Now that VR has been added to the mix, you can strap on your headset and enjoy it in a first-person POV.

Why leave the house to make friends and flirt when you can customize your very own sexy 3D avatar? The cybersex here is superhot especially since you're enjoying it in VR.