The Red Light Center offers not only the ability to create your own lifelike sexy avatar, but also to be able to experience their adult VR world and have POV virtual sex! This is gunna be fun! Send comments by email.

Pros
Very detailed customization options
Interact and have sex with other avatars
VR-friendly
Cons
No user interface for VR
VR experience limited to two levels
Bottom Line
Red Light Center already offered a decent time as an extraordinary X-rated MMORPG with its realistic settings and the ability to customize your avatar and sex techniques/positions with a great degree of personalization. Now that they've managed to incorporate VR tech, the sky's the limit. Admittedly, you can only use your headset for two scenarios and you can't strap on a teledildonic Fleshlight and start humping the air just yet, but I feel like that's comin'! This is one small step for technology, one giant leap for porn lovers.
My Full Red Light Center Review
Hey There, Virtual Sailor, You Lookin' for a Real Good Time?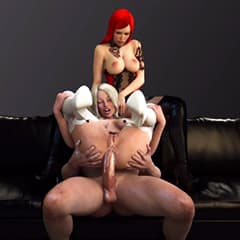 Welcome to the Red Light Center. In case you've never played here before, this is one giant MMORPG where you can explore a virtual world inspired by the red light districts in places like Amsterdam and Brussels. But in many ways, I think it can be argued that RLC offers a much better, more exciting time since it's virtual and you're given many different ways to customize your experience in such a way that you never could do in the real world. All this and you can interact with real people, all of whom are there 'cause they're unashamedly DTF.
Red Light Center Just Got Real - Virtual Real
RLC's been around for a few years now, but only recently launched virtual reality scenarios for you to experience through either an Oculus Rift or HTC Vive. You won't be able to experience the whole game in VR, though, as it's much more limited. Currently, you can only visit a strip club and porn theater, but it's still really cool. When you strap on your headset you'll instantly be looking through eyes of your avatar and that's when you really feel like you've been transported to another world. You can move around and use your controllers to interact with the environment, but really it's more for looking at animated 3D women getting naked and having sex. If you're in their theater, you can control what's on the screen and share with friends and other members.
The User Interface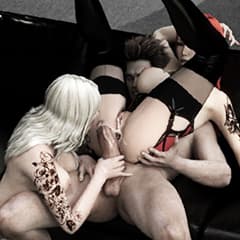 The most obvious thing lacking from the VR experience (aside from not being able to covert sexual motions into animation or have real sex with real people) was a user interface (UI) that you can see and access with your headset and controllers. UI for virtual reality headsets are currently being developed by a dozen or so firms at the moment, but the technology remains in a beta phase. So I don't blame RLC for not having one, but it's definitely what they should be working on incorporating next. Without one, it greatly reduces your interaction with what's around you and takes away from a fully immersive experience.
Check Out the Deals Before You Sign Up
RedLightCenter has partnerships with a few companies so that you can get even more bang for your buck. For instance, if you sign up through Utherverse, your premium membership will give you access not only to RLC but also a few other virtual worlds. If you're going straight for the VR content then you might want to check out Holo Girls VR 'cause membership to RLC is included in a subscription to their site, which features some pretty smokin' hot virtual content, too!
VR's Just a Small Part of RLC, But It's Still Worth It!
There's a whole lot more to the game than merely what you can do with your VR headset on. So, if you get a little tired of the strip club or movie theater, you can easily get out of VR mode and go back to the full MMORPG where you'll have more options to interact with other people and have wild, simulated animated sex. At the end of the day, I simply can't rave enough about how much of a good time I had here on my Oculus Rift. I really enjoyed being able to walk around and see this digital world as I was actually living through my avatar. I strongly recommend you try this site out. You're gonna love it, I promise. Check out their Twitter feed for cool news and updates.
Click Here To Visit Website
Similar VR Porn Games

If making 3D avatars and new friends in a fantastic cyber world where everybody wants to get laid appeals to you, then 3DXChat is something you should definitely sign up for.

If you're sexually partial to kinky and imaginative fetishes, then there's no adult game I recommend more than Sin VR. It's got the best 3D virtual graphics available today.
The Best in VR Porn Games - Sign Up!
Get news, updates and giveaways from the top VR porn games.

If you've got an Oculus or VIVE, or even a standard computer monitor, you can play this sexy 3D MMO game where you can build real relationships and have hot virtual sex.

EgirlVR is where adult content meets animated gameplay. You're going to have more fun than you ever thought possible! The content is unique, so don't pass up the chance to play.

In Amsterdam, single guys looking to sow their proverbial wild oats head to the city's Red Light district. If you're looking to do the same, all you have to do is click here.

Ain't nothing like a sex game to get you off and keep you entertained. Now that VR has been added to the mix, you can strap on your headset and enjoy it in a first-person POV.