"Spinner" refers to a woman with a petite stature. The idea is that the girl is so thin she can be mounted and spun in a circle on an erect penis. Experience this in VR now and share your thoughts via email!

Pros
Best used with mobile viewers
Bonus VR sites
Exclusive content
Cons
Streaming only - no downloads
Unclear update schedule
Bottom Line
Here you'll be able to find hardcore VR scenes intended for use with mobile viewers. Since you're restricted to streaming-only, it makes more sense for use on a mobile headset. The collection isn't huge and it's not clear how often they update, but bonus VR sites are included and that helps sweeten the deal.
My Full Spinners VR Review
Immersive Scenes Brought to You by Catalina Cruz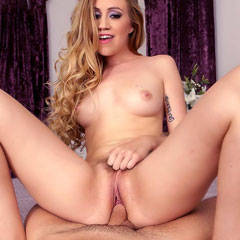 This site is produced by none other than Catalina Cruz, a sexy mature model with a long adult career behind her who's recently begun to get into the adult VR game. I applaud this bold move and it just goes to show that you're never too old to try new things! You should also know that as a result of Catalina Cruz's involvement with this site (she strictly produces and does not star in any of the virtual scenes here), included in your membership is access to a couple dozen other sites including her individual model site and other virtual ones, like Fantasy Girl VR and Stuffed VR.
Do You Have a Mobile Headset?
Right off the bat, I think one of the most important features of this site is that it's streaming-only. Why this is the case, I'm not entirely certain. Regardless, it doesn't mean you can't enjoy the videos. That being said, a virtual streaming site like this is best suited for mobile viewers, like Samsung's Gear VR or Google's Daydream View or Cardboard. Also, the interface looks way better than the desktop version, which is much more sparse. There are not too many browsing tools here, but the site isn't so big that you need any. You can rate the scenes, though, as well as post comments and save your favorites.
A Fair Number of VR Scenes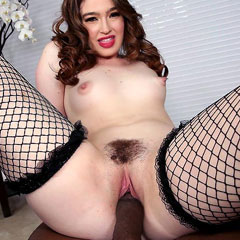 If you're wondering how many scenes this site is hosting and how often it gets updated with new ones, well, it's not looking so great on either front at the moment. There are 20 full-length videos and none of them are dated. To be perfectly honest, I visited the site casually a couple of months ago and I swear they had the same number, so that's something to consider. Regardless, don't forget that there are bonus sites, including VR ones, which will add to your total hardcore immersive scene count. Most of these scenes are hardcore POV, but there are some voyeur scenes too, where you just sit back and watch a sexy woman masturbate right in front of you, and a few voyeur scenes depict some pretty hot and steamy lesbian action.
Take Spinners Out For a Spin
So there you have it, folks. A site made for the mobile virtual reality headset over the desktop-attached devices. I enjoyed this site and its content. That being said, one of the major differences I noticed during my immersive experiences was the actual visual resolution of the scenes. As I'm sure most of you know, most adult virtual reality scenes are in 4K, but all of the scenes here are in 1080p. This is not to say that the scenes don't provide an immersive experience, but they might just not be as immersive as others on some of the adult VR sites that I've reviewed. But to be plain, If you're looking for a recommendation, I can endorse this site, especially if you've got a mobile headset.
Click Here To Visit Website
Similar Teen VR

What could possibly be better than watching perfect-looking teens who are as horny as hell with insatiable appetites having nonstop sex? Watching it in 180° 3D on VR Teenrs!

When you turn 18 you can either start driving or start working in porn. But watching teen hotties in driver's ed on 18 VR doesn't seem as appealing as the other option, does it?
Sign Up for Exclusive Email Offers
Discounts, scenes and deals -All teens, and all FREE!

If you're feeling blue and you want to get off to some hot teen VR porn, then check out TMW VR Net. You're not going to want to pass up on an immersive experience like this.

The SpinnersVR collection has hardore scenes with petite babes and the 180° 3D action puts you right there in the room with them. It's like you can reach out and touch them.

The scenes on Real Teens VR feature, yup you guessed it, real teens! These girls are going to be right in your face in both stunning 3D and a 180° field of view for you to enjoy.