The virtual porn videos on TMW VR Net features teen virtual sex so hot you're going to have to wipe the sweat off your headsets more often than you'd think! Hit me up via email.

Pros
Exclusive content
All scenes shot in immersive 180° 3D
Access to bonus sites
Bottom Line
Weary were the days when we could only enjoy teen porn through flat computer screens, but thanks to the miraculous advent of VR porn, we've never been closer to those yummy teen pussies. TMW VR Net might currently have a small number of scenes, but they're committed to updating on a weekly basis, so at least the site is growing. And you get access to bonus sites while you wait.
My Full TMW VR Net Review
Wanna See Amateur Teens in VR?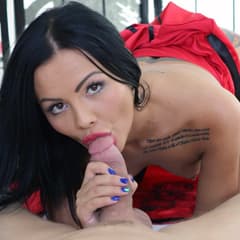 TMW VR Net is a hardcore paradise with videos that feature only the sexiest amateur teens getting penetrated over and over, either by themselves, by other teens or by one lucky fella. By putting on your VR device you'll quickly see what is meant when VR is described as "POV on steroids." Those gorgeous teen curves will seem so close you'll want to reach out and grab 'em!
No Streaming Here - Download Only
The navigation and functionality were good as far as I could tell. When you first login you might be redirected to the TMW (Teen Mega World) main page, but they feature their new VR site everywhere so it's not hard to find. As for the VR page itself, each scene is clearly marked, letting you know it was shot in 180° 3D and is equipped with head-tracking technology and binaural sound. It also lists the resolution and FPS. There doesn't seem to be a function to stream the videos, but each can be downloaded easily either onto your computer or directly onto your smartphone.
The site supports at the very least three of the major VR devices including Gear VR, Oculus and Cardboard. Each scene is also available in regular 2D on your computer, but then what would be the point of subscribing to a VR site? I tried out the site using both my Gear VR and a Cardboard unit and I've got to tell you that the experience was terrific.
Gotta Love Teen Tits in 3D!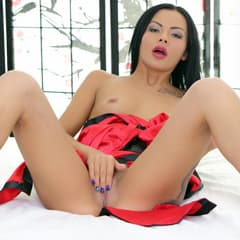 As often is the case, the Gear VR provides a better viewing experience than a Cardboard unit, largely due to its manual focus adjustment wheel and how the headset completely envelops the area around your eyes. You may need to initially go through the different viewing modes in order to find the one that best works for you, but once you get the video playing you'll appreciate how it looks as though the girls are looking right into your eyes, melting your inhibitions and getting your blood flowing.
There's a disappointing lack of details on the models and you just get their name and age. I'm sure some people don't care about model info, but knowing more about them goes a long way in adding to the realism of the experience.
Unrestricted Network Access is the Bomb!
This site is free to current subscribers of Teen Mega World, but if you don't already have a membership, by signing up to TMWVRNet today, you'll get instant access to the entire TMW network that includes 35 hardcore sites. For the price they're asking, it's really a great value. In addition to the VR videos, each scene comes with its own dedicated gallery consisting of approximately 150 XXX images. Also, here's a link to The Best Porn's review of the site just in case you need more convincing.
Click Here To Visit Website
Similar Teen VR

If you're feeling blue and you want to get off to some hot teen VR porn, then check out TMW VR Net. You're not going to want to pass up on an immersive experience like this.

When you turn 18 you can either start driving or start working in porn. But watching teen hotties in driver's ed on 18 VR doesn't seem as appealing as the other option, does it?
Sign Up for Exclusive Email Offers
Discounts, scenes and deals -All teens, and all FREE!

The scenes on Real Teens VR feature, yup you guessed it, real teens! These girls are going to be right in your face in both stunning 3D and a 180° field of view for you to enjoy.

What could possibly be better than watching perfect-looking teens who are as horny as hell with insatiable appetites having nonstop sex? Watching it in 180° 3D on VR Teenrs!

The SpinnersVR collection has hardore scenes with petite babes and the 180° 3D action puts you right there in the room with them. It's like you can reach out and touch them.

Feelin' randy and in need of a quick stop? Randy's Roadstop is where you should head to. Their immersive VR videos will leave you satisfied, so that you can keep on truckin'