TMW VR Net is the place to be if you're interested in virtually fucking teens. You'll get to experience hardcore VR porn in super-sharp 5K, and much more. What do you think? Send me an email.

Pros
Some 5K videos
Compatible with Deo VR app
Access to 30+ bonus sites
Cons
Laggy streams at times
No VR bonuses
Bottom Line
It's as simple as this - do you want to get as close as possible to bangin' beautiful teens? Then you'll want to check out TMW VR Net. I had a great time using my Oculus Quest and all the latest movies downloaded in 5K so that was nice. It all looked and felt as close to the real thing as you can get. Sure, there are few things they could do to get it even closer, like incorporating teledildonics, but most VR porn sites aren't quite there yet. It doesn't really matter, because I still lost myself in these virtual POV scenes. They've got compatibility for most headsets, so whatever you're using, give it a try - you won't be disappointed.
My Full TMW VR Net Review
VR Teen Porn on an Oculus Quest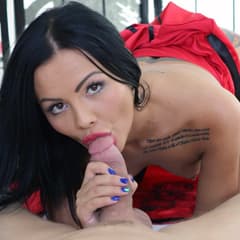 As Matthew McConaughy's character in Dazed and Confused says, "That's what I love about high school girls... I keep getting older, they stay the same age." I can't say I disagree. There's just something about 18+ teens, isn't there? Maybe it's their youthful energy. All I know is that I had one hell of a time on TMW VR Net.
It's been a few years since I visited the site. Back then, it was tiny, but things have changed. Now they've got a fantastic collection of 360+ videos. Talk about adding value over time. I knew I was in for a good time, so I threw on my Oculus Quest and started it right up
Download Their Latest 5K Videos
TMWVRNet currently has downloads for the Oculus Rift, Vive, PSVR and Gear VR and a separate file listed as 5K that, presumably, is for any device that can play that resolution. I chose the Oculus Quest because it can run videos that high, but I also wanted to use a wireless headset so I'd have the freedom to lie on my bed, couch, or wherever I felt most comfortable.
No surprise here, but the 5K resolution looked incredible. There are about 100 videos in that quality right now, while the rest are in Ultra HD. I liked one scene with a dark-haired teen named Lady Dee. Running at 60fps and with a bitrate of over 40,000k, my virtual space looked smooth. I was laying down on a bed as Dee ran her fingers down my chest and it was easy to let myself go for those few moments.
Optimal Head Tracking in 180-degrees
There aren't any recommended sitting positions but based on the few dozen scenes I watched, most have you either lying on a bed or standing up. Sometimes, you're sitting on a chair or a couch while one of the girls rides you. Either way, my experience rocked. Head tracking was running at an optimal level, so I never experienced latency or motion sickness as I took in my surroundings.
I recommend throwing on some headphones. I got chills whenever a girl moaned or whispered in my ear. Think of it like sexual ASMR! Introducing some haptic technology, like a Kiiro, would take things to the next level. It's sort of like a Fleshlight, but you pair it with the scene you're watching so you literally feel like you're fucking something. How cool is that?
Streaming is a Viable Option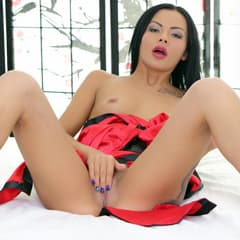 Even though I prefer downloading the videos to my headset, I decided to stream a few. Right off the bat, it didn't feel as realistic because the streams only go up to 4K. But don't let that dissuade you. I streamed via my headset's built-in browser and then switched over to the free Deo VR app to see if it would look/flow differently. In both cases, the videos buffered a few times, but it was only for a second or two at a time, so it wasn't as bad as what I've experienced elsewhere.
Enjoy a Diverse VR Collection
I was expecting all POV hardcore, but if I wanted to, I could join two lesbians, have a threesome with another guy or two girls, and there are even a few solo scenes. By the way, all the videos also have a standard version to download in 1080p. They're part of the 5,000+ non-VR porn vids from the dozens of bonus sites via the Teen Mega World network (that's what TMW stands for, in case you were wondering).
Explore a World of Virtual Teens
The evidence is there - TMW VR Net's getting better each time I visit. It's been growing steadily and they started shooting in 5K last year. Who knows, maybe next time I check it out, they'll be filming in 6K or even 7K, which I've seen a few times. I'm happy with where they're at now though. The collection is big, there are lots of beautiful teens to choose from and downloading and streaming via the free Deo VR app was seamless. That bonus network is a nice touch too, even if there are no more VR porn scenes on it. This is an easy recommendation in my books.
br>
Click Here To Visit Website
Similar Teen VR

What could possibly be better than watching perfect-looking teens who are as horny as hell with insatiable appetites having nonstop sex? Watching it in 180° 3D on VR Teenrs!

When you turn 18 you can either start driving or start working in porn. But watching teen hotties in driver's ed on 18 VR doesn't seem as appealing as the other option, does it?
Sign Up for Exclusive Email Offers
Discounts, scenes and deals -All teens, and all FREE!

If you're feeling blue and you want to get off to some hot teen VR porn, then check out TMW VR Net. You're not going to want to pass up on an immersive experience like this.

The SpinnersVR collection has hardore scenes with petite babes and the 180° 3D action puts you right there in the room with them. It's like you can reach out and touch them.

The scenes on Real Teens VR feature, yup you guessed it, real teens! These girls are going to be right in your face in both stunning 3D and a 180° field of view for you to enjoy.

Feelin' randy and in need of a quick stop? Randy's Roadstop is where you should head to. Their immersive VR videos will leave you satisfied, so that you can keep on truckin'