Who is Liya Silver?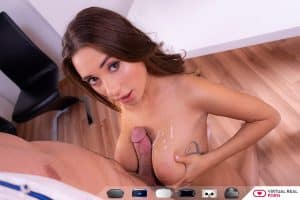 I remember the summer of 2018 fondly. My girlfriend, Isabelle, and I went on a trip where the weather was beautiful, the beaches were hot and the girls were hotter. Meanwhile, in Russia, something else was happening. An unknown 19-year-old named Liya Silver was getting into the adult biz. You might be asking, "So new girls come and go in porn all the time, what makes her so special?" Well, just look at her! 
Liya is easily one of the hottest teen pornstars to show up in a long time, with her brown eyes, magnificent breasts, long legs and that Victoria's Secret supermodel body. You'll instantly know why she's the cause of many boners since 2018. And in her short time online, she's already amassed a big following, with an entire subreddit devoted to sharing GIFs and videos of her. She's shot about 30+ scenes so far and, yes, a few of those are in VR, so get ready for a real hands-on learning experience on why this babe has become so popular.
1 – Lovely Thanksgiving Day
The best part about Thanksgiving is often the side dishes, like stuffing, carrots, mashed potatoes, etc. But how about a side dish of exposed side boob instead? Liya shows up for dinner in a totally inappropriate dress and the other guests are not too happy about it. Maybe they're jealous of how much attention she's getting from all the men. When she gets you alone, she apologizes for wearing a dress that caused so much controversy. But how could anyone be mad about that? Don't tell her though, because she wants to apologize by sucking your dick and letting you rip that tight black dress off her body and fucking her. There's nothing like seeing those massive 34D boobs bounce up and down when she climbs on top of you.
2 – Overcocked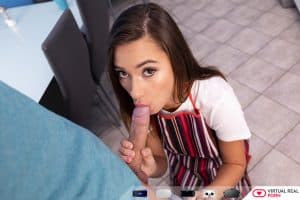 How about a girl who can cook too? Well, Liya, unfortunately, isn't the greatest kitchen chef. At least that's the premise of this kitchen porn scene. After trying to make roasted chicken unsuccessfully, you're suddenly left with no dinner. So Liya decides to offer you some kitchen sex instead. How can you say no to that? Wearing a sexy apron with nothing underneath, you and Liya turn your kitchen into a private sex den and fuck on every surface.
3 – Not So Pure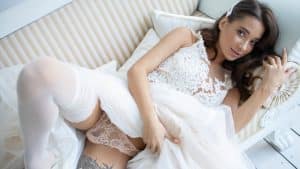 There's nothing hotter than a pornstar who can dance the line between innocent and sexy – and Liya is not only excellent at it, she makes it look like art. In this scene from Stasy Q VR, a site known for shooting gorgeous models with stunning cinematography, Liya can be seen wearing a sexy white gown. As you follow her around the room, she slowly slips it off, revealing those luscious long legs and performing one of the steamiest stripteases you'll ever see. At one point, she lies on her back while you stand above her. She rubs her belly and slides her hands up to her tattoo, then to her tits and sensually plays with them.
Fall in Love With Liya Star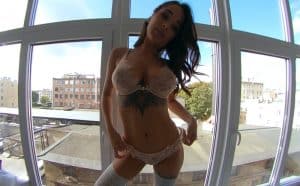 If immersing yourself in those three scenes isn't enough to have you enamored with Liya then nothing will. But I'd be willing to bet that just seeing a picture of her is enough to do the trick. But, hey, don't take my word for it. Go ahead and check out those scenes and I dare you not to get an instant boner!