Alex Coal is a petite dark-haired babe from Las Vegas who started off as a cam performer before transitioning into porn about five years ago. At the start of her career, she only shot a few videos a year, but since 2018, she's been very hard at work. Now her filmography has grown to include 100+ scenes across a wide variety of sites, including VR, so let's take a look at some of her top videos.
Alex Coal's Best VR Porn Scenes
Three girls share your dick over Spring Break!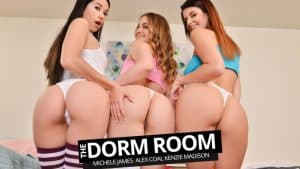 Naughty America VR's Spring Break porn has Alex and her gal pals Kenzie Madison and Michele James feeling bored because they didn't get to go down south with their friends. Instead, they're stuck in their dorm room. That may be unlucky for them, but it's lucky for you because you're invited to watch a sexy fashion show. This trio of hotties shows off the skimpy outfits they'd have worn if they went somewhere hot, like crop tops, short-shorts and a swimsuit or two, but then end up dancing around in only their bras and panties – oh, and one also puts on a sexy cowboy hat!
Soon it becomes clear that you're feeling the heat from their half-naked dance. And once the girls spy the bulge in your pants, they don't want that hard-on of yours to go wasted. They soon prove to you that three heads are truly better than one when they take turns sucking you off. Once your dick is nice and slick, they ride you one after another. The highlight of this rodeo is when you screw one babe while her BFF sits on her face. This hardcore Spring Break party definitely goes down as one of the best because you get to be the lucky guest of honor as these girls go wild!
Hook up with Rinoa in a Final Fantasy cosplay!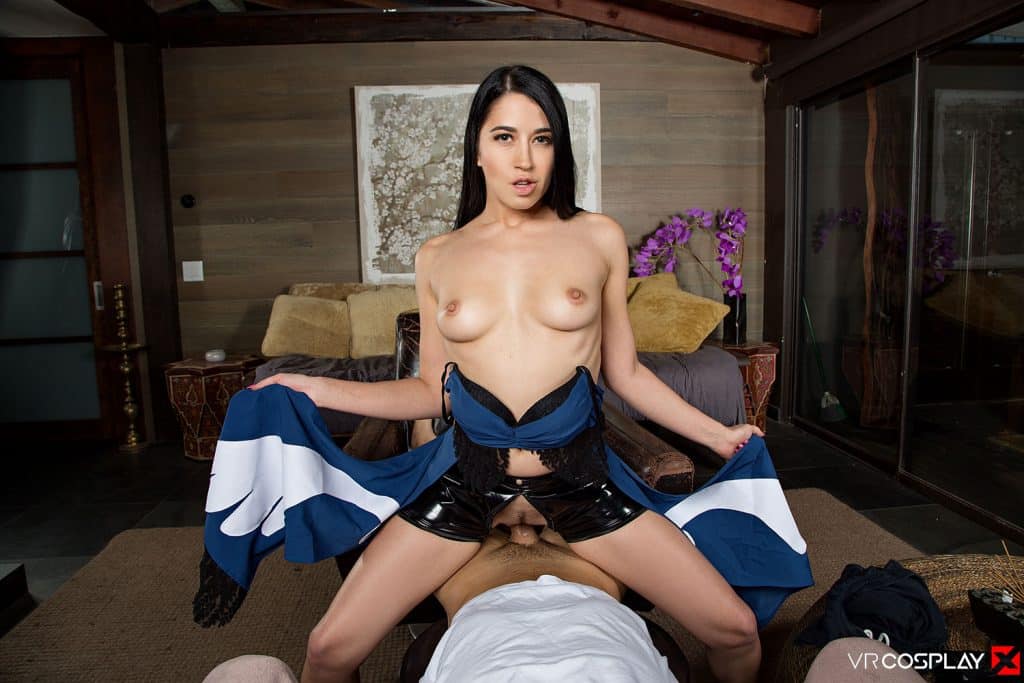 Many a Final Fantasy VIII fanboy has imagined being the game's hero, Squall Leonhart. And there's no doubt they've also imagined doing all kinds of things to the character's love interest, Rinoa Heartilly. I know I have! But even if there's plenty of fighting and violence during gameplay, their romance never crosses the line into X-rated territory. Thankfully, VR Cosplay X's Rinoa XXX parody brings you the ultimate happy ending to their love story.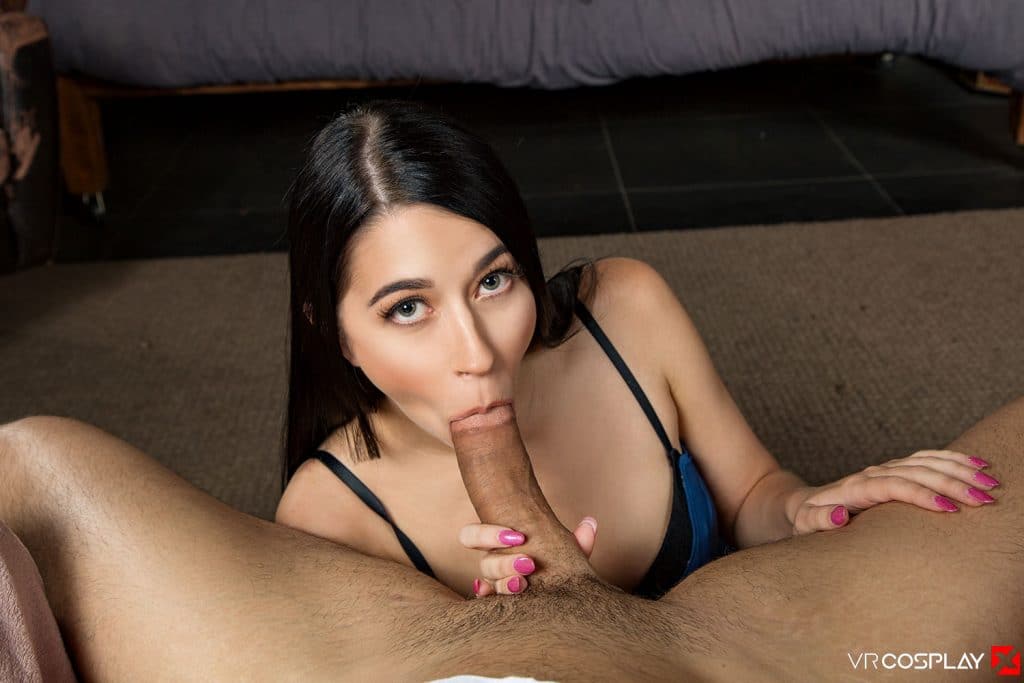 Alex appears dressed in an extra sexy version of Rinoa's classic blue and black costume with a tasseled bra, shiny black hotpants and overskirt with white angel wings. She gets down in front of you and confesses that she's loved you since first sight. But as sweet as that sentiment is, she's a take-charge kind of gal who knows what she wants: your warrior cock inside her. So Rinoa pulls out your shaft and starts sucking you off. Once your dick is hard, she reveals that her sexy outfit is crotchless making it easy for her to mount you. You get to fuck Rinoa doggy and missionary style before she gets on her knees so you can give her a Final Fantasy facial in this video game cosplay!
Enjoy a goodbye fuck with your ex, Alex!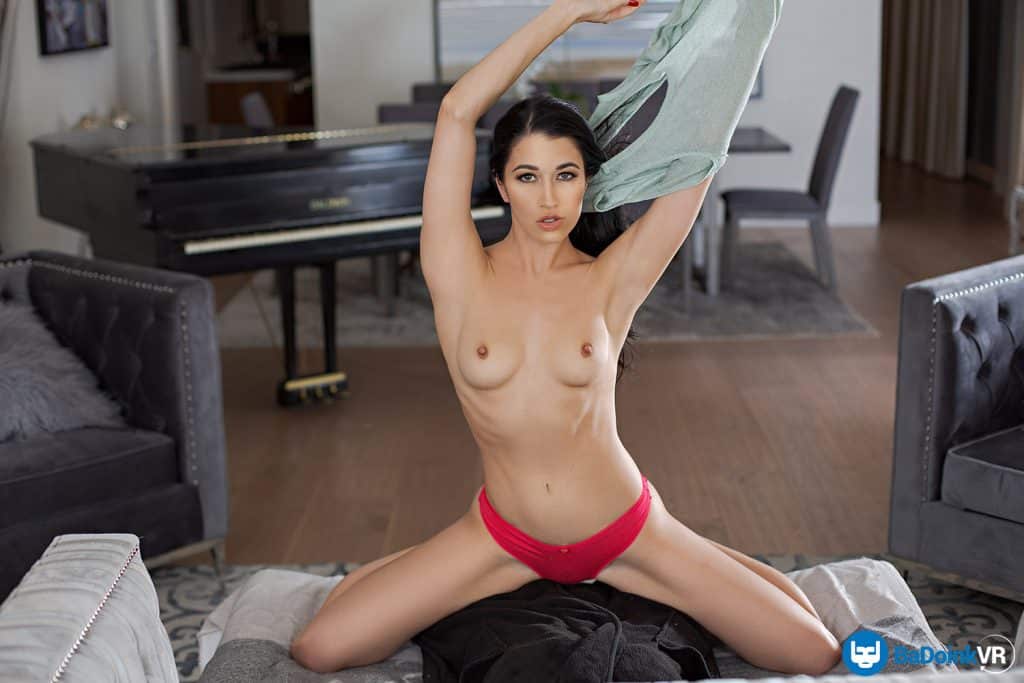 The hardcore action is hot on "Hindsight is 20/20" on Badoink VR. Alex should've known that you were never a one-woman guy, but she didn't really believe it until she found out about the foursome you had with a few of her girlfriends. Now she's pissed and is dumping your cheating ass. On the bright side, she wants to show you just what you'll be missing and confronts you wearing nothing but your old gray T-shirt and a bright pink thong that matches her nail polish.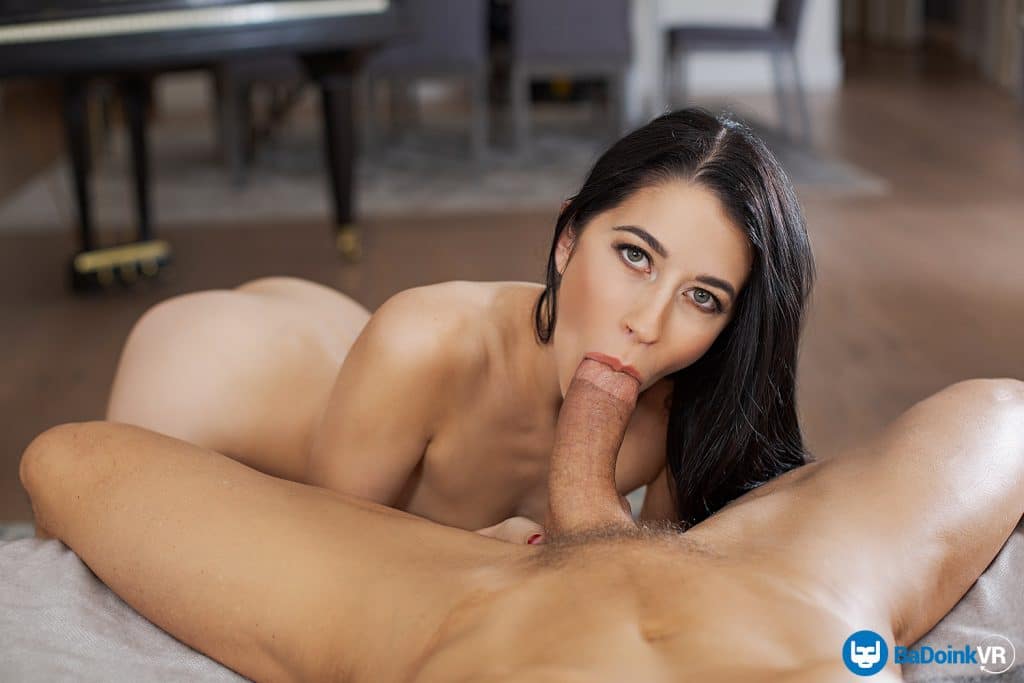 First, she loses the top and your balls ache at the sight of her perky tits and erect nipples. Then she loses the panties and thrusts her pussy in your face while rubbing her clit. Next, she sucks your dick and then turns around to sit on your throbbing shaft. She lets you do her doggy style then climaxes while you screw her missionary. Finally, she tells you that she wants to watch while you shoot your load on her. After you bust your nut, she eats your jizz with her fingers. But make no mistake, all is not forgiven and she's still done with you – but at least she's left you high and (your balls) dry in a good way!
Got Any Favorites?
I tried to pick Alex Coal's best VR porn scenes, but she's been such a busy beaver these last couple of years, I could've overlooked one. If you've got a fave that I've missed, feel free to email me about it.