Something I'm often asked about is the difference between a 180° and a 360° VR video. The truth is, there are pros and cons to each and today my goal is to try and make things a little clearer for you. I realize this is going to be obvious to most of you, but I still think it's worth clarifying. If you're watching a 180° video and you look behind you, all you're going to see is either a black screen, or perhaps the logo of the site you downloaded the video from. If you're watching a 360° one, no matter where you look – up or down, left or right, in front of you or behind – you'll see something. In that sense, 360° videos might give you a more "realistic" feel, but as I'll explain in a bit, it doesn't necessarily mean it's the optimal viewing choice.
180 Degrees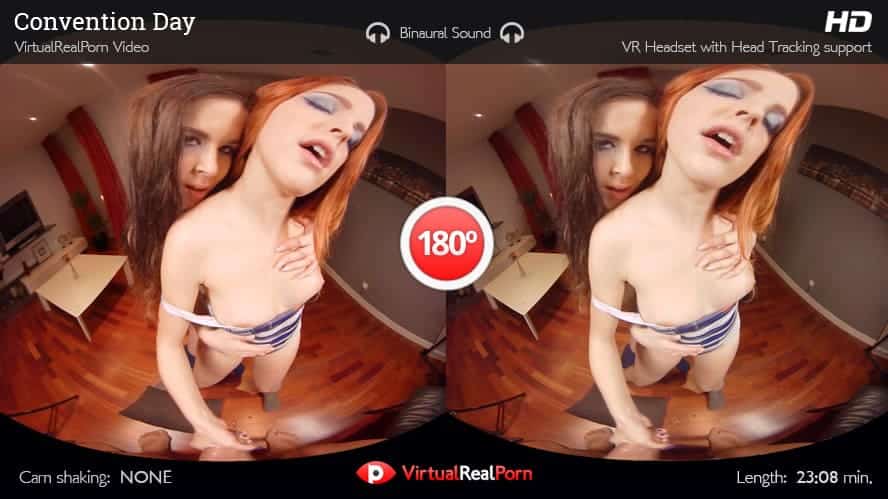 Right off the bat, 180° might feel a little less immersive, simply because if you turn your head too far left or too far right, you'll only see a black screen. For some, it might take away from the immersive aspect. However, 180-degree videos provide an opportunity for the studio to get everything right. They can have a proper crew behind them, allowing for optimal lighting, no matter where the scene takes place. In this instance, 180° videos have a chance to look better than their 360° counterparts. And let's be honest, if you're having actual sex with someone, how often are you looking elsewhere? Chances are you're going to focus 100% on whoever you're banging, so there's no need to be looking off in the distance. With this type of VR porn, you're getting a controlled view and you know you won't miss any of the POV sex happening in front of you. In a nutshell, 180° is the optimal choice for watching virtual porn.
360 Degrees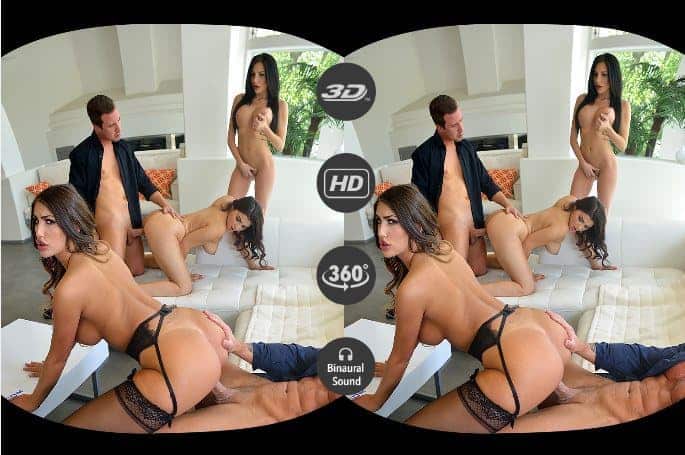 There's no denying that one of the biggest upsides to a 360° video is the immersive aspect. If you're having virtual sex with a girl on a couch, you can look around and truly feel as if you're in the room, making your sex story come to life. However, there are a few drawbacks. The most obvious is if a hot babe is giving you a wet, sensual blowjob, do you REALLY want to be looking behind you anyway? In some rare VR porn instances, you might turn around and see another girl in the room, watching you and fingering herself, but so far I haven't seen many sites take advantage of that.
360° videos can also be a little hard to light. There can only be minimal crew on set during the scene because the last thing anyone wants is to turn around and catch a bunch of people "filming" you. VR scenes require a high bit rate to look as good as possible, so when you throw a 360° view into the mix, the file sizes can become massive! I once downloaded a video that was nearly 15GB and it honestly didn't even look that good.
The truth is, adult studios are rarely filming their scenes in 360° these days because it's just not necessary. The whole point of virtual reality porn is to put you in the driver's seat, watching as a hot pornstar has her way with you. Why bother sacrificing quality to shoot a 360° video when a studio can make a 180° one with a gorgeous pornstar that'll look so real, you won't dare look behind you in fear of missing out on the awesome action happening right before your eyes.
Which Do I Prefer?
When it comes down to it, the most important thing for me is that a site offers great-looking videos with hot sex. Whether they're 180° or 360° degrees is of little concern, but if I had to pick, I would undoubtedly go with a 180-degree video because I'd feel more confident about getting a better product. But I will offer this piece of advice: Be wary of any site that boasts their 360° porn videos and uses that as their main selling point. Just because they offer them doesn't necessarily mean you're going to get a better experience.