Valentine's Day is right around the corner. Isabelle and I have some dinner plans, but then we're going to spend the evening with two pornstars. Okay, we're not actually spending the night with them, but we plan on having a little fun with a few of their VR scenes. Who says you can't have a little extracurricular activity on V-Day? If you're looking for a way to celebrate, whether you're doing it solo or with your significant other, then I highly suggest spending it with the gorgeous, curvy Brazilian teen Gina Valentina or the busty, insanely sexy MILF Brandi Love.
Gina Valentina
I mean, it's right there in her last name. Why wouldn't you want to spend the night with a Valentina!? She's a very active pornstar in the VR world and there's just so much to love about this Brazilian teen beauty. If her petite, yet curvy, body doesn't do the trick, the way she moans and has a visibly fun time on screen surely will. Here are a few scenes with the lovely Gina that will definitely make your Valentine's Day one to remember.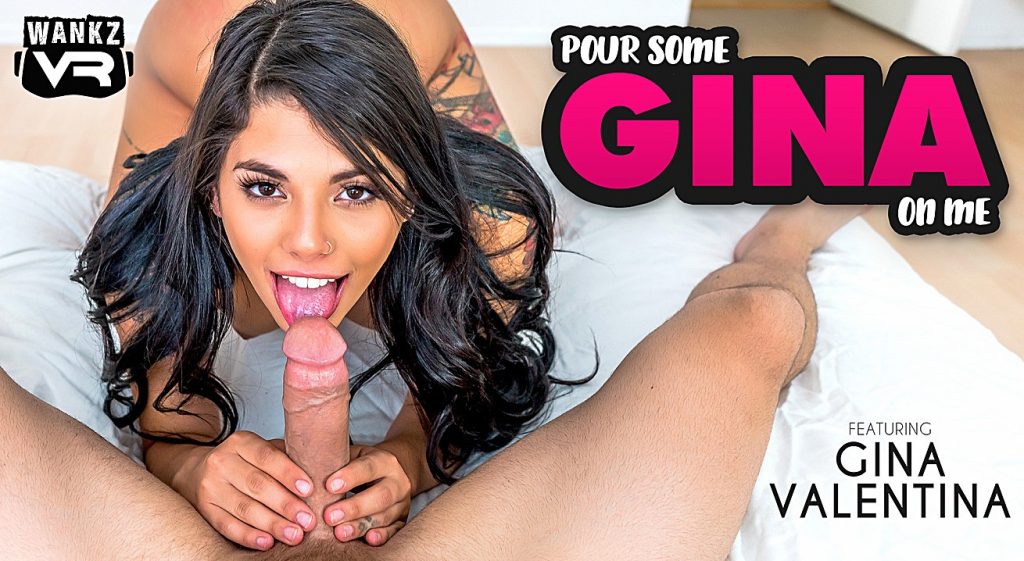 We've all heard the phrase "absence makes the heart grow fonder." Is there any truth to it? Maybe there is, but in the case of this porn scene with Gina, it's more like "absence makes your dick grow harder." In the video, after being away from home for a while, Gina can't wait to get back into your arms. She embraces you and gives you a few kisses, but things quickly steam up as you begin to caress her breasts and then move things to the bedroom.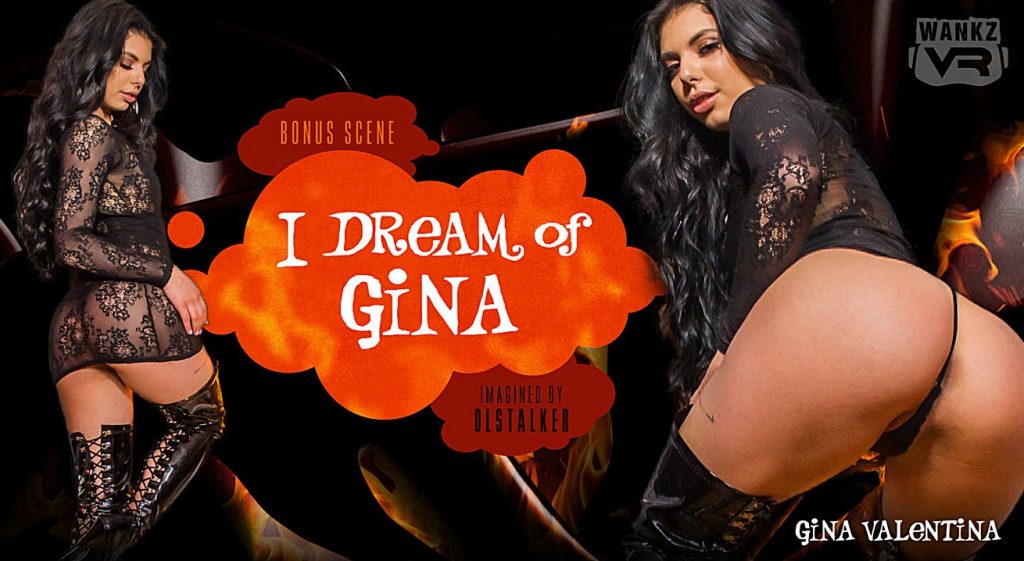 Did someone turn the heat up in here, or is it just me? Imagine what it would feel like to walk into a room, see Gina Valentina wearing a tight see-through dress and knee-high boots, licking a popsicle as she teases you, talking dirty and letting the popsicle melt all over her tits and pussy while she rubs herself. Well, you don't have to imagine any of that, because that's pretty much how this incredible scene plays out.
No more playing around! Gina's ready to take control and spend her Valentine's Day doing exactly what she wants and in this scene, that means submitting to her desires as she dominates you in an outfit consisting of red lingerie, ripped pantyhose and leather boots. Simply put, she wants to control you. I don't think you'll have any complaints about giving her exactly what she wants, right?
All of these scenes are available on Wankz VR and I'm hooking you up with a sweet 50% discount for Valentine's Day. But just like the day itself, it'll be over in a flash, so take advantage of this deal ASAP!
Brandi Love
Oh sweet, sweet Brandi. If you've been following my blog for a while, you know that my love for Brandi Love is no secret. She's been in the business for almost 20 years and is one of my favorite MILFs of all time. Her sexy round ass and big tits are only made sexier by the fact that she has a bangin' bod and a moan that's like music to my ears. There's no way I could spend my Valentine's Day without her and you shouldn't either.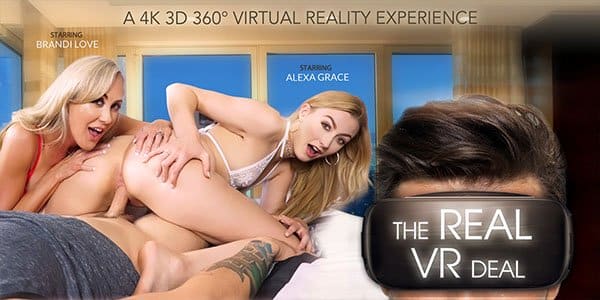 So, I'm cheating a little, because I've already talked about this scene before. But it's still one of my absolute favorites. A threesome with you, Brandi and Alexa Grace – how could you not want to watch this over and over again? Taboo stepmother/stepdaughter porn might be overplayed these days, but these two do it incredibly well.
Want to watch this scene right now? Don't wait. Take advantage of the discount I've set for you on VR Bangers right now!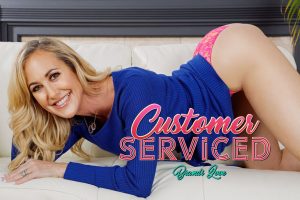 Imagine working as a food delivery driver and having to make a stop at Brandi Love's house? Now imagine she complains about the food you've just delivered and, as a joke, you offer your cock as a replacement. In the real world, a proposition like that would get you slapped in the face, but in this virtual one, Brandi looks you up and down and decides to take you up on it. She undresses, sucks your cock, wraps her tits around your dick and then jumps on top of you.
You don't want to miss this scene from BaDoink VR, so I'm setting you up with a sweet V-Day promo right now! Hurry up before it's over!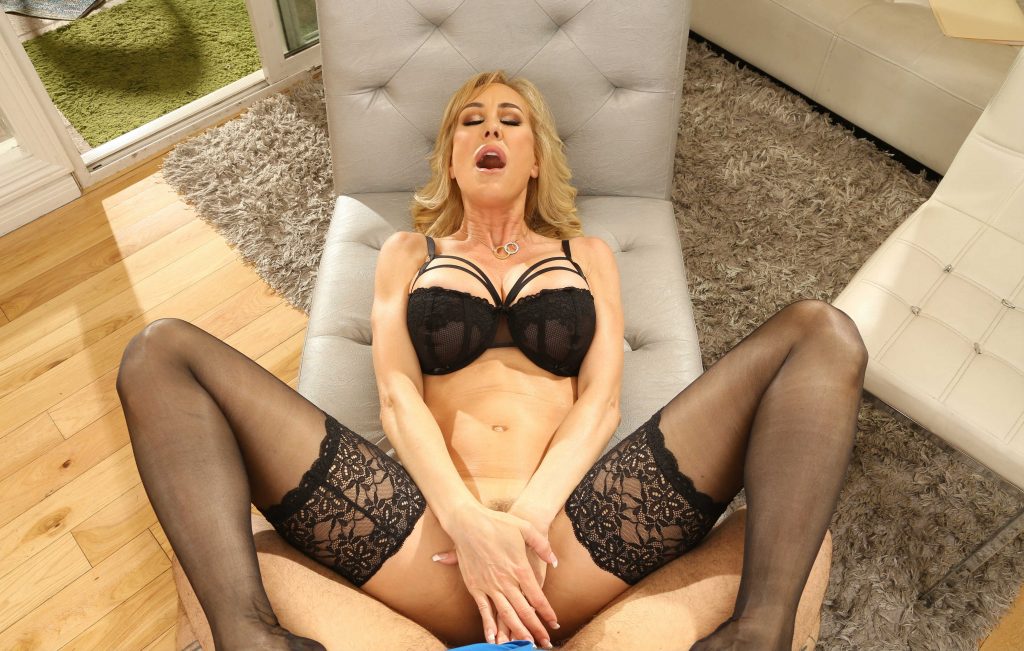 You'll have to suspend your disbelief with this one, because the premise is that you're Brandi's therapist and among a litany of problems she's having with her husband, one of them is that he doesn't want to have sex with her anymore. You'd have to be crazy not to want to bang Ms. Love every hour of every day! Thankfully, she has you to unleash her sexual frustrations with. Get ready for the ride of your life when this MILF fucks you in some of the sexiest lingerie I've ever seen.
You'll find this scene on VR Hush and, once again, I'm hooking you up with an exclusive V-Day promo offer. Take a peak before it goes away!
Sexy Babes and VR Discounts = Best V-Day Ever
It's truly a recipe that will guarantee you have the best Valentine's Day ever. In one corner, the Brazilian teen goddess Gina Valentina and in the other, the busty PAWG MILF Brandi Love. In a cruel world, you'd have to pick one or the other, but in this virtual one, you can take as much time as you want with either of them and do it at a discounted price too. So spend your Valentine's with the pornstars who'll surely keep your day red hot!