Teen VR porn is our best hope for the next generation of porn movies. We all know how much an 18+ young girl can be into guys. And virtual reality lets you feel like you're the man she's fucking. So VR porn videos, and porn more generally, would not be the same without teens. Watching legal VR teen porn videos with your VR headset will make you forget the future.
In my breakdown of the top VR pornstars, I highlight virtual reality movies and videos starring the best teen talent working today. You won't be able to forget these teen VR porn videos. The best thing about teen VR porn is that it puts you at the center of the action. So whether you're young or old, you'll feel like cock of the walk.
This blog post highlights some of the best petite VR models in the teen category. However, I recommend engaging with live cam girls if you want to expand your horizons. Some sites allow you to speak to cam girls with your VR headset. There are many excellent teen VR porn videos to watch, so get out there and start fapping.
The Next Gen of Teen VR Porn Starlets
See Aria Valencia's Hot VR Scenes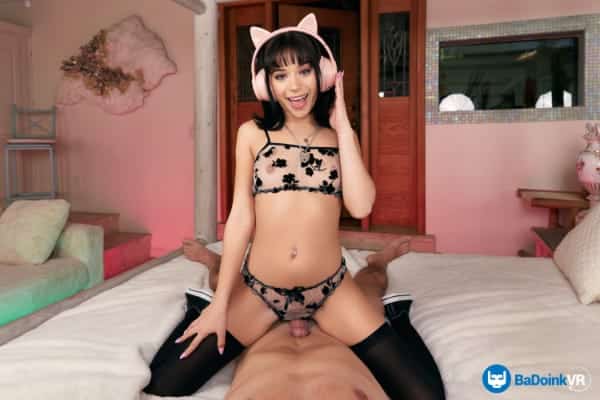 Birth Year: 2003
At the present moment, pretty Aria Valencia is a VR porn master. This spinner is down for a good old-fashioned suck and fuck. Although she only got into porn in 2021, she has already taken the VR world by storm.
She's an obvious natural when it comes to making memorable adult content. Her VR porn video library includes loads of facials, cum swallowing, and creampies.
My favorite VR porn of hers comes from BaDoinkVR, and it is titled All You Need Is Love. Plug in your VR headset and experience porn as you've never seen it. Dressed in sexy lingerie, Valencia and Maya Woulfe tease, talk dirty, and strip for you before they let you fuck them and make you cum.
VR Porn Starring Rika Fane Are The Best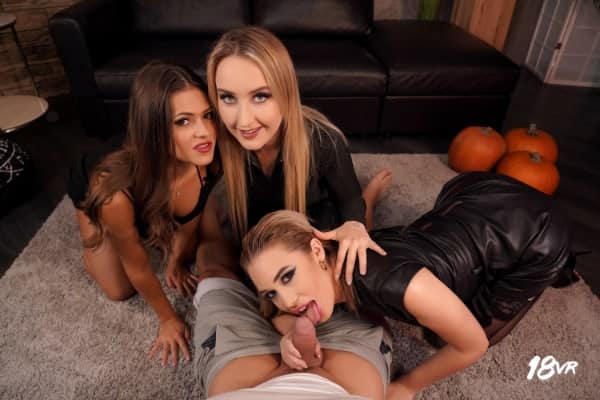 Birth Year: 2004
If you're looking for a happy babe who stars in teen VR porn, look no further than Rika Fane. This young 18+ Czech beauty is hot like only teen girls can be. Despite her young age, Fane seems destined to be a queen of VR porn videos. She has already starred in dozens of scenes to download.
My favorite video is the virtual reality masterpiece Ghost Me Not on 18VR. Starring Fane, Ann Joy, and Sereyna Gomez, this virtual reality video is a Halloween special. The three young 18+ girls enjoy fucking and swallowing your cum. I recommend downloading this video because you'll want to watch it again.
Enjoy Immersive Fun With Maria Kazi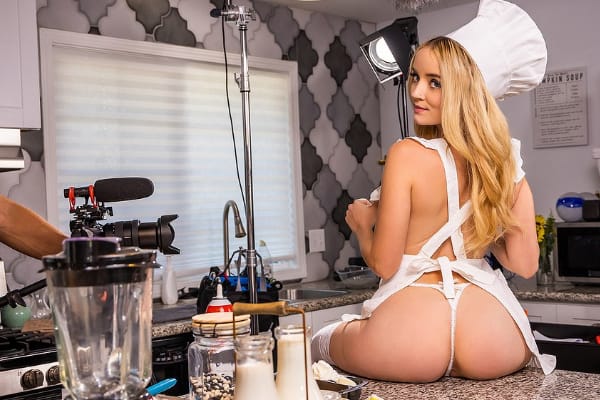 Birth Year: 2003
VR porn videos sometimes capture a teen girl at play spectacularly. But the young girls must be willing to grab that sweet moment when they've just turned 18 to deliver that natural playfulness that only comes with youth.
I can think of no better performer than Maria Kazi for this role. This stunning 20-year-old is pretty, and her adult movies prove that she's not a little girl anymore. Maria Kazi's most popular video is on Wankz VR, titled "Cooking With Kazi."
Like all the best VR teen porn videos, the plot is simple. You're on a work crew and taking a lunch break. Maria Kazi is in the kitchen, and she's looking for love. You fuck her all over and then give her the cream to finish her dish!
Dakota Tyler's Teen VR Porn Videos Are Spectacular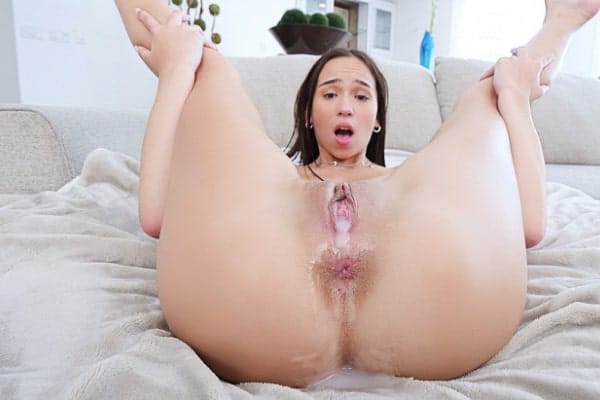 Birth Year: 2003
I've made this comment many times now, but VR porn videos would not be the same without teen girls. Dakota Tyler is an exemplary VR porn star with brunette hair and a happy personality. She is definitely legal, so it would be a crime not to spend some time checking out her work.
After all, Dakota's scenes and photos are unforgettable. Because let's face it. There is nothing quite as sweet as teens getting their fill of cum in porn scenes. Especially when they're playing the role of innocent virgins, as Ms. Tyler does in "Take My Virginity" on Wet VR.
This lovely little spinner has small breasts and a charming smile you won't forget. As a star of teen VR porn videos, Tyler undoubtedly has a bright future. Watching this petite teen fuck is a wonder to behold, and she'll undoubtedly make you bust a nut.
Let Emma Bugg Squish You Like A Bug
Birth Year: 2004
Emma Bugg is a teen VR porn star who started in the biz in 2022. Her scenes frequently conclude with her getting a nice, sticky facial. VR porn is great because it allows viewers to feel like they get to fuck teens, even if that might never happen IRL.
Emma is the kind of sassy girl who could be a really demanding princess. She's hot enough to be head cheerleader, and you can almost imagine her squashing your dreams if you dared ask her prom. After all, she'd be prom queen for sure! So her videos always boast active comment sections and rank highly.
See Miss Olivia Fight The Good Fight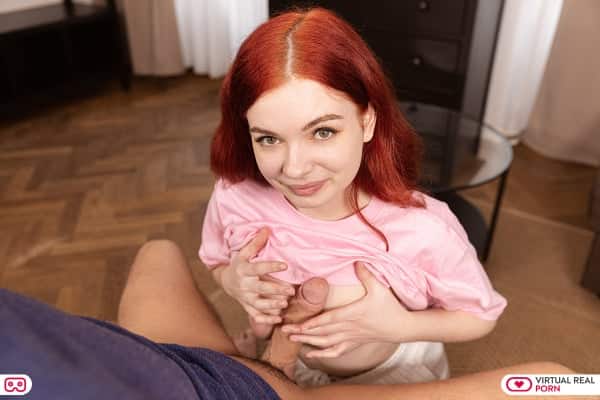 Birth Year: 2003
Nineteen years old and born in Ukraine, Miss Olivia is a gorgeous redhead teen. Her videos have featured everything from peeing to bukkake to ass-to-mouth. In short, this magnificent teen is down for some of everything in her videos.
If you are looking for VR porn that will make your week, Miss Olivia is the teen for you. Miss Olivia has a perfect pale body, and her breasts are just the right size.
This teen girl has all the right curves in all the right places. Watching her ride your dick in reverse cowgirl in her most popular VR porn video, "Surprise Tickets," is a real treat.
Brazilian Teen Angel Gostosa Will Rock Your World
Birth Year: 2003
Although she is 20 and does not technically fit the teen category, this Brazilian teen will blow you away. In her teen VR porn video on the site Naughty America VR, "Petite brunette Angel Gostosa moved out from her parents straight into Donny's shack!" is a VR masterpiece.
Get Nasty With Adrianna Jade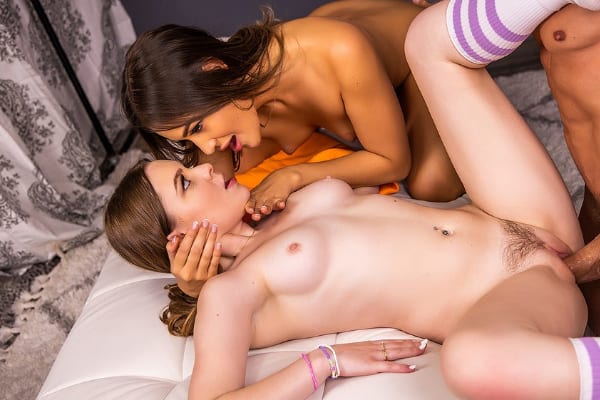 Birth Year: 2004
If you want to feel like a giant, might I suggest watching a video starring Adrianna Jade? This 19-year-old is only five feet tall, and her work on the WankzVR site is fantastic.
In Black Friday Two For One, Jade costars with another spinner, Gizelle Blanco, and they both go down on you in the back room of a clothing store.
Bask in the Sun With Amber Summer
Birth Year: 2003
Having only begun her career last year, Amber Summer has starred in only one teen VR video. Fast & Curious: It's About Family is a POVR Originals teen VR porn.
Watching a 7K video starring Amber Summer, I immediately forgot all my woes. The future looks bright with happy teens like Amber Summer in it.
Find Teen VR Pornstars Today!
The list of teen models in VR is almost endless. I've assembled a fair-sized list of some of the rising stars in the porn industry today. However, I would highly recommend you go out there and explore. Who knows – you might find your new favorite model quicker than you think!