Alright, it's 2020! A new decade has begun and it's time to kick things into gear. You probably have a resolution in mind, but let's be honest, it's not always easy to keep them. I've been down that road. You're consistent with going to the gym, eating healthy, quitting smoking, etc., and then, just like that, you do something to mess it up and go down the same path you always do. My solution is to seek out things that'll motivate you to get back on track and up until recently, I never really thought about VR porn as a motivator. Then I watched a scene with Nicole Aniston and all that changed. 
In case you're unfamiliar, Nicole is a 32-year-old Californian babe with big tits and a slammin' physique. Not only does she work out regularly, but she has a keen interest in microbiology, psychology and is a cannabis advocate. Brains and beauty!? Sign me up! If there's anyone who can help you stick to those resolutions, it's Nicole. So here are some scenes of hers that'll help you get started, or get back on track!
New Year Resolution #1: Get in Shape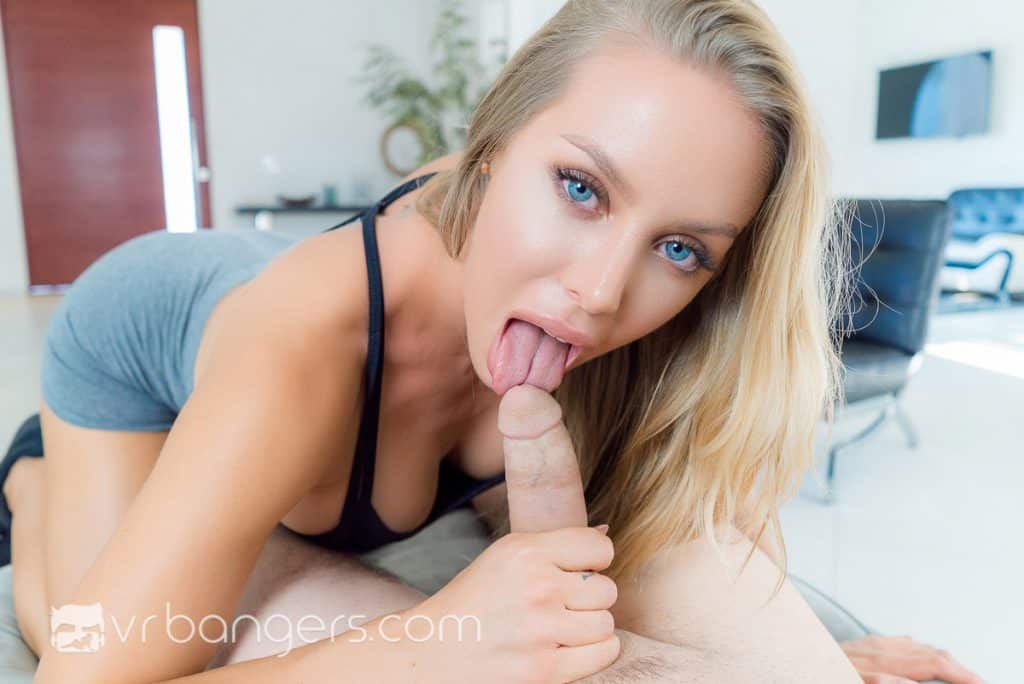 One of the most common resolutions is getting in shape. It's also one of the hardest to keep. But what if Nicole is your sexy gym trainer? Well, I'll bet you'd be super motivated to get up early and hit those bench presses! In this gym porn scene, Nicole comes to your house, but she's not too pleased with your display of laziness. She sees you sitting on the couch after knocking on your door for 15 minutes and expected you to have started the 20-minute warmup she gave you. Since you haven't, she decides there's no better way to get your blood pumping than by fucking you fast and hard. If this workout porn scene doesn't make you want to hit the weights so you can get ripped like Nicole, nothing will.
New Year Resolution #2: Be a Boss at Work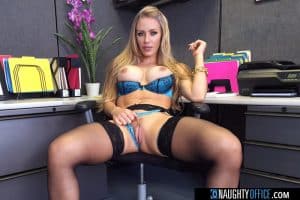 Career-centric goals are definitely resolutions a lot of us have. You want to get ahead, climb up the ladder, make more money and enjoy a lucrative career – maybe even become your own boss. It takes a lot of work and several years to get to that level, so it's understandable that it's a resolution that's easy to lose sight of. But here's some motivation for you. Become successful enough and you can have a babe like Nicole Aniston as your horny secretary. 
In this office porn scene, you're Nicole's boss and you have to reprimand her. She hasn't been on top of her game lately and you've been missing important phone calls and emails because of her. You're on the verge of firing her, but she gets on her knees and begs you to change your mind. It probably helps that her big tits are practically spilling out of her tight blouse. And when you need further convincing, she's more than happy to plunge your cock deep into her mouth.
New Year Resolution #3: Improve Your Relationship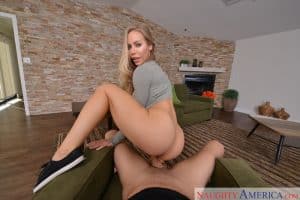 A commendable resolution for you to keep is improving your relationship with your significant other. That's definitely one I did my best to keep with my girlfriend, Isabelle. And you know what that led to? Lots of great sex! If having sex isn't enough of a motivator, then what is? If you need a little extra push, why not pretend that Nicole Aniston is your girlfriend? After buying your first home together, Nicole can't contain her excitement and she wants you to fuck her right there in the living room. Being the great boyfriend you are, how can you say no? So you unzip her pants, bend her over the couch and start fucking her from behind. This VR porn scene is all the motivation you need to keep your real-life relationships strong.
Get Motivated With Nicole Aniston
You know what? Suddenly, I don't feel like my resolutions are going to be that hard to keep. Thanks, Nicole! I hope you're feeling the same way after immersing yourself in these amazing scenes with this Californian goddess. I'll take the sound of her moaning over a motivational speech any day of the week!