Tattoos on a pornstar were never really anything shocking. But in the past, gals with multiple ones often ended up in the "alt girl" category. Nowadays, tatted-up hotties are more mainstream. I still think serious ink on a babe raises her level of bad-girl appeal, which is a plus in my books! Here are a few of my fave tattooed VR pornstars in some incredible scenes.
Alexxa Vice
Oh, Ms. Alexxa Vice is naughty but still nice in "Pin Up Slut" on Badoink VR! She appears dressed as a glamorous vintage pin-up girl with a drink in hand to serve you. But if you think she's only going to tease with some sexy but playful poses you're wrong.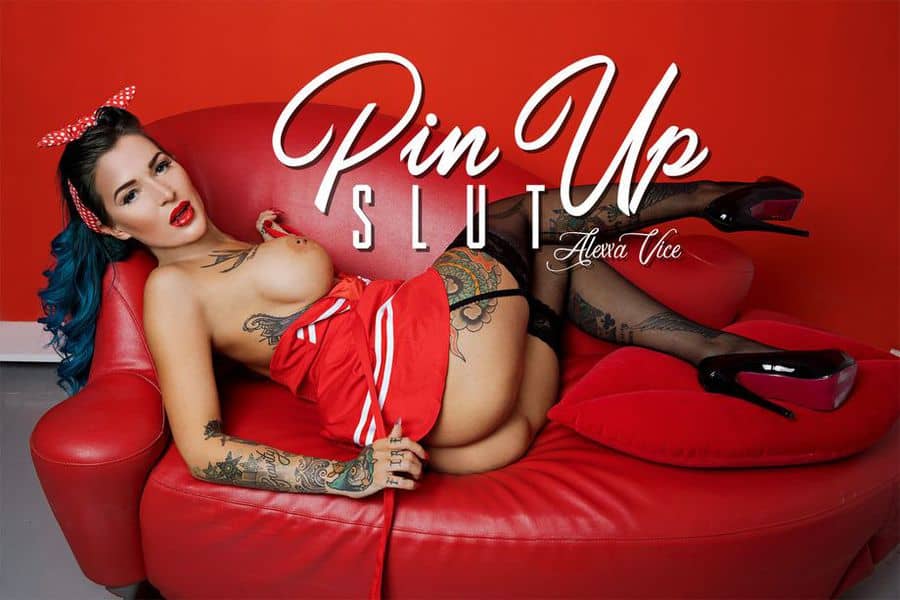 After apologizing that the whiskey has only one ice cube instead of three, she drapes herself across your knees and hikes up her pin-up style dress, so that you can spank her exposed butt. But she knows it isn't enough to make you forget her thoughtless – she'll need to service you sexually too!
So even though it risks messing up her ruby red lipstick, she sucks your dick. Then, after undoing her top, this curvy pin-up girl uses her boobs to titty-fuck your cock. Once you're good and hard, she mounts and rides that bad boy. Then she's back on her knees working your shaft with her hands and mouth until you cum across her face. Here's hoping she never gets your drink right again. Cheers!
Anna Bell Peaks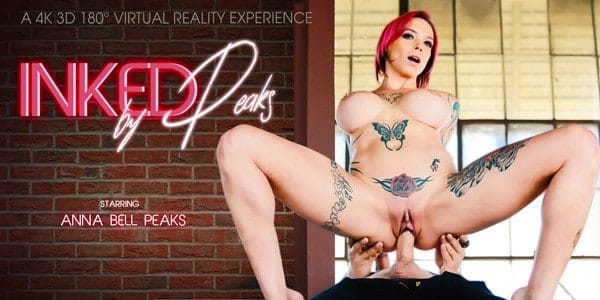 Anna Bell Peaks more than piques my interest – especially in "Linked by Peaks" on VR Bangers. It lets me imagine that I'm a rockstar – and who hasn't fantasized about that? Here's the setup: Anna is a popular tattoo artist who, after giving a celebrity a tattoo, decides that instead of getting paid, she'd prefer to make all his dreams of inked nude babes come true!
The encounter opens with you lying down on a tattoo chair with your arm stretched out and prepped. The sexy Anna comes into the frame wearing a tight tank top that barely contains her massive titties. You've always loved porn with big tits and tattoos, but how can you be sure that Anna is DTF? The first sign is when she lets you fondle one of her tits like the world's hottest stress ball while she's applying ink to your forearm.
But that's just the tip (or maybe the peak) of the iceberg – soon enough she's sucking your dick and then she strips so that you can appreciate every inch of this inked babe naked. She mounts and she rides all kinds of ways – even sidesaddle. When you're ready to cum, she jumps off and jerks you till you shoot in her mouth! I guess she did finally get her money… shot!
Kleio Valentien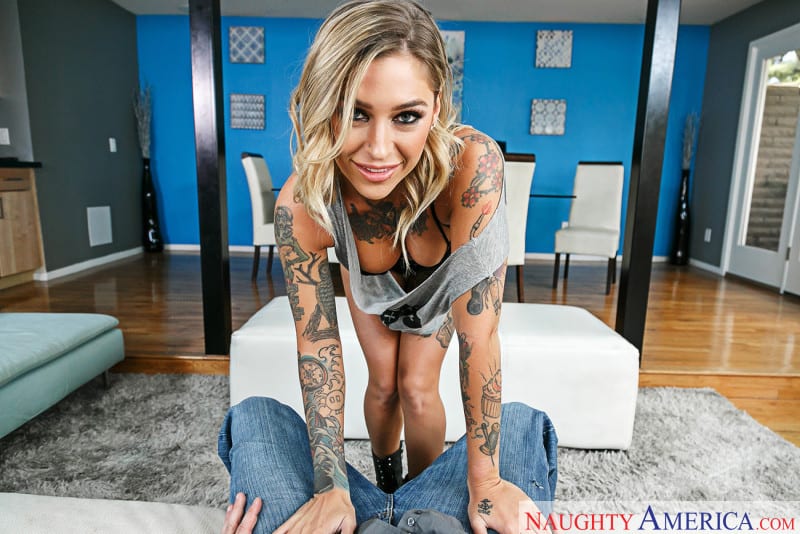 I already wrote about some of My Favorite Naughty America VR Scenes, but I need to add another. They call it "Hard Ride" and it opens with Kleio posing on a sleek-looking motorcycle parked in the corner of her partially finished garage. I like it because she looks like a sexy biker chick with tattoos!
You've been giving Kleio motorcycle-driving lessons and she wants to show you what she's learned so far. She's dressed like your typical tattoo biker girl in Daisy Dukes, combat boots and a shredded T-shirt with a German beanie helmet. She gets so turned on showing you how she'd properly mount the bike that she can't help but strip down to her bra and lacy thong, so she can really feel that beast between her thighs!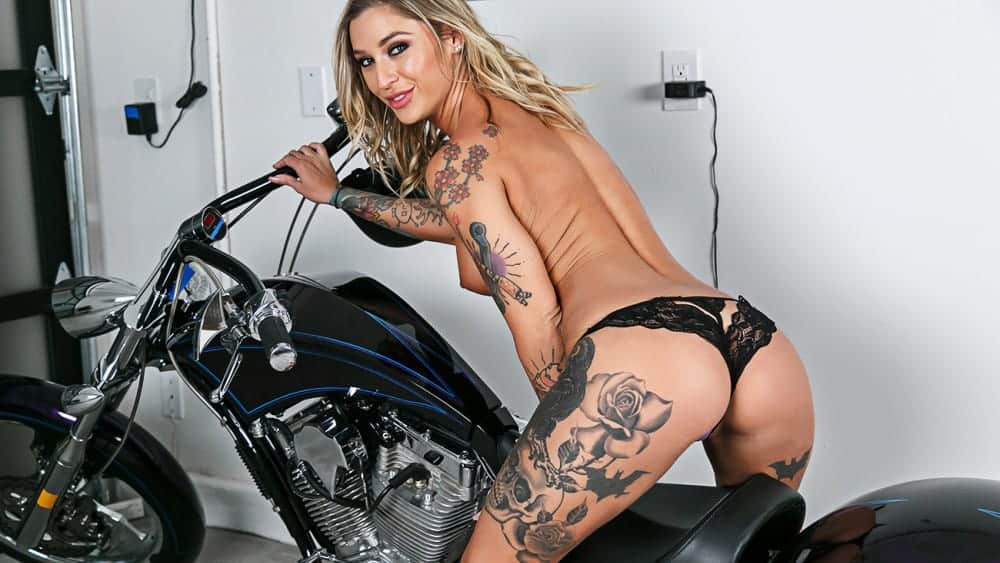 Soon though she'll be riding another beast – namely the horny monster in your pants. She leads you by the hand into the house and takes off her bra, giving you a clear view of her bare biker-babe boobs. Next, she pulls down your jeans, pulls out your dick and starts sucking away. She then jumps on your hog for the ride of her life – and yours too! So how does it end? No spoilers here – you'll have to check it out for yourself, my friend!
Bonus Girl: Karma Rx
There's no way I could write about naked tattoo girls porn and not do a callback to my blog Spotlight on VR Pornstars: Karma Rx. After all, she's one of the most popular of the hot tattooed porn stars of today!