Halloween doesn't have to be spooky. While a lot of people love to dress up like a witch or zombie, there will always be a dedicated group of fans who will dress up as their favorite superhero. And with the popularity of comic book characters in mainstream media right now thanks to the massive Marvel Cinematic Universe, that's not going to slow down anytime soon. So why not use Halloween as a time to celebrate superheroes?
If you've been reading my blog for a while, you know that I have a soft spot for Spider-Gwen. I even mentioned her in my Top 5 VR Porn Superheroines list earlier this year. Specifically, I talked about the cosplay scene starring gorgeous blonde bombshell Victoria Summers, who dresses as Gwen and you play the role of Peter Parker. If that caught your attention, there's even more Spider-Gwen porn – and VR scenes featuring the whole Spider-Man family – where that came from!
Blow Your Web all Over Spider-Gwen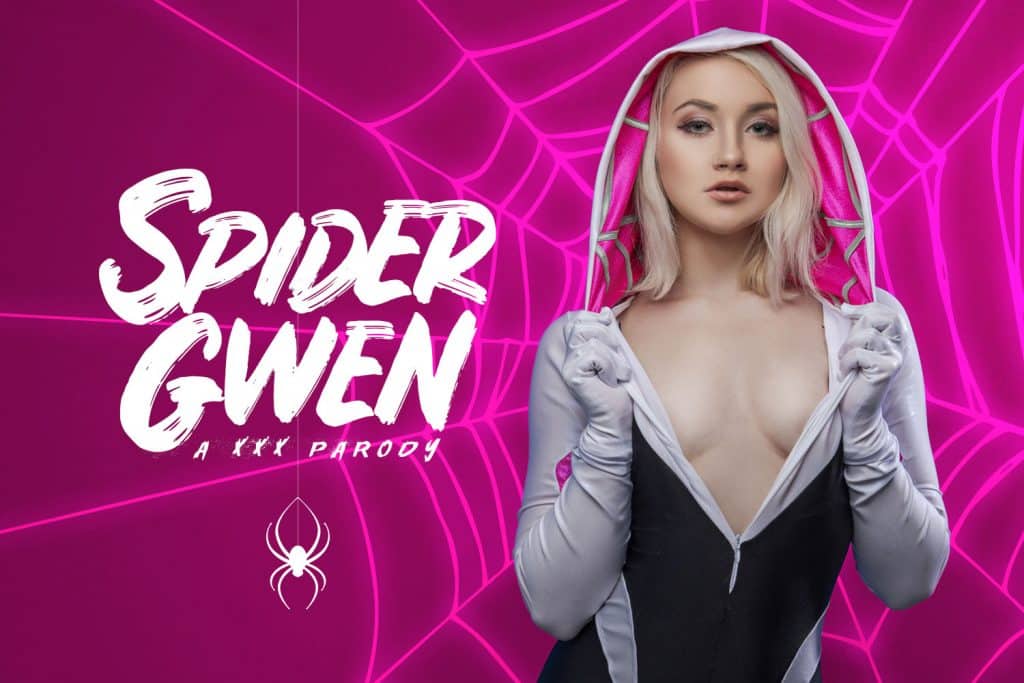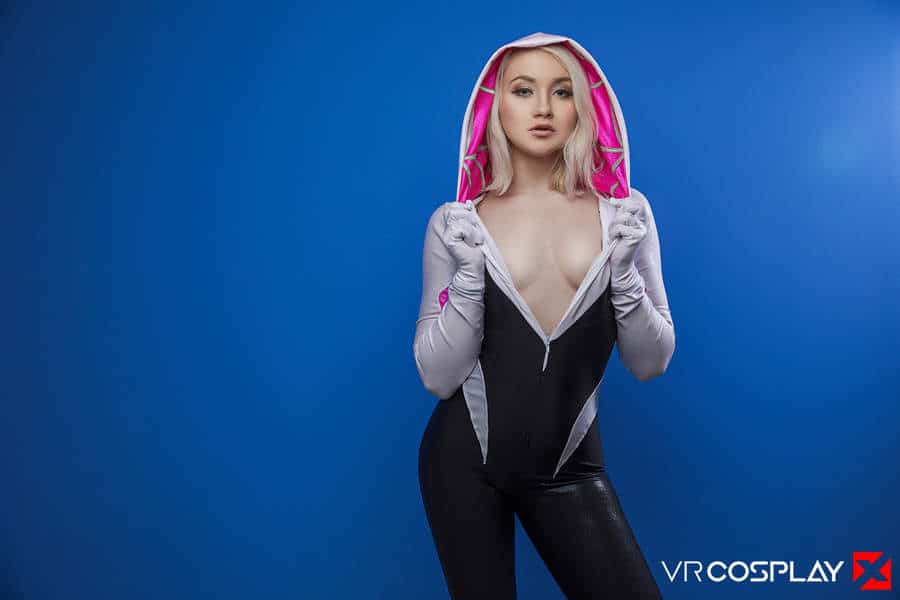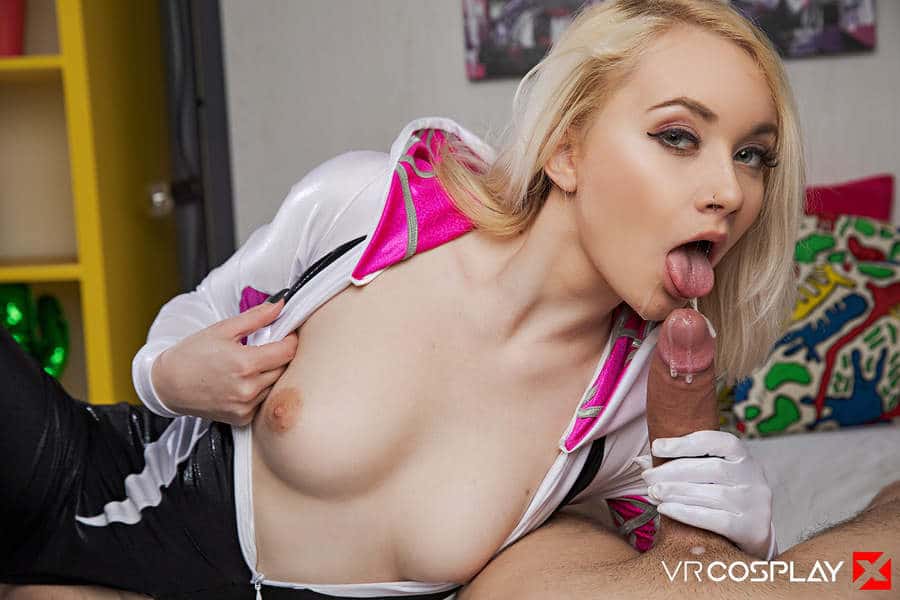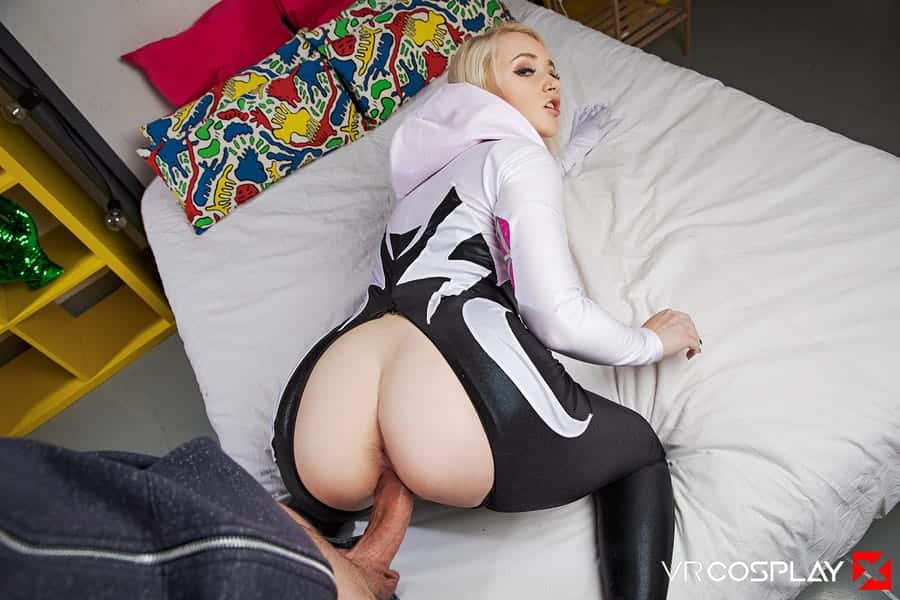 In this latest VR superhero porn scene, we get to see another naughty Spider-Gwen. This time, she's being played by Marilyn Sugar and she's ready to show off more than just her secret identity. You're playing her boyfriend who's confused about how she's been acting lately. She's disappearing down alleys and always has some strange white substance on her – but then you catch her red-handed: she's a superhero!
Once you see her in that suit, you know you'd love to see it off of her too. She slowly unzips it to reveal her pretty pink pussy and then you get to watch her masturbate. Even when she's sucking your dick or getting fucked, she still keeps the suit on so you get to see what it really feels like to fuck Spider-Gwen – and then you blow a different kind of white substance all over her boobs!
Try Something New with Sexy Silk Cosplay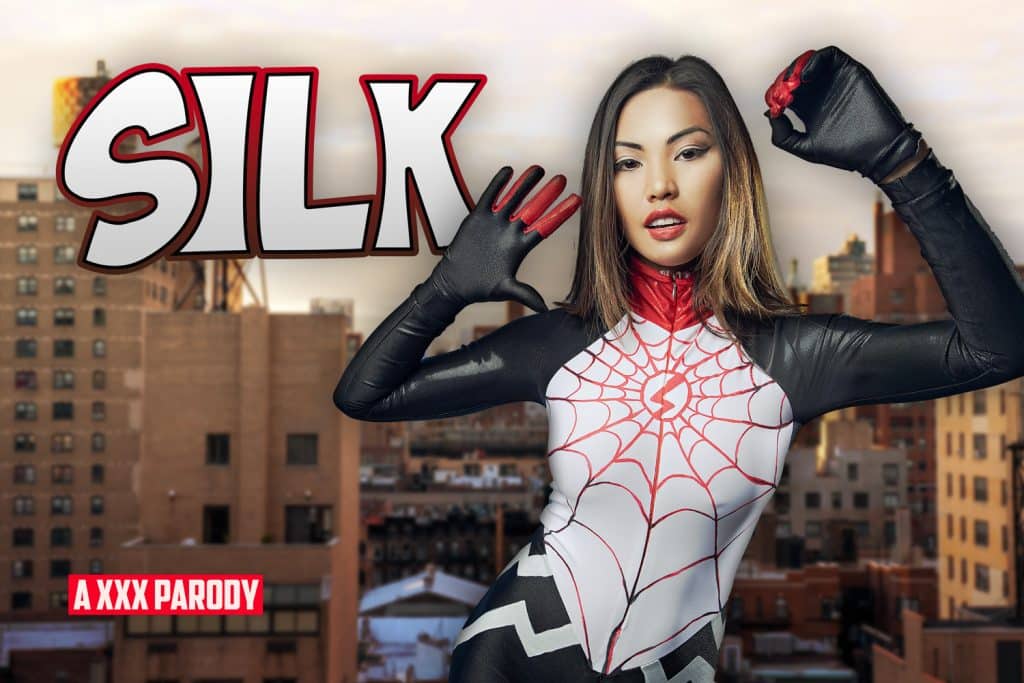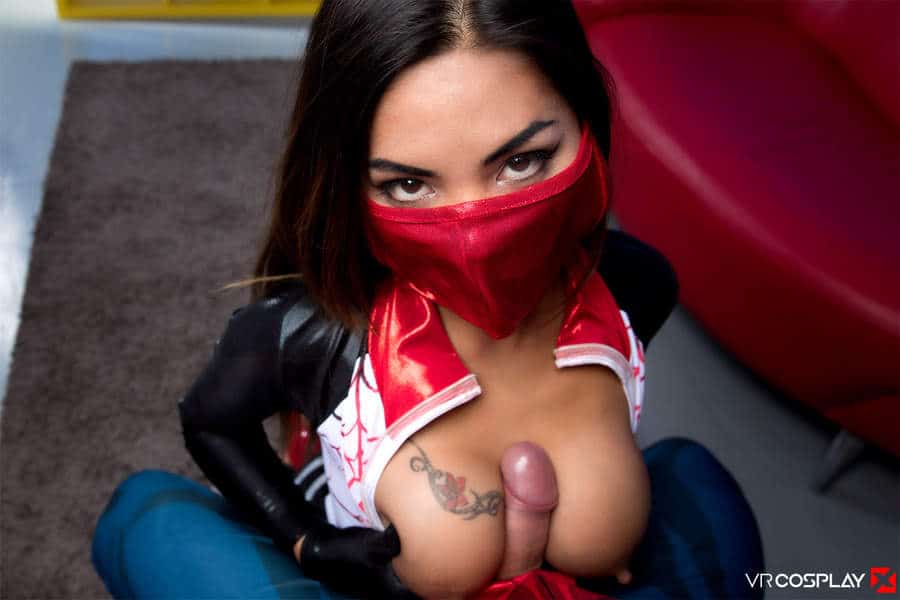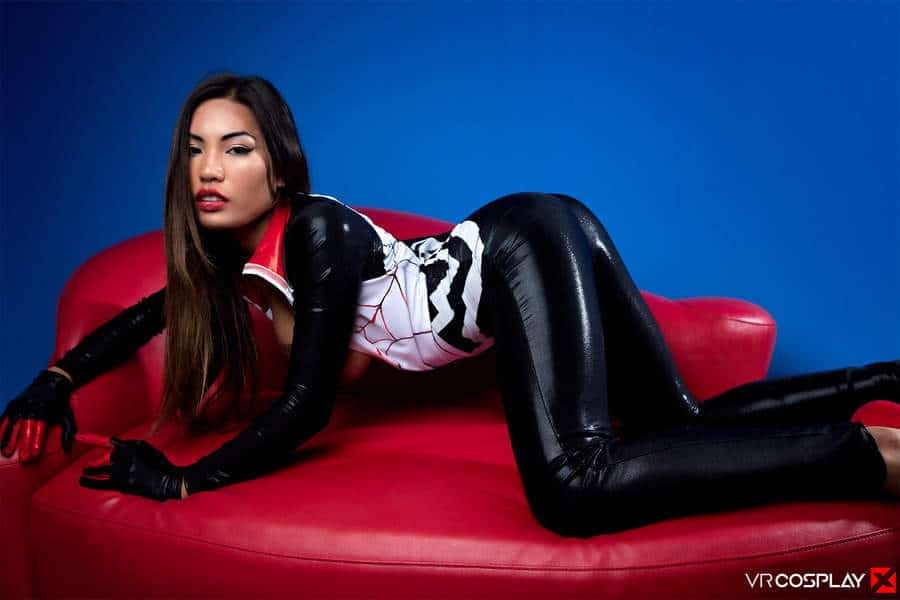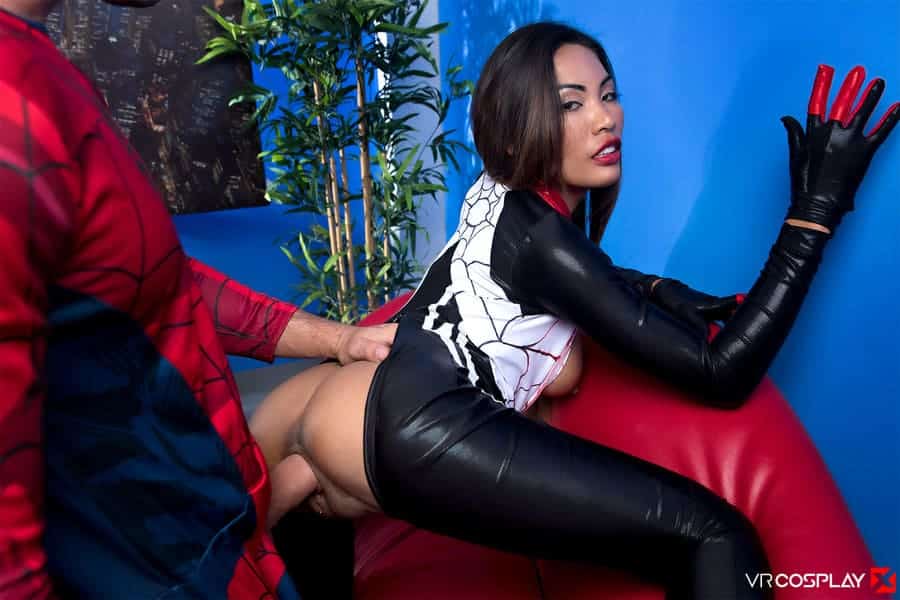 Gwen isn't the only sexy character in the Spider-Man universe! In some storylines in the comic books, things don't end so well for her, so somebody has to cheer up Peter Parker, right? That's where Silk comes in. This sexy masked superhero, played by Polly Pons, might be a newer addition to the Spider-Man Family, but she's definitely welcome in the world of VR porn. In this scene, Silk comes by your place to say that you two need to take a break – but not before one last fuck. She takes your dick out of your Spidey suit and lets you fuck her tits, then she takes off her mask and gives you a blowjob. If you've never seen two spiders going at it, now's your chance!
Spider-Man Home Cumming in VR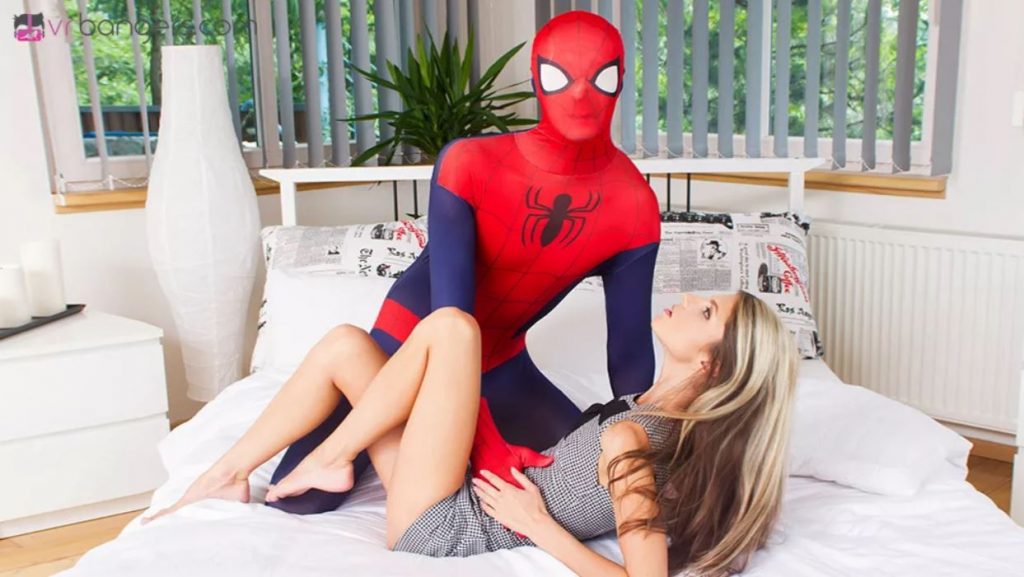 VR Cosplay X isn't the only site that's getting in on the Spider-Man porn game! VR Bangers made a virtual reality porn parody of Spider-Man: Homecoming that was appropriately titled Spider-Man: Home Cumming. You get to play the hero in this 3D scene where you rescue the gorgeous Gina Gerson from an untimely demise. What better way to repay you than by ripping a hole in your suit and sucking you off? While I don't think Spider-Man's suit could be ripped that easily in the comic book canon, I'm sure we can all suspend our disbelief to enjoy this scene!
More Spidey VR Porn to Come
I don't know what it is about characters in the Spider-Man universe but they're just so sexy that we love to see them in their own VR porn scenes. Hopefully, this trend continues so we can see even more porn parodies, maybe with the ravishing redhead Mary Jane as Spider-Woman. Until then, you can make your Spidey senses tingle until you blow your web all over with these videos. Sounds like a Halloween well spent to me!