Virtual reality may seem like the latest and greatest technology right now. But did you know that enthusiasts have been enjoying metaverse porn for decades? That's right! Outside of the top VR porn sites that you know and love, virtual worlds have been there helping people bring their deepest fantasies to life. Let's start at the beginning and explore these digital desires together.
We Need to Talk About VR and Sex
Within the VR community, there's a lot of talk about what the metaverse is, or what it will be. Is it a place of play where fantasies run rampant and fantasy is the name of the game? Or should it mimic a more "real-life" experience? For some people, it's a mix of both – a fantastical world bound by real-life rules and consequences. Introduce porn and now, it's a whole new ball game.
Like 2D porn, there are drawbacks. Some people become addicted to how they feel when they're watching porn. Others become so immersed that it can negatively affect their real-life relationships. For others, porn inside the metaverse opens up so many doors and positive opportunities that it's hard to dwell on any of the possible negative repercussions.
It can be difficult to find a partner in real life, especially during a global pandemic. Virtual reality allows users to be social without the risk of physical contact. I've met some of the most amazing people in VR and, believe me, sex is always a topic of conversation. Just because Facebook/Meta wants to make everyone androgynous Barbie dolls doesn't mean we're not fucking behind the scenes.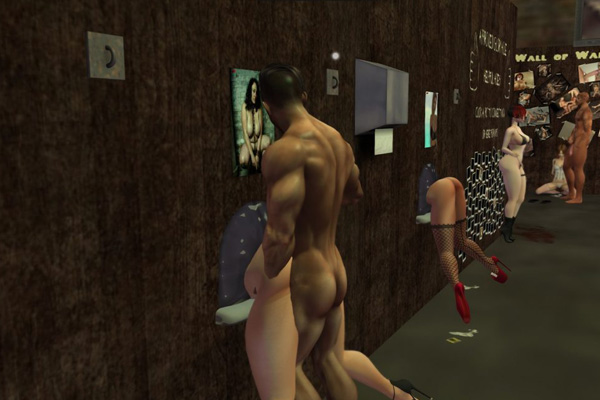 Create Your Own Virtual Second Life
You read that correctly when I mentioned that metaverse porn has existed for decades. Back in 2003, you may have heard about the release of Second Life. It's the first-ever 3D cyberspace simulator and it peaked in popularity in 2013 when it reached 1.1 million users. To get a better idea of what I mean by "cyberspace simulator," think of The Sims but much, much kinkier.
And while there are fewer members than there were eight years ago, there is still a strong community of fetish-friendly members. To sign up, you create an avatar and go through a brief tutorial. After that, you're in your own veritable virtual sandbox. Once you're comfortable, you can take a more active approach to engage other members with voice chat and messages.
If you're more of the voyeur type, you don't really have to interact with anyone at all. While some of the virtual clubs and worlds discourage it, there is a flying option that you can use to float around the worlds and watch all of the action from afar. A virtual fly on the wall, if you will. And believe me when I tell you that there is a ton of BDSM-themed adventures to explore, too.
Facebook's Problem With Metaverse Porn
"Metaverse" is the buzzword right now for pretty much all tech companies. In the VR community, it's been a point of contention for several years, though. Is it VR (virtual reality), AR (augmented reality), or XR (extended reality)? Once Zuckerberg decided to dig his claws into the technology, he usurped previous meanings. And now it seems like everyone wants a piece of the virtual pie.
If we ignore all of the privacy issues that tarnish Facebook's reputation, there's still a major issue. That's right – sex in the metaverse. And Facebook is not having it. I mean, look at the avatars in the Oculus gaming app – they don't even have legs, let alone sex organs. It's not like Facebook is the only one, though. Most social and gaming platforms, like Steam and Twitch, are anti-sex, too.
But like we already learned, the metaverse was built on sex. There's even a term among game developers called TTP, or Time to Penis. It basically explains the time it takes a user to create a dick in any given game or social platform. Heck, we even do it in real life. If you live somewhere snowy, you've seen a penis drawn on the back window of someone's vehicle.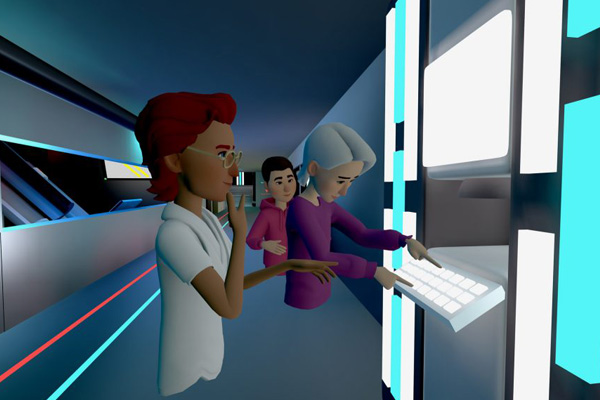 Zuckerberg's Sexless Metaverse Sucks
So, what does Zucks expect from the metaverse that he's so busy creating? When Facebook announced the Meta rebranding in 2021, no one was really surprised. Personally, I felt more worried than anything else. The company is already infamous for its subjective anti-sex rules on its other platforms like Instagram, so what's stopping them from implementing the same in VR?
Andrew Bosworth, Facebooks's CTO, has gone on record saying that its metaverse will push to have "almost Disney levels of safety." Even though virtual reality has been around for decades, it only really went mainstream when the Quest 2 came out in October 2020, only one year after the release of the OG Quest. With over five million units sold, it's a new virtual world in the making.
Thing is, it's not just adults using these headsets. I've personally seen an influx of younger users in the games I play and there are countless videos on YouTube showing them unboxing their HMDs at Christmastime. So, I do see the futility in protecting the innocent from the dangers of unmonitored VR time. But I also think this is more the parents' responsibility and not mine.
VR Bangers Joins Metaverse Porn
Facebook has quite the uphill climb ahead of them, though. Especially when heavy-hitting VR sites are making their way into metaverse porn. If you read my VR Bangers review, you know that this studio is at the top of its game. Between 8K quality videos, an extensive list of popular pornstars, and the interactive game Dezyred, they make proverbial tsunamis in the industry.
Earlier in 2022, VR Bangers announced that it has plans to integrate its content into the growing metaverse. The goal right now is to produce 12K quality content that is so immersive, you'll be hard-pressed to see the difference from real life. They're not the only ones, either! Make sure to read my Naughty America VR review for more up-and-coming VR porn tech.
They recently hired 20 new developers for the project and have even mentioned that they're going to request access to the Oculus app. But since the main goal is to create a space for adults to chat, meet, and fuck, it's going to be dependent on how and when Facebook bangs the gavel on adult content. It may just be better to team up with sex-friendly platforms like NEOS.
Grab Your Headset and Go, Go, Go
Whether you've read my VR Bangers review and found yourself inspired, or you're just here to rub one out, one fact remains – metaverse porn is still in the wild, wild west phase of its development. That means you can be a part of what it will become in the future. Do you see it as a sexless dystopian nightmare or an unlimited space for free-spirited frolicking?