If you're thinking that there isn't enough BDSM porn available to immerse yourself in while wearing your headset, you're right. But Wasteland offers the answer to your prayers. Email me.

Pros
3D BDSM sex game
360° VR scenes
Cons
Game is not compatible with headsets
Only 1 VR sex scene
Scene is not immersive
Bottom Line
This site offers exciting BDSM porn, but most of it is not immersive. In fact, there's only one VR scene and one 3D MMORPG, the latter of which you can't even play with your headset on. That being said, they're both tons of fun that I don't think you should pass up on and, to add to its value, when you sign up you'll get access to 1,000+ 1080p fetish scenes.
My Full Wasteland Review
Looking for VR Fetish Porn?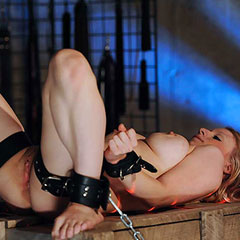 I feel like I need to start this review by making an important declaration - Wasteland is not a VR-exclusive site. It's a BDSM-exclusive site and a pretty good one too. But there's almost next to no content that could be honestly described as immersive. So, why am I, Paul, a self-acclaimed expert on all things related to adult VR, reviewing it? Because the site does have a single VR scene, in addition to a pretty prolific 3D adult game with kinky themes. Hopefully, in time, Wasteland will amass more virtual scenes, but until then, I'll be reviewing and sharing what it has to offer us VR fans.
Goddess Starla's Virtual Adventure
Their one VR scene is called "Goddess Starla's Virtual Adventure," starring Goddess Starla, who's been in the BDSM scene since 2013. In this 360° 3D scene that you can easily stream or download onto every major VR headset, from the humble Google Cardboard to the recently released Oculus Go, you'll be immersed in a virtual dungeon. For 17 minutes, you'll be able to spy on Goddess Starla as she struts around dominating both a male and female sub. I won't spoil the surprise for you, but I will say that this blonde Domme is dressed appropriately for her task and has all the necessary tools of the trade to create one hot, immersive BDSM scene.
You're Going to Love Playing Wasteland 3D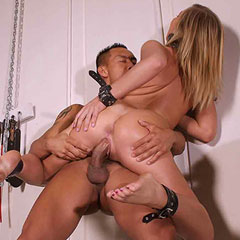 Wasteland has a fun 3D fetish game that you can play called Wasteland 3D. It's kind of like a role-playing game with 3D graphics and animations, not unlike 3DSexVilla. The first thing you should know though is that you cannot play it through a VR viewer. It kind of sucks, but it still has that 3D element going for it, plus the game itself is pretty sophisticated, offering a multitude of interactive and customizable options for you to live out your fantasies. When you create your avatar, you'll have over 100 elements to choose from to make yourself into either a merciless Dominatrix or a sub who loves to be humiliated. You can choose physical attributes, clothing, sex toys (from vibrators to whips), complex fucking machines, and the list goes on and on. The game gets intense as you progress, but I'll let you experience that on your own.
Wasteland has Fantastic BDSM Porn
I wouldn't go so far as to say that everyone that owns a virtual reality viewer should immediately sign up, on account of the fact that it only has one VR scene. That being said, it does have Wasteland 3D, which offers loads of kinky interactive fun. Also, it has 1,000+ BDSM scenes that you're going to be interested in watching. Perhaps in time, they'll add more immersive porn, but in the meantime, I think you should try out their one scene and play the game. You're going to love them both! Follow me on Twitter where I post new VR-related stuff all the time!
Click Here To Visit Website
Similar BDSM VR

There's one reason above all else as to why adult virtual reality is so popular nowadays. Basically, it's because it seems so real! Just like the scenes on Real VR.

Want to watch bondage, D/s, spanking, role-playing, strapon sex, ball gags and more in virtual reality? Then it's time to branch out and get off to the kinkiest content on Kink VR.
The Best in BDSM VR Porn - Sign Up!
Get exclusive email offers on the best BDSM VR Porn sites!

For 20+ years Wasteland has been putting out the hottest fetish and BDSM porn. Now they've got own their own erotic MMO virtual reality game called Wasteland 3D.