Check out this site and you'll be able to have your pick of VR scenes from a virtual smorgasboard of immersive porn sites in a wide variety of niches. Email me.

Pros
180° 3D scenes from top studios
Frequent updates
A wide variety of genres
Cons
No search bar
Can't save favorites
Bottom Line
This site offers a veritable buffet of adult VR, where you'll be able to dip your toes into dozens of 180° scenes from all of the top studios today. This means you'll be able to experience a much wider variety of genres (teens, female POV, cosplay and more) than you would if you signed up to most individual sites. You can watch these 3D videos on all the popular headsets and they're uploading new ones a few times a week. That's what I call one sweet deal!
My Full Real VR Review
One Membership, VR Scenes From 20+ Sites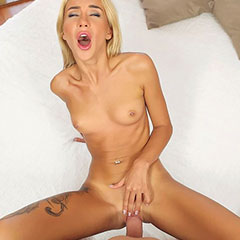 I can tell you right off the bat that you're going to love this site. Real VR offers a virtual smorgasboard of scenes in a wide range of niches. Most sites typically offer one niche, which is all very well and good until things start to get boring. But that's not going to be the case here. On this one virtual site you'll be able to immerse yourself in cosplay, lesbian, one-on-one and female POV, with teens, MILFs and trans performers.
The 54+ scenes are from 20 top VR studios, nearly all of which I have reviewed. These include other Badoink sites like BaDoink VR and VR Cosplay X, the latter of which features fun video game and comic book themed cosplay. They also have 18 VR, which stars sexy teens. Other sites include VR Bangers, Kink VR, Virtual Real Porn, Mature Reality. But that's not all! There's also immersive content that features trans performers exclusively like on TS Virtual Lovers. YanksVR is a virtual site that's made by women, for women. And those are just a few of their offerings.
Seamless User Experience
The site is easy to navigate and the content can be downloaded or streamed and played on any of the major commercial viewers. While there isn't a search bar, you can easily sort through their list of scenes by date, most popular and most viewed. You can also use tags underneath each video to bring up others with similar elements, not to mention the site likes to recommend ones to you as well. Additionally, if you're partial to a particular model and you'd like to have more intimate virtual experiences with her, the model index does a pretty good job of listing all the scenes she stars in.
Immerse Yourself No Matter Which Viewer You Own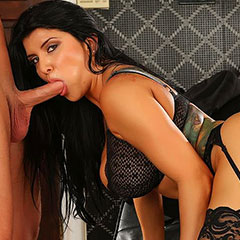 Download options for every scene include two versions for mobile users, one for the VIVE/Oculus, GearVR, PSVR and the DayDream View. All the scenes will play in 3D with a 180° field of view and 4K resolution, plus binaural audio for a truly immersive experience. They can also be streamed directly to your headset without downloading anything, all you have to do is use a WebVR-compatible browser if you've got a desktop-based headset or you can use a WebGL compatible mobile phone and scan the QR code that appears on the player.
If You Like Variety, Sign Up
It goes without saying that I'm personally a huge fan of adult virtual reality porn, but if I had to come up with the one common problem that's found across most of them, it's that they focus on one niche. But here you can find teens, MILFs, fetish videos, lesbians, anal, threesomes, and much more. The list goes on and on. I've always said that variety is the spice of porn and this site is real spicy, just the way I like it!
Click Here To Visit Website
Similar BDSM VR

There's one reason above all else as to why adult virtual reality is so popular nowadays. Basically, it's because it seems so real! Just like the scenes on Real VR.

Want to watch bondage, D/s, spanking, role-playing, strapon sex, ball gags and more in virtual reality? Then it's time to branch out and get off to the kinkiest content on Kink VR.
The Best in BDSM VR Porn - Sign Up!
Get exclusive email offers on the best BDSM VR Porn sites!

For 20+ years Wasteland has been putting out the hottest fetish and BDSM porn. Now they've got own their own erotic MMO virtual reality game called Wasteland 3D.