I love nude BBWs! Now, if you're wondering, "What's a BBW?", the answer is Big Beautiful Woman. These are chicks with extra cushion for the pushin'! If you like girls with big tits, bellies and asses, there's a good chance you've searched for porn with big girls in your lifetime. But what about VR BBW porn? Oh, it exists my friend and there's plenty of it online. But I want to talk to you about my favorite big belly BBW by the name of Mimosa.
You might know the drink as being a sweet, citrusy alcoholic beverage, but the pornstar Mimosa is way naughtier and dirtier than the drink could ever be. Need proof? Let's dive into this incredible scene of hers from Kink VR.

Midnight Mimosa – Bold BBW
Mimosa is a busty BBW MILF with short dark hair, tattoos, piercings and a dominant personality. In this VR fetish scene, while browsing jobs online, you encounter one with the line, "House slave needed. Will be paid with pain." How could something like that not be intriguing? So you decide to answer the ad and that's when you meet Mimosa for the first time.
The scene begins with you sitting on a couch with your pants off as Mimosa sits in front of you in a tight red dress and high heels. But she's not too pleased because your dick isn't hard. She asks, "What am I supposed to do with this thing?" Well, it seems she knows exactly what to do because she immediately gets on her knees and teases your cock with her mouth while simultaneously slapping and pinching your thighs. Within seconds, you're as hard as a rock!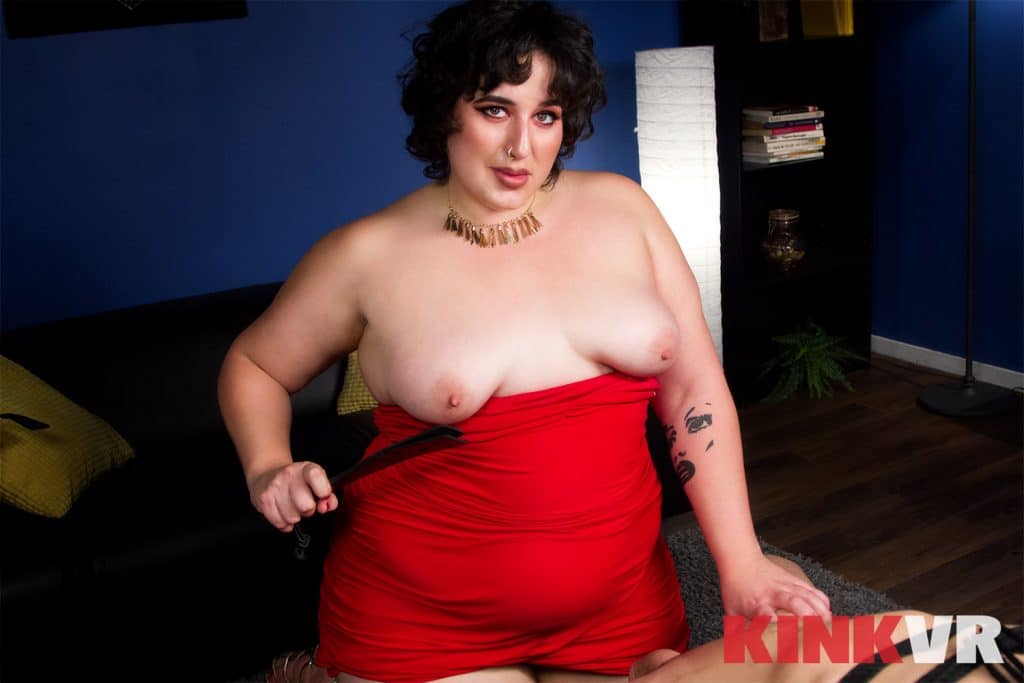 That's when Mimosa ramps things up. She gets naked and puts her thick BBW nude ass right in your face. As you reach out to touch it, she turns around and spanks you hard. She didn't give you permission, so what the hell do you think you're doing touching her!?
You'll be in BBW bliss halfway through the scene when Mimosa locks your dick in a chastity cage and fits you with a strapon. She then gets right in your face and you get to see her pussy up close and personal as she rides that strapon and pleasures herself with a Hitachi Magic wand at the same time. She has repeated orgasms and hearing her moan in your ears might be the hottest thing ever!
Check Out More BBW XXX VR Porn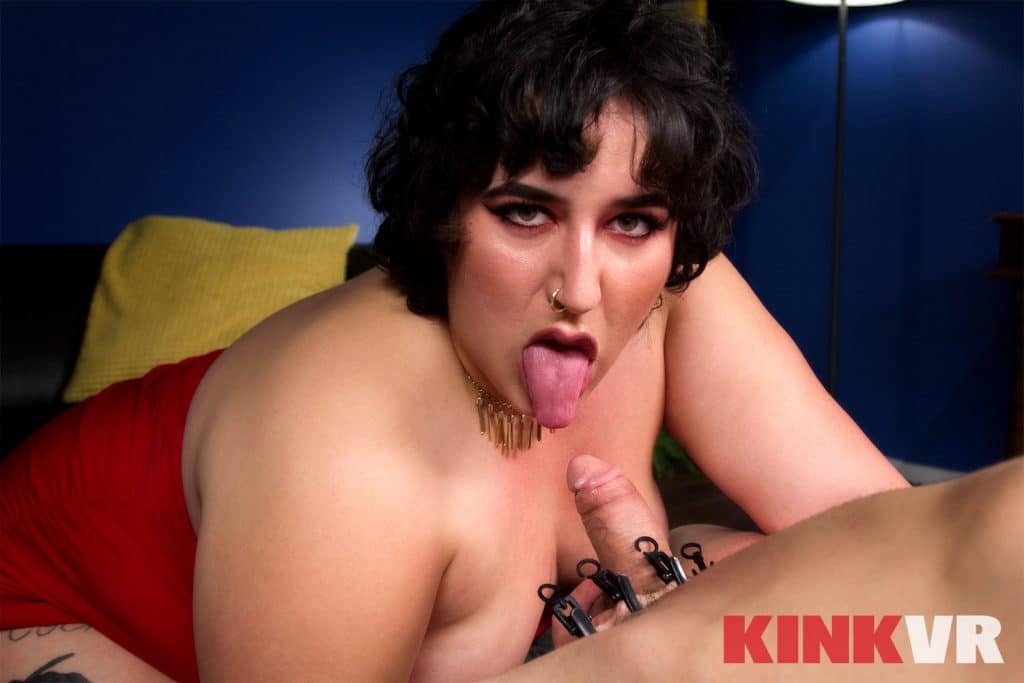 Looking for more thick girl porn? Good thing there's plenty of it online! VR Conk has a great scene starring sexy thick BBW Krystal Swift, who puts her massive tits in your face while fucking you hard and fast. Or how about a scene where you'll get up close and personal with dark-haired chubby hottie Jennifer Mendez? If there are any other scenes you think I should know about, feel free to leave a comment or shoot me a quick email.