Easter is right around the corner and when Lent started a few weeks ago, I decided to give up watching porn. NOT! Sorry, but that would never happen. In fact, I doubled down on my porn viewing. Easter makes me think of Easter eggs, which makes me think of boobs. I realize that breasts don't look like eggs, but when you have a perverted mind like mine, anything with a round shape makes you think of boobs. Then I thought, what better way to celebrate Easter than with VR titfuck porn! There's nothing hotter than watching your cock disappear as it gets enveloped in a big pair of tits so, without further ado, here are my favorite busty titfuck videos.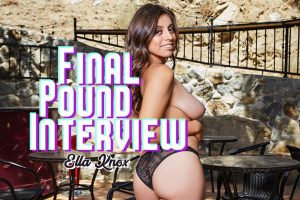 When it comes to POV titjob porn, I can always count on Ella Knox to give me the very best. I wrote about her extensively in my Spotlight On VR Pornstars: Ella Knox blog earlier this year. I mentioned this exact scene, and here I am mentioning it again because it's that good!
As an underqualified applicant for your startup company, Ella will do anything to get the job. She wastes no time showing off her huge rack and rubbing them as you watch in amazement. But it's when she gets on her knees and sensually places them around your cock that things really start to get exciting. Ella gives the best titjob I've ever seen!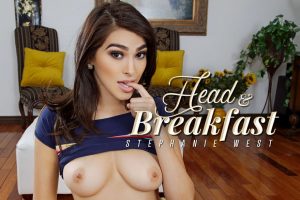 Breakfast is my favorite meal of the day. There's nothing better than some eggs, bacon and pancakes! Now, if I could get that meal with a blowjob and a teen titfuck from a sexy brunette, it'd be even better. And would you look at that, there's a scene with the sexy Stephanie West doing exactly that! It's a titfuck blowjob combination that she does so well. She's slim, but she still has huge tits and one of the roundest asses I've ever seen. So when she turns around and sits on you for a reverse cowgirl fuck, you'll be happy that you decided to book a room at this kinky B&B!
There's only one thing better than a big pair of tits and that's big oiled tits! Ava Black is a curvy dark-haired beauty with a pair of perfect breasts, and in this scene, she plays your girlfriend. It starts with her taking a shower while you watch. She throws lustful looks your way as the water trickles down her boobs and she rubs her pussy. When the two of you move things to the bedrooms, she uses her huge oiled tits to rub your cock ever so gently. After fucking her and watching her big tits bounce, the scene ends with you cumming all over her oiled up tits.
Do you know what's even better than a titjob? A MILF titjob! Anissa Jolie has some of the biggest, softest-looking tits I've ever seen and I can only imagine how amazing they'd feel wrapped around my cock. That'll never happen, so I'm glad this titjob porn video exists. Anissa plays your stepmom and she just baked a pie for you. When she leaves the room, you decide to re-enact a certain famous movie scene. When Anissa catches you in the act, she gets so turned on that she gives you a blowjob and the best titjob you'll ever have!
The Most Egg-cellent VR Titjobs Ever
Who wants to spend their day participating in an Easter Egg hunt? Or worse – going to church! Stay home, throw on your trusty VR headset and let yourself experience the best titfuck possible with these beautiful, busty ladies!