Naughty America was founded in June 2001 and has been one of my favorite sites pretty much since the day they launched. They've grown into a porn network of 50+ sites with a massive collection that includes both 2D scenes and 100's of VR ones. But the amount of hardcore action they deliver and their determination to keep up with the latest tech aren't the only secrets to their success.
They feature some of the top names in the industry with up-and-comers like Autumn Falls along with established talent including Penny Pax and Brandi Love. Plus their interface is not only mobile and tablet friendly, but you can also access an extensive list of categories that get very specific, like pulling up scenes that use an exercise ball as a prop! Also keeping with the fitness theme, one of my favorite categories has the encounters taking place in a gym.
 Here's my list of the top Naughty America VR scenes:
Watch Jenna J Ross Get Fucked at the Gym
One thing that always gets me hot and bothered at the gym (besides overdoing it on the elliptical) is hot girls in sports bras. And they rarely get hotter than the gorgeous Jenna J Ross in Booty Basics! She's not a pornstar I follow religiously, but when I caught sight of her in this scene with her hair in a high ponytail and a smirk on her face, I knew that I not only had to see this hot girl in sports clothes but also out of them!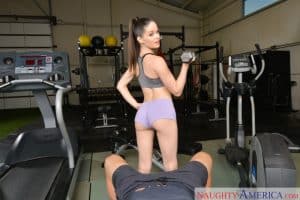 Fantasizing about having sex at the gym has been my main source of fit-spiration for years so this scene is a dream come true. Notice I didn't say "it's like a dream…" and that's because Naughty-A does VR better. Their hyperrealistic POV shot accurately captures what you'd see from a balls-deep-in-Jenna angle. Up close and making eye content, you only see part of her body. It's counterintuitive, but these less explicit shots really make you feel like you're having sex with this babe!
Enjoy 2 Brunettes & One Big Cock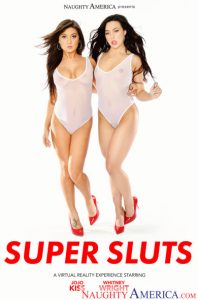 Their Super Sluts scene starring two amazing brunettes sucking cock stands out to me because they're really thinking outside the box, which ironically happens inside a big white box! This POVR threesome goes down on a brightly lit set where everything is painted white. You'll literally feel like you've died and gone to porn heaven as the bright-white backdrop creates the illusion that all the performers are floating – as if they're fucking on a cloud!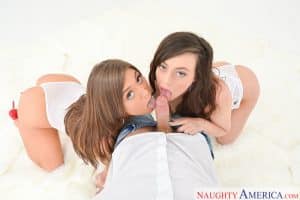 Of course, with such a heavenly inspired theme, you'd expect a couple of angels to appear before you and they do in the form of Jojo Kiss and Whitney Wright. And even if watching these 2 brunettes suck cock is a big part of the action, the sex isn't limited to a double blowjob. The girls are pretty handsy with each other making for some inspired lesbian foreplay. One skinny brunette takes that huge cock and then the other one does, with the best part being that the dick in question is yours!  
How to Join a Sex Club (At Least Virtually)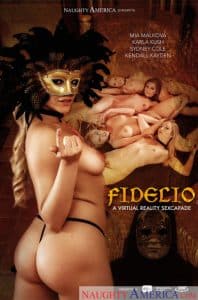 This reverse gangbang video has a fancy name – Fidelio. Think of it as their homage to Stanley Kubrick's Eyes Wide Shut and, to be honest, it's more watchable. You don't have to watch the strained acting of a Hollywood power couple on the brink of divorce. It's a party with masks and sex and is X-rated hardcore all the way instead of the R-rating of the original.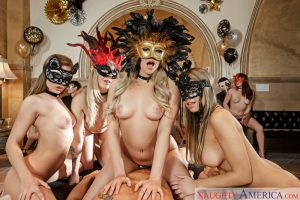 It might be the closest you ever come to feeling like Tom Cruise – well, short of jumping up and down for joy on a couch. There's no Nicole look-a-like, though who's going to complain if hot women at a sex party combine forces to drain your balls? You'll be fucking pornstars Ariana Marie, Athena Palomino and Riley Reyes each in turn. And then the trio writhes together between your legs – kissing and groping each other – in anticipation of your impending cumshot. A good old fashioned orgy sex scene like this one will actually have you keeping your eyes wide open!
What's Your Favorite VR Porn?
Feel free to share your favorite Naughty America VR scenes below in the comments or you can always let me know what you think by leaving a rating on my review page. Of course, you can always check out some of my other top-rated VR porn sites and email me if there are any I've missed.