Spring is in the air and do you know what that means? Girls are going to be breaking out their sandals and getting their feet ready for their time in the sun with pedicures, scrubs and god knows what else! But that means one hell of a view for all you foot fetishists out there!
Luckily for you, you don't have to gawk at women's feet all summer, because VR porn has you covered! There are plenty of foot fetish porn videos in the world of virtual reality that you can see girls with beautiful goddess feet do way more than just walk. These babes know how to use their footsies to drive you wild. Let me give you some of my personal faves that I'm sure any foot enthusiast will be drooling over!
Enjoy a Hot Footjob with Sirens of the Sauna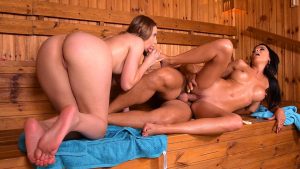 One place where you can expect to see bare feet is in a steam room, so it makes sense that this foot worship video takes place in a sauna. In this VR scene, imagine being that guy watching Lady Bug and Shalina Devine relaxing after a workout. Before you know it, you're rock solid and these two babes are giving you a double footjob. If that's not hot enough, they crawl over and start sucking your cock and then you get to take turns fucking them. It's times like these when I wish VR porn was real life…
Do You Have a French Foot Fetish?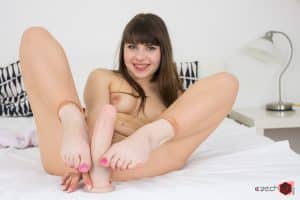 If you love foot fetish videos and sexy French girls, boy, are you in for a treat! You won't need to understand French to enjoy Luna Rival stripping out of her clothes and playing with a dildo while you watch it all in VR. It starts with her showing off her sexy nylon feet, which she then rips off and starts deepthroating a dildo and masturbating. You'll love her petite pied tout doux – that's "soft little foot" for those of you who don't know the language of love!
A Classy Foot Fuck From a Mature Babe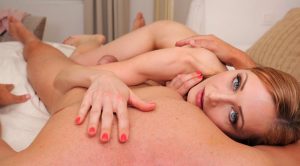 After a nice long day, my girlfriend, Isabelle, loves it when I rub her feet. Usually, I get too ahead of myself and one thing leads to another and I'm rubbing more than her feet – and that's exactly what happens in this VR foot worship scene. The stunning Luca Bella is a businesswoman who comes home and needs a good foot rub. You get to see her pretty nylon feet getting rubbed, watch her get fucked, and then you're treated to a nice MILF footjob.
Satisfy Your Foot Fetish With VR Porn
You don't have to hide your foot fetish, you can indulge it all you want and once you put your headset on, it'll feel like the real deal! If these scenes gave you an appetite for more, I'm sure you can find others to satisfy you. I've featured VR pornstar Valentina Nappi, the Italian goddess herself, before and I'm sure you can find plenty more virtual porn scenes where you can see her pretty little feet, and probably some with other porn stars too!