I have a confession to make – in high school, English was my best class. I liked writing and my teacher was a blonde MILF with huge tits! If you're familiar with porn star Vicky Vette from My First Sex Teacher, then you have an idea of what she looked like. My school days have long since ended, but my fantasies of fucking a school teacher sure haven't – and that's where VR porn comes in! With National Teacher's Day coming up on October 5, what better way to celebrate than sitting down and watching VR teacher porn starring smoking hot MILFs? So get ready because school is now in session! Here are three of my favorite scenes.
1 – "Hands-On Learning"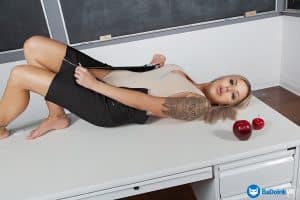 When I was in school, Sex Ed was still a surprisingly taboo subject. When they finally started teaching it, it was dry and boring and taught by a guy who looked like he hadn't had sex in 20 years. Now imagine if one day, you walked into a Sex Ed class with Nina Elle. Well, you'd be in trouble because how on earth would you be able to focus on anything other than her sexy body? At this school, Nina is going to give you a hands-on learning experience in VR. She'll let you touch her boobs, look at her pussy and then give you a blowjob that'll make your bookworm explode with pleasure. Teachers would normally get fired for this, but this is one institution where students and teachers fuck all the time and are even encouraged to do it!
2 – "Final Sexam"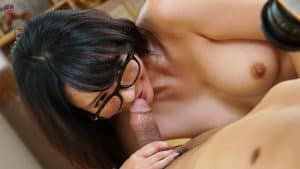 School can be a bummer if you're stressing about homework or exams. I hated exams with a passion. Even with extra tutoring, my nerves always got the better of me. If only I had a hot Japanese MILF with big tits for a teacher who offered to relieve my stress by giving me a blowjob and letting me fuck her! In this immersive VR scene, that's exactly what you'll get to do. Aizawa Haruka is supposed to be helping you study, but how can you concentrate when her big tits are practically popping out of her tight shirt? Although the dialogue is Japanese, it doesn't take rocket science to deduce that she sees you eyeing her tits, gets turned on by it and decides to help you blow off some steam.
3 – "Educational Foursome"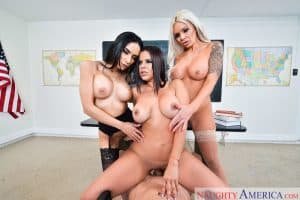 Talking in class, being late, forgetting to do your homework, being disruptive – these are things that could land you in detention. I wasn't the greatest student sometimes and I'm sure I annoyed a handful of teachers. But I never received the kind of punishment that you get in this hot foursome with Diamond Kitty, Nina Elle and Tia Cyrus. These ladies are fed up with your antics in the classroom. (Maybe they should unwind and watch some VR porn for women.) You've been in detention so many times and it doesn't seem to be working. How else can they reprimand you? They decide to try the opposite approach and give you a lesson in positive reenforcement by sucking your cock and taking turns climbing on top of your dick.
Study for Naughty Classroom VR Sex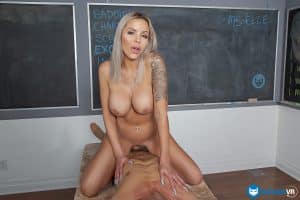 Open up your notebook and write this very important lesson down – college teacher porn is hot! You'll love letting these babes teach you a hardcore lesson in these immersive virtual reality porn scenes. This is one after-school detention you won't mind sticking around for – especially since these teachers are as horny and as wild as they come! Any other porn I should know about involving teachers fucking their students? Let me know in the comments!