As summer winds down many of us start to panic. Gray skies and cooler temperatures mean everyone bundles up when they go outside. Gone are the short-shorts and gauzy sundresses that many a sexy babe wears to beat the heat. But I've found a fun way to keep that summertime feeling regardless of the weather outside. I watch virtual reality porn featuring bronzed hotties nude and exposing their tan lines – and more!
Here are a few of my favorite VR scenes dedicated to sexy tan lines:
From Dream to Reality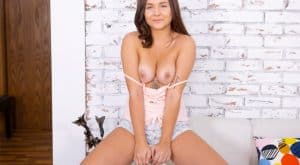 You'll notice with all the scenes I've chosen that the focus isn't specifically on the babes exposing their hot tan lines. The pops of white surrounded by darker skin are incidental to most of the storylines, but I like that – it feels like I'm getting a secret boner-enhancer from watching something that already turns me on. For example, Naughty Bee's TMW VR Net's masturbation scene "Dream Into Reality" – it may be about the line between fantasy and the real world, but I'm more preoccupied with the tan lines on her tits!  
But as much as you'll be distracted by the white circle of skin around her pink areolas, those titties are just the tip of the iceberg. In the video, Naughty Bee describes a sex dream she had last night. She's so good at giving you all the juicy details that she gets as turned on telling you about it as you are hearing it! Soon she's revealing her pussy tan line, too. And she can't resist touching herself, either. Between hearing about her dream and watching her masturbate you'll be ready to cream too! 
Fan-Fucking-Tastic Richelle Ryan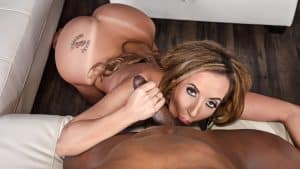 I've always loved tan lines on a mature woman and one of my favorite MILF pornstars is Richelle Ryan. She one of the babes on my freebies list  – Isabelle and I have given each other preapproval to hook up with certain celebrities/pornstars with no questions asked! Our lists up until now have been mostly hypothetical, but Naughty America's VR fan-sex scene "Fan Fucking Tastic" gives me hope that having her as a freebie isn't a complete pipe dream. Still, in my case, Richelle wouldn't get to enjoy a BBC – but maybe my pale python would still do?
For now, I'll just use my imagination – seeing Richelle in front of you is exciting even before she starts undoing your pants. For starters, she shows up in this crazy tight red dress and then she pops her big tits with tan lines out of her top. Soon she's completely naked and masturbating pretty much in your face! Then she gives you a lapdance and shakes her big booty, exposing her thong tan lines. The icing on the cake (and, man, you'll want to ice both her cakes) is when she backs up onto your hard cock and rides you till you cum on her face!
The Backpacking Trip of a Lifetime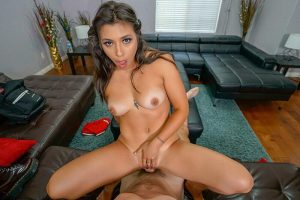 As much as I like a tanned mom, I also love to see teen tan lines exposed. And this VR Hush video featuring Brooklyn Gray is a great way to witness a young hottie showing off her bronzed bod. It's called "The Backpacking Trip of a Lifetime," but it's not a camping or road-trip scene. Instead, it opens with Brooklyn returning to Vegas after her trip, but she's too horny to head straight home. She's missed you and your dick, so she's stopping by for a booty call in the middle of the day.
Brooklyn turns up in the perfect outfit for the occasion – orange booty shorts with a matching tube top and sexy athletic socks. Of course, she looks even hotter when she shows off her tan lines naked and starts sucking your dick. Once she has that bad boy nice and hard, she rides you cowgirl. You also work in some doggy style sex, giving you the perfect view of her tan line ass. How does it all end? I don't know – why don't you join and then let me know!
Check Out More Summertime VR Porn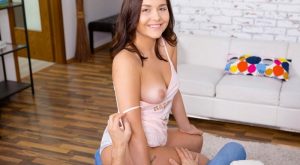 If you want more hardcore action to help prolong the last of those lazy, hazy days of summer, you should take a look at my Top 3 Outdoor VR Porn Scenes. They include fun in the sun, camping sex and a picnic in the park where your big fat dick gets serviced in public!