A long time ago in a galaxy far, far away… There was a porn parody from VR Cosplay X…
It's December and that can only mean one thing: A new Star Wars movie! Yes, that's right, we're just moments away from The Last Jedi. I know many of you have been eagerly awaiting this one. But I'd like to take your mind off that for a moment and have you focus on something a little different.
Star Wars Porn Parody!
The folks over at BaDoink VR have been doing virtual porn the right way for a while now. They also have a site dedicated solely to cosplay called VR Cosplay X. It has some amazing parody scenes from Final Fantasy, Spider-Man, Attack on Titan, World of Warcraft and most recently Star Wars. Makes sense to me. With the new movie upon us, now's the perfect time to immerse yourself in a porn scene based off that legendary franchise.
Virtual Sex In The Desert
Before I even put my Oculus on, I had to pause for a moment. Just looking at the thumbnail, it looked as if the scene was shot in a real desert. I did some digging and it turns out they really did shoot it in the middle of a desert! How's that for realism?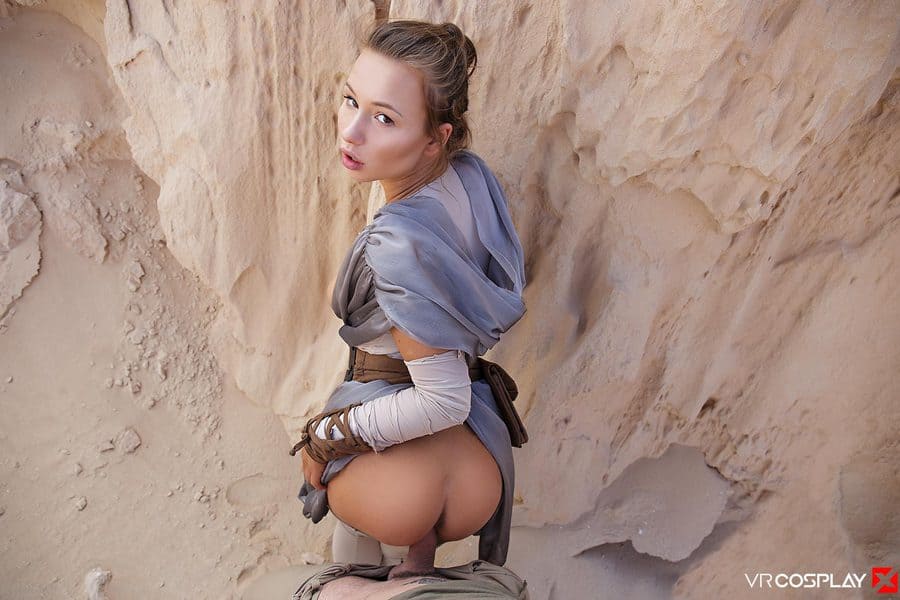 You play the role of X-Wing Poe Slammeron and your mission is to rescue Rey, played by the mega-sexy Taylor Sands. Once you land your ship, you save Rey as she's being chased by a Stormfucker. (Yeah, you read that right. They're called Stormfuckers. Just go with it.) Naturally, Rey is feeling a little gracious. As you hide behind a corner, she gives you thanks. (And she's wearing quite the revealing outfit!)
She begins her thank-you process by getting on her knees, unbuttoning your pants and putting your cock in her mouth. After a few minutes of Rey's awesome blowjob, she turns around and lets you fuck her from behind. Things are really heating up now! The whole time, she's turning her head to look at you. And the glances she throws your way are just the cherry on top of this already fantastic virtual scene.
The scene then transitions and suddenly you find yourself on the desert ground. Rey is now on top of you, fingering herself. After a few minutes, she turns around and gives you a view from behind and starts to finger her ass. After a few more minutes, she takes your cock out once again and starts to ride cowgirl.
Immersive Cowgirl Style

However, I think it's safe to assume Rey's favorite position is reverse cowgirl because when she switches to this position, she starts to ride and thrust you harder and faster than at any other point in the scene. Her moans also become increasingly louder. Once she has an orgasm, she turns around and sucks you off until you explode all over her face.
As a Star Wars fan, what more could you want in a Star Wars porn parody? If you call yourself a Star Wars lover, you have to check it out now. And they've taken steps to make it feel authentic with their location. Taylor's outfit looks exactly like the one the real Rey wears in the film and just like all the other scenes on VR Cosplay X, it's in 180° 3D. Sorry Daisy Ridley, but I'll take Taylor Sands as my Rey for life, thank you very much!
Star Wars: The Last Jedi is in theaters everywhere starting Dec. 15, 2017.
"Star Wars: A XXX Parody" can be watched on VR Cosplay X right now!