Recently I decided to take a bit of a break from my usual role as a porn reviewer to enjoy a bit of time to myself. Of course, what did I end up doing during this time? Watching VR porn, of course! After all, it's an excellent way to unwind after a long day and I could finally enjoy it from the perspective of a fan rather than a reviewer. I decided to log in to one my favorite sites, Naughty America VR. If you've read my review, you know that I consider it to be one of the best virtual porn sites on the Net. The Naughty America network has some of the sexiest pornstars and their virtual site is no different.
Taking a Break…
Now, admittedly, I love anything Spring Break-related. Watching hot coeds throw their inhibitions out the window while they get naked and have sex is pretty amazing. I'm a little past my college years, but thankfully I can live vicariously through the sites I review, which is precisely why one video in particular caught my attention. It's simply titled "Spring Break 2016" and features three gorgeous babes: Elsa Jean, Kate England and Tali Dova. I chose to view the scene with the Oculus Rift, but it also works with the Samsung Gear VR and any smartphone Cardboard device. The head-tracking worked perfectly and the 3D view looked as real as possible. Great start!
Setting The Scene
When the scene begins, you're lounging by the pool with these three beautiful young women. Kate England is playing the role of your girlfriend. The girls are sitting around, enjoying their Spring Break and chatting about the guys Tali and Elsa are dating. Both girls express their disappointment with the fact that their relationships haven't progressed as much as they would like, mostly because the guys aren't showing much interest. At this point, Kate looks at you and says, "Lucky I have you, babe." Don't worry, she's about to show you just how lucky she feels!
Four's A Crowd? Never!
It's then time to go out and party! Elsa and Tali go away to get changed, leaving you alone with Kate for a bit. Immediately, she climbs on top of you and tells you she wants to experiment and have a little Spring Break foursome with the other girls. I mean, who could say no to that? Just in case you need a little convincing, Kate opens up your pants and sucks your cock for a bit before taking things into the bedroom.
Taking The Party Inside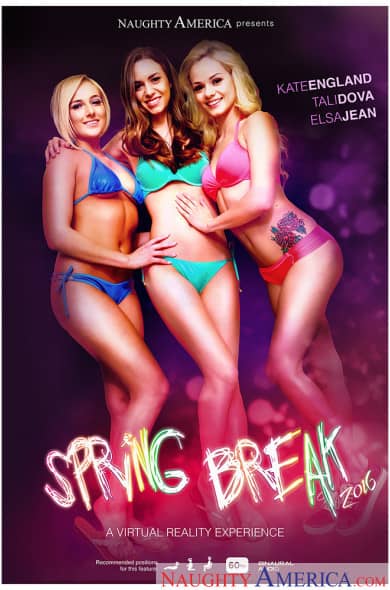 At this point, the scene goes dark for a second. When it comes back, you're lying on a bed. All three girls emerge from the bathroom wearing skimpy bathing suits. They tell you they're in the mood for a little "pre-party" and, lucky for you, that means a wild foursome! The girls take turns undressing and kissing each other and eventually get down on their knees to take turns sucking you off.
Tali is the first to climb on top of you. Throughout the scene, you take turns fucking each babe, while the other two are usually kissing or sensually touching each other. The scene ends with Kate going to town on you with a fast, deep blowjob until you finally explode all over the girls' faces! Even though this immersive scene wasn't 360°, the 180° view was perfectly fine because the girls always remain in your field of view.
I can go on forever about how much I loved this scene, but I won't because I think watching it will do greater justice than my words can ever do. From the sex to the moaning to the three sexy babes, this VR scene has everything you could want. I highly recommend checking it out!