You might be asking yourself what the heck ERP is, and I don't blame you. When you search the term, "enterprise resource planning" pops up. As much as I'm a fan of workspace organization, it doesn't sound very sexy, does it? What I'm really here to talk about today is ERP VR. You can watch it on tube sites like SexLikeReal or explore this virtual niche by yourself.
Thing is, the community keeps ERP relatively under wraps. And it makes sense to me why that's the case. With any social apps, in virtual reality especially, there's a tight-knit group of people building the experience. But when it gets too popular, the app can become saturated with people who don't understand its purpose or are there purely to troll others enjoying it.
What Exactly is ERP VR?
Good question! If you already have a gaming background or have played board games like Dungeons & Dragons, it may sound familiar. RP, or roleplay, is when a user assumes the role of a character instead of playing themselves. During roleplay, you can pretend to be whoever you want, from a game character to an action hero, or even just another person or celebrity.
ERP is slightly different but follows the same rules. The "e" in ERP stands for "erotic." So the users engaging in ERP are doing so with one thing in mind – to fulfill a fantasy. It can be as innocent as enjoying another person's company or as carnal as a deeply involved BDSM-style relationship. The only limit is your imagination outside of asking and giving consent freely.
Create Your Personal VR Avatar
One of my favorite things about virtual reality is designing an avatar. You can literally become whatever, and whoever, you want in the vast metaverse. There are avatars you can create on Ready Player Me that use your real-life likeness, too. The physical parameters of the avatars are limited to one body type, but there are some cool clothing options.
Considering I'm a large person, I felt the one (thin) body type option affected my immersion negatively. I was expecting to see myself and saw someone else. On the other hand, many users choose avatars that look nothing like their real-life selves. In social worlds like VR Chat, there are hundreds of pre-made avatars that are free to use whenever you hop into the app.
Other users may feel attached to their virtual likeness and feel an otherworldly connection. There are apps you can use to create your own avatar from a template (free and paid), like VRoid Studio. Or you can reach out to someone you know within the community who's familiar with Blender that can design you an avatar completely from scratch.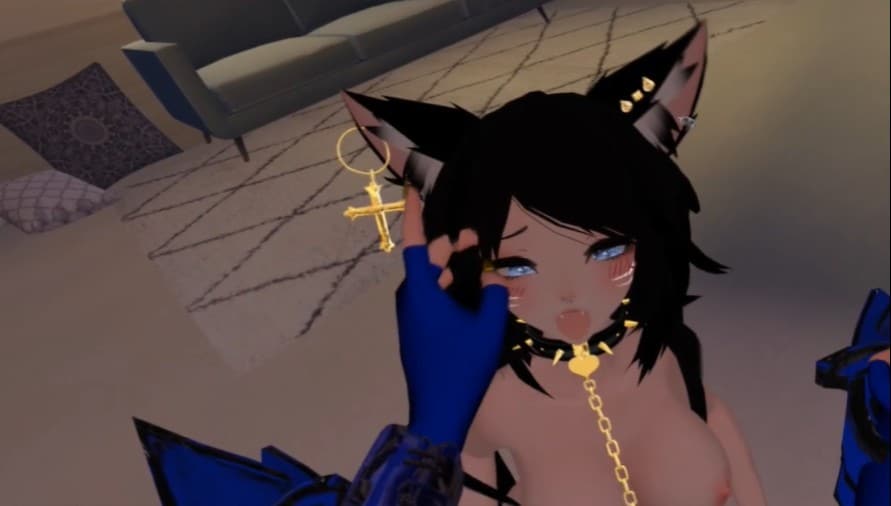 Discover Different Types of ERP VR
Did you know that there are different kinds of erotic roleplay? Although I have dabbled in it a little bit, it's news to me, too! But it does make a lot of sense. Similar to sexual roleplaying, sometimes you follow an agreed-upon storyline, and other times, everything happens on the fly. This is dependent on the comfort levels of everyone participating. Let's say it again – consent.
A scripted erotic roleplay is self-explanatory. It's essentially a plan that all participants agree to before any playtime begins. Most of the time, it's written down like the script of a movie and should be very detailed. When the plot is practiced but not written down, it's called rehearsed erotic roleplay.
A guided scenario is a bit different. Instead of practicing things out fully, with guided erotic roleplay, only the ending is planned ahead. This means anything from the beginning until the agreed-upon ending is ad-libbed. Another guided activity is improvised erotic roleplay. This is when participants come together to practice different roles with an escort guiding everyone.
Where Are People Doing This Stuff?
Still curious? Want to check things out passively before jumping into the unknown? You can find recorded ERP scenarios on VR tube sites like Pornhub and SexLikeReal. I didn't find a lot of it, though, and it took some digging. My best suggestion is to hop into VR and start exploring. Also, get invites to Discord channels that focus on building up the ERP community.
Discover Secret Erotica in VR Chat
Okay, okay, it's not that much of a secret, but it's definitely not a mainstream thing. When you join VR Chat, you don't instantly get transported into a dark sex dungeon. These kinds of experiences typically require an invitation. But one world that is easily accessible and makes ERP easy is Just B Club. It was designed several years ago and still gets regular UI updates.
Once the world spawns, you see a long hallway with rules of conduct. Follow that down to the counter, where a cute pink-haired NPC in lingerie welcomes you. You can play with her, fondle her boobs, and give her deserving head pats for a job well done. You may also see other users enjoying the space, so remember to be respectful. No one likes a perv who acts like one.
Downstairs, there are lounge areas and some group activities. When you take the elevator upstairs, though, you'll see another hallway full of private hotel rooms where you can meet a partner for a scheduled tryst or allow random guests to visit you by leaving the door unlocked. There's a prolific penthouse suite on the top floor, as well as invite-only VIP rooms for partying.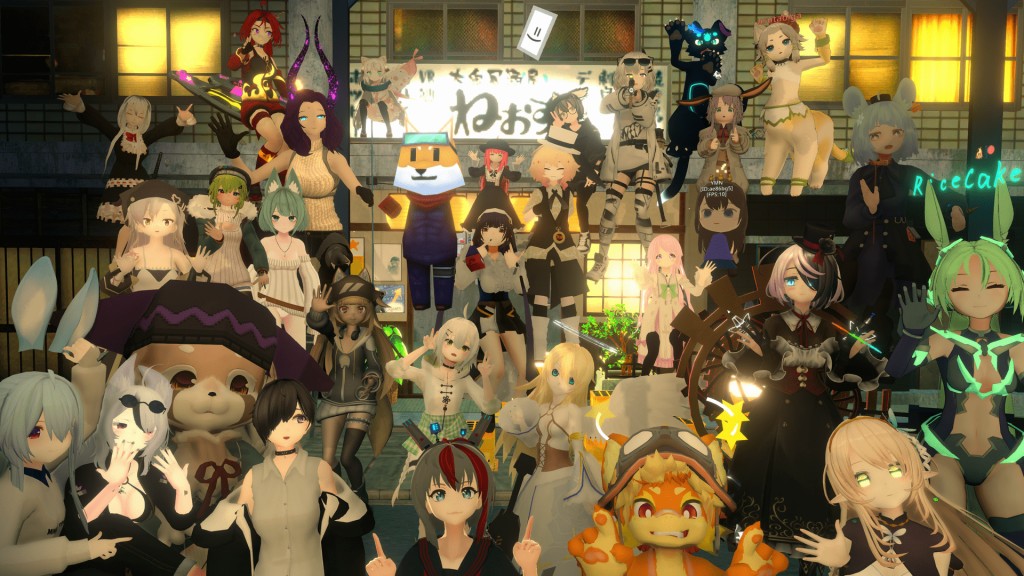 Everything is Possible in Neos VR
Have you ever watched the film Ready Player One? It's set in the future where big corporations rule the world and people escape to a virtual one called OASIS. If you're a hardcore VR enthusiast like me, I know that you've speculated about this kind of future more times than you can count. During the pandemic, I was introduced to Neos and it became my virtual escape.
You can literally do anything in this app. Neos does have a high learning curve unless you're familiar with coding, though. The community, many being Furries, is incredible and available to help you out. When I hopped into the experience, I was blown away. Not only was this a place of endless wonder, but also it was a great place to explore my latest kink and meet a Giantess.
One of the functions you can use in Neos lets you either shrink to the size of an ant or grow taller than Godzilla (or anywhere in between). So I went in with a friend and we tried things out. And let me tell you – when a 100ft anime catgirl towers above you, you get very humble. And turned on. That's just the tip of the iceberg, too. Neos is its own universe.
The Future is ERP Friendly
In the end, erotic roleplay is what you make of it. It relies on consent and communication, and outside of that, the metaverse is your proverbial oyster. With technology advancing daily, now there are full-body trackers to include on your adventure. Couple these with body, arm, and leg haptics, and toss a teledildonic in there, and you'll feel like you're living in the future already.