Trans fans can clap their hands, 'cause there's finally another hardcore TS-exclusive VR site on the Net. It's called VRB Trans and these guys are on the cutting edge of adult virtual reality content! Email me.

Pros
Exclusive app
Exclusive trans VR experience
Excellent user interface
Cons
App could use a couple of tweaks
No network access
Bottom Line
Simply put, VRB Trans is a Tgirl site like no other. The whole VR Bangers Network in fact has sites that I'd describe as second generation virtual websites. Not only have they perfected the 3D effect and any problematic scaling issues, but their exclusive app really blew me away (in more ways than one). If this is the path porn is taking, I salute it. They could've included access to the rest of the sites in the network, though. Just sayin'.
My Full VRB Trans Review
Watch Sexy Trans Performers in Virtual Reality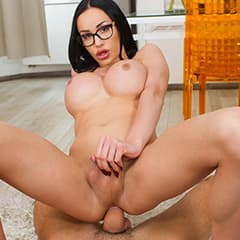 VRB Trans is but one site that belongs to the VR Bangers Network. All their sites more or less have the same interface, which is a good thing, 'cause this network is on the cutting-edge when it comes to providing new and improved user features. When you sign up, not only are you getting your hands on exclusive hardcore TS porn, but you're also getting perfect 180° 3D scenes and it'll be an experience unlike any you've had before. I swear.
The Site is Tight But the App is Where It's At
Now, if you're already familiar with the VR Bangers Network, then you know exactly what I'm talking about. But if you don't it'll be my pleasure to walk you through this pretty cool site. The reason I describe it as being pretty cool is owing to mostly to its most unique feature, the app. Their exclusive app, which so far is only available for the Oculus Rift and HTC VIVE (a version for mobile headsets is in development), allows you to bypass the site entirely, after the initial download that is. Sounds intriguing, right? Apps like these, which remain quite rare, offer access to internet porn without you ever having to open up your browser.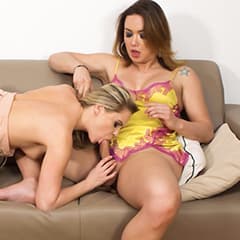 As soon as you've got their app running, you can slip on your headset and literally be immersed in a sweet virtual theater that's full of hardcore trans porn. You'll be able to select the scene you want, so make sure you have your remote in hand. They can be sorted by rating and release date, but there are no tags or categories on the app (there are on the site though). You can also favorite the scenes. You also have the option to change the resolution as the scene is playing. I tried this and while the display changed, the audio was permanently turned off and I had to exit the scene and restart it to get it back.
Choose Your Position!
There are both pre-op and post-op trans starlets here to suit a variety of preferences, plus there's a variety of ethnicities. Another great feature here I've yet to see on any other site outside of this network is the ability to filter the scenes by the physical position you want to be in. You can be standing, sitting, lying down and even swiveling around in an office chair. This goes a long way to promoting a more believable, immersive and enjoyable experience.
A Breakthrough in Hardcore TS Porn
Never before have I come across a hardcore adult site that delivers this kind of TS porn. Not only does it remain a woefully underserved niche, but these 180° 3D scenes are spectacular and as close to perfection as I've ever seen. Plus, the fact that they've tailor-made their immersive experience according to the physical position you want to be in also breaks the mold of existing trends. But I think the app alone is such a new and novel experience that you just gotta try it to see what I'm talking about. I guarantee you'll like it just as much as I do. Make sure to follow the entire network on Twitter & Instagram for all the latest developments.
Click Here To Visit Website
Similar Trans VR Sites

If you like trans porn, you're not going to want to miss out on VRB Trans. Their hardcore virtual reality scenes enable you to choose from multiple positions like no other sites does.

Big boobs and big dicks get even bigger when watching them in an immersive VR scene. The trans performers on Virtual Real Trans will give you an eyeful of both at once.
Get the Best Email Deals on Trans VR!
Discounts, scenes and other awesome deals - FREE!

Grooby makes the best trans porn on the planet. Now that they've adopted VR, let's just say you'd better clear your schedule. Get yourself to GroobyVR and take in the view.

Bailey Jay is a stunning trans porn star and having her in reality would be a dream come true. Well, on BaileyJayVR you can feel as though she is right there with you.

If you love VR and transgender porn, you're getting the best of both worlds on Tranz VR! Watch gorgeous Tgirl pornstars in immersive virtual reality scenes.