On the docket today is an adult VR shemale site called TS Virtual Lovers and I'm getting a tingle just writing about it! There are hot virtual trans porn videos to watch here. Thoughts? Email me.

Pros
Famous TS models
Dual perspectives (POV & voyeur)
Compatible with all VR headsets
Cons
Expensive membership
No user features
Bottom Line
Maybe I'm just a huge trans fan at heart, but this site is really what I've been looking for. Namely, my favorite TS models in VR getting up to all sorts of hardcore action that I can enjoy in 180° 3D. The site even spices things up a bit by offering a choice of perspectives: POV or voyeur. You might find the site a little more expensive than your standard adult virtual site, but honestly, when it comes to TSVirtualLovers, I guarantee you'll get your money's worth.
My Full TS Virtual Lovers Review
Trans Porn Scenes in 3D & 180°!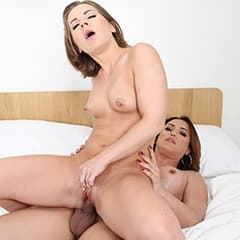 TS Virtual Lovers is a part of a wave of exclusive sites that's taking the adult industry by storm featuring big names in trans porn. I found the subscriptions rates higher than average, so if you're not convinced that the site is worth it, I'm here to tell you that it is. But if you still need some convincing, the site does offer a couple of convenient alternatives. First, you can try the trial version for 7 days for a low price. Or if you're only interested in a specific scene or two, you can purchase it individually without a membership. So basically the site offers multiple purchasing options no matter your budget or level of interest.
Dual VR Perspectives
Most adult sites are identical to one another in terms of the type of product they offer, which understandably can get a little stale after a while. That's not the case here. Not only is the site part of a very select group that exclusively features hardcore Tgirl content, but you'll also have the option of watching a scene in either a POV or voyeur perspective. I've only seen this option on one other site so far and I loved it. POV's great for when you wanna see someone gobbling up your cock or riding you. But what if you want to watch a trans performer and a female start fondling and fucking? That's when you want to be the voyeur. Unfortunately, you can't choose between the two perspectives on every scene, as the only ones that are POV always involve men.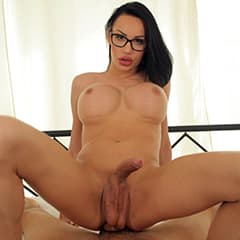 As for the video quality and VR effect, I'm happy to report that the site's on point. Streaming is a breeze thanks to their handy-dandy on-site player. Same goes for downloads and they offer in-depth help pages for the Oculus, VIVE, Gear, Cardboard, PSVR & Daydream. If you've got an OSVR and you're worried you might be left out, you can play the Oculus file on your OSVR easily as the resolution specs are the same.
Big-Name Trans Pornstars
Perhaps the biggest draw to this site is the big-time talent you'll find. I mean, most of these Tgirls have had their own individual site for years and have created a huge fan following of horny, salivating men who'd be their slaves if given the chance. The roster includes Bianka Nascimento, a Brazilian who's not only incredibly gorgeous, but also tops and bottoms like a champ. Then there's Mia Maffia, a British model with a devilish smile to go along with her always hard and ready member. Kimber Lee is a cute German with a body that'll rock your world and she loves bareback scenes. And Nathaly Miller is a Spanish ebony model with a BBC so impressive you'd jump in front of a bullet for it.
You can find a good amount of info on them and others under the "T-Girls" tab that will inform you as to their birthdate, country of origin, cup size, height/weight and a mini-bio. What I also like is that you'll find their personal social media handles linked to their profiles so that you can follow these sexy babes and all the hardcore hijinks they get up to. Aside from the model index, the site's kind of bare. There are no search engines and or user features, but at this point in time, it's not really needed. You can find tags underneath the scenes and in the models' profiles, but that's about it.
Trans + VR = Amazeballs
TS Virtual Lovers easily stood out from among many hardcore virtual trans sites and grabbed my attention for a number of reasons. The main two being the fact that it features the biggest and hottest shemale adult models and that it offers scenes in either a POV or voyeur perspective. Not too many sites offer this and personally I think they should. Granted, the site is little light on features, but that won't hurt your experience. And, yes, subscription fees might be higher than average, but you have a couple of cheaper options if you're not interested in a full membership. The site also has a couple of pretty active social media feeds where they're always posting information on upcoming scenes and any latest developments, so be sure to follow them on Tumblr and Twitter.
Click Here To Visit Website
Similar Trans VR Sites

Grooby makes the best trans porn on the planet. Now that they've adopted VR, let's just say you'd better clear your schedule. Get yourself to GroobyVR and take in the view.

Big boobs and big dicks get even bigger when watching them in an immersive VR scene. The trans performers on Virtual Real Trans will give you an eyeful of both at once.
Get the Best Email Deals on Trans VR!
Discounts, scenes and other awesome deals - FREE!

Bailey Jay is a stunning trans porn star and having her in reality would be a dream come true. Well, on BaileyJayVR you can feel as though she is right there with you.

If you love VR and transgender porn, you're getting the best of both worlds on Tranz VR! Watch gorgeous Tgirl pornstars in immersive virtual reality scenes.

If you like trans porn, you're not going to want to miss out on VRB Trans. Their hardcore virtual reality scenes enable you to choose from multiple positions like no other sites does.